(This is the second in a three-part series taking a closer look at some of the research projects undertaken by staff at the V.I. Department of Planning and Natural Resources Division of Fish and Wildlife.)
Sometimes the benefits of scientific research are obvious. The report "Opportunities for Aquaculture in the U.S. Virgin Islands" lays out a compelling case for developing more robust fish farming projects to expand the small-scale fishing industry in the territory.
Other times, the practical payback of research is a little murky. Take the case of a report on "Numerical modeling of internal tides and submesoscale turbulence in the U.S. Caribbean regional models" or a companion piece, "Comparative analysis of the performance of GOFS, PSY4, and AMSEAS ocean model frameworks in the Virgin Islands and Puerto Rico coastal ocean."
But learning about the circulation patterns of the ocean is essential to understanding the interplay of marine life and to predicting changes that are likely with global warming, according to Sennai Habtes, the Fisheries Bureau chief at the Division of Fish and Wildlife in the V.I. Department of Planning and Natural Resources.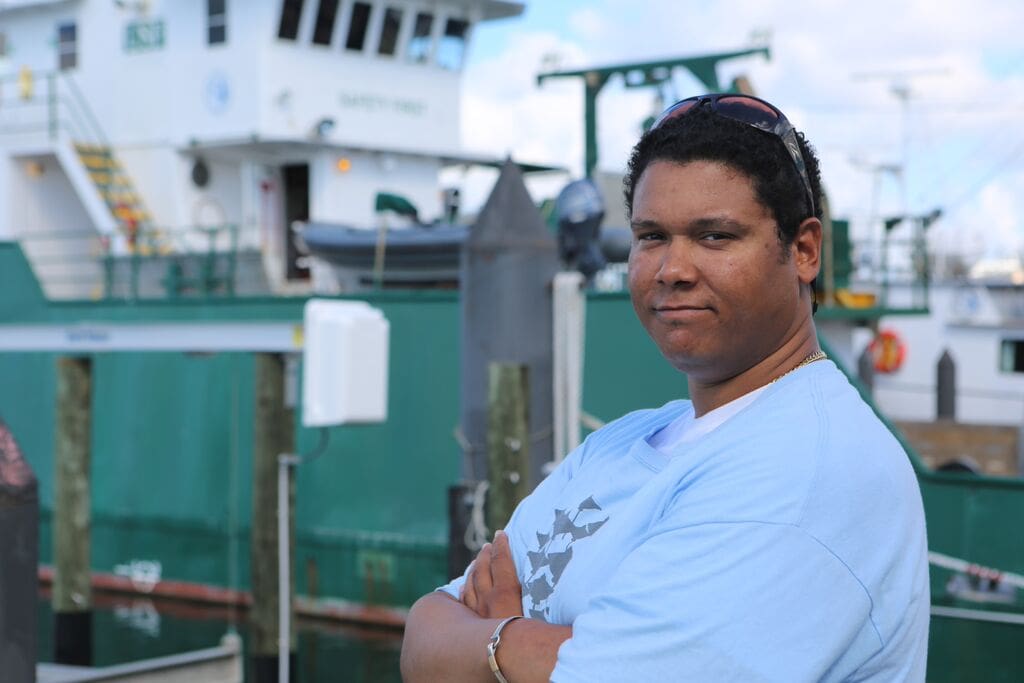 Habets was a co-author of all three papers. They are some of several peer-reviewed reports published in 2022 that included major contributions from DFW staff.
The reports illustrate not only the diversity of types of scientific research but the typically collaborative nature of it.
In an interview with the Source, Habtes was quick to point out that he was not the lead author on the ocean studies. That was Sonaljit Mukherjee of the University of the Virgin Islands. UVI is a frequent partner with DPNR on research projects. The department often teams with other educational institutes and/or with various federal and local agencies as well as private sector entities.
In fact, Habtes taught at UVI before he joined Fish and Wildlife, and he said, "A lot of (the research on the ocean models) was work I started at the university."
A 1999 graduate of Antilles School on St. Thomas, Habtes earned his graduate degree in Florida and worked first at the Florida Fish and Wildlife Institute in St. Petersburg. He returned to the territory in 2015 and spent five years in Marine and Environmental Studies programs at UVI before joining DPNR.
His experience includes everything from deploying autonomous instruments known as slocum electric gliders into the ocean to gather oceanographic measurements for monitoring hurricanes to setting out a research buoy to collect data on larval reef fish (The buoy was later lost due to the 2017 hurricanes).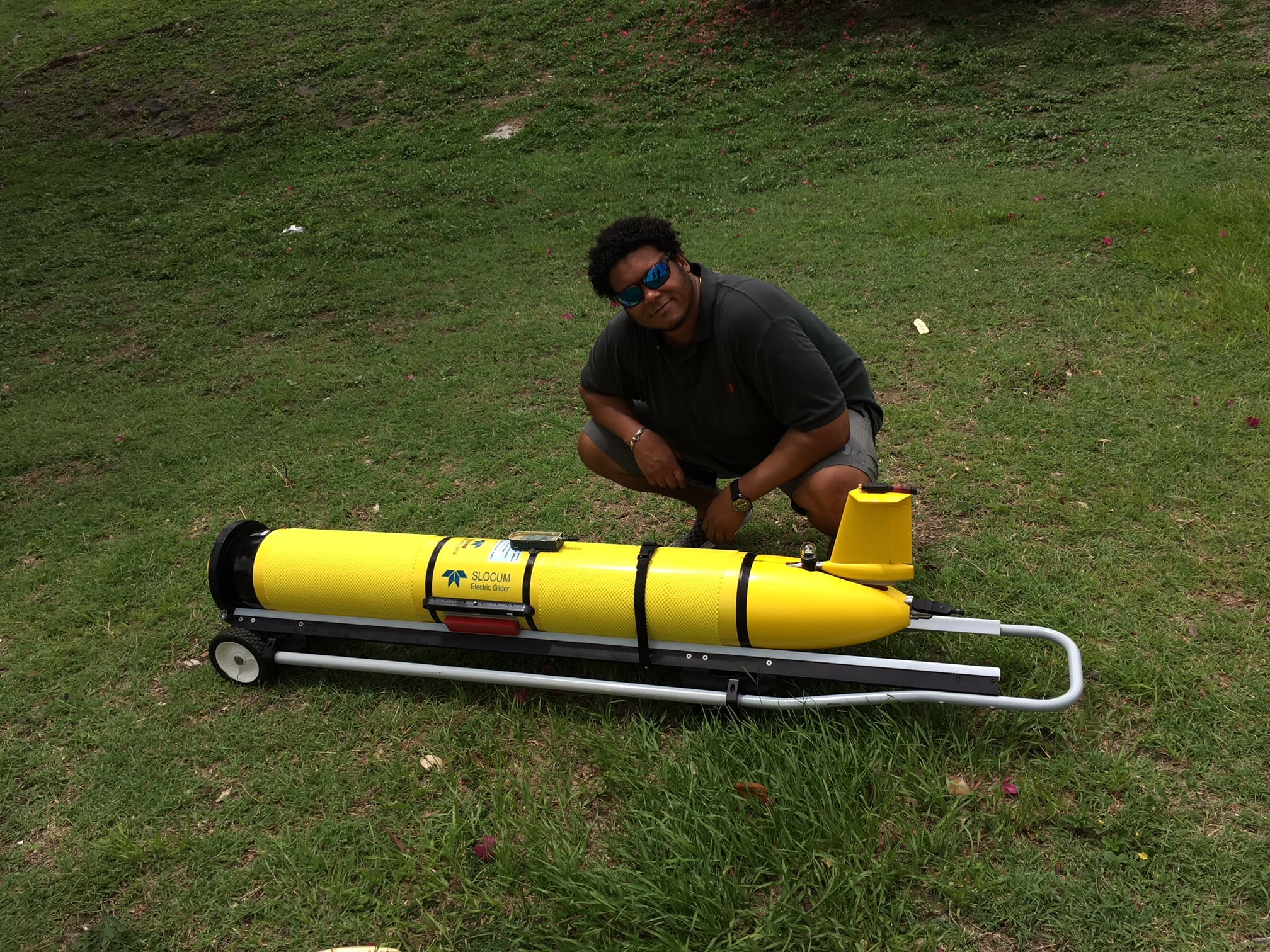 "I came from an oceanographic background," Habtes said, explaining that he is lured most by exploration of the sea and maybe slightly less by studies of the marine life within it.
There's a lot still to learn about what's going on in area waters.
As described in the report on internal tides, "The U.S. Caribbean Ocean circulation is governed by an influx of Atlantic water through the passages between Puerto Rico, Hispaniola and the Virgin Islands and an interplay of the Caribbean Sea water with the local topography of the region."
While the ocean "boasts a vibrant marine ecosystem" that is being monitored regularly by researchers, there is less known about the actual environment of that ecosystem "due to sparsely available ocean data," the report states.
Habtes' and his fellow researchers set out to help address that lack of knowledge. They worked on ways to measure and track ocean turbulence and internal tides that originate from passages between islands. Once they had developed a model for doing the work, they applied it to show how underwater turbulence varies from winter to summer and to measure the seasonal change.
That, Habtes said, is information needed to monitor such things as the resilience of coral reefs and larval spawning, both items with immediate practical application.
Again, working with other researchers, Habtes contributed to the paper published by World Aquaculture. It concluded that the territory is a good place for cultivating food products in water (aquaculture) and specifically in seawater (mariculture).
The idea is not new, but past ventures have been experimental and/or small-scale.
In the late 1970s, the report notes, UVI was "internationally recognized" for employing novel aquaponics technology. Sometime before that, the University of Texas and Columbia University collaborated on a mariculture facility in Estate Rust-Op-Twist on St. Croix.
Two UVI-linked facilities operate on St. Croix, one at the Agricultural Experiment Station and one at Golden Grove prison, and there is an experimental facility, Island Fresh Aquaponics, in Estate Bethlehem.
The Legislature created a Commission on Aquaculture and Mariculture in 2001, more than 20 years ago. It was never really active and more recently, Gov. Albert Bryan Jr. "recomposed" the commission.
Some infrastructure still exists from previous efforts in aquaculture, although much is in disrepair, the report states.
Currently, there are about 200 licensed commercial fishers in the territory. They land about 770,000 pounds of fish annually, according to the report. Most, if not all, is consumed locally, with fishers selling to restaurants, at fish markets, and at roadside stands at a profit margin of 15 to 17 percent.
All that suggests the U.S. Caribbean "presents a wealth of opportunity for aquaculture," according to the researchers.
But there are several steps to take before that can happen on a large scale. Besides developing (or restoring) the necessary infrastructure, the territory needs to define or redefine aquaculture-related terms and establish rules and regulations clearly laying out requirements for licensing, record-keeping, inspections, transportation, and import and export mechanisms.
Opportunities are as bountiful as the fish in the sea. Past efforts often involved tilapia, but there are many species that might work. To Habtes, scallops and oysters and some crab species seem likely candidates for cultivation. Animals can be produced both for consumption and/or for restocking purposes, say, for sports fishing. But he cautioned that there is groundwork to be laid first
"We can't do this overnight," he said. "We're in (the aquaculture) infancy. We have to look 15 years down the road."
Part One: Academics in the Wild: Native Son Gets Up Close With 'Other' V.I. Populations