Delicious food from the island's famous caterers, restaurants, and resorts; live music from Linda Grace's island band, mystery raffles, party favors, and a roving portrait artist await guests at "An Evening in Paris."
St. John animals need help, and the Animal Care Center's annual winter gala enables residents to give help while enjoying a fabulous party. 
Island residents and visitors to the island alike are invited to attend the gala on Saturday, January 19, and can purchase tickets at the entrance to this year's featured villa.
"An Evening in Paris" will be hosted at L'Autre Monde starting at 6 p.m. Tickets are only $125 and Elaine Campbell, ACC's publicity chairwoman, reported last week that tickets were selling so well that ACC had to print more.
"We are a small shelter with a small budget, but St. Johnians know how hard we work to provide food, medical care, and housing to our island's homeless cats and dogs," said Campbell. "And they know that attending ACC's winter gala is a delightful way of donating support to our efforts."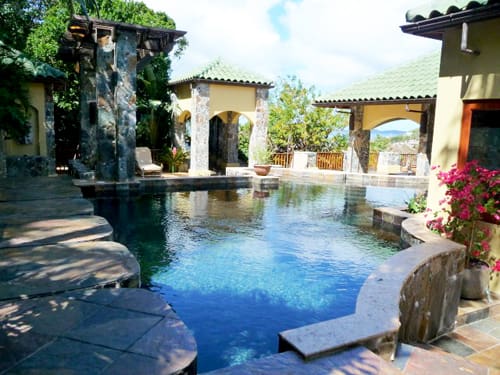 The beautiful L'Autre Monde in Great Cruz Bay, above, will be the perfect setting for "An Evening in Paris."
Fabulous Food
St. John restaurateurs and caterers also donate to the gala. Visitors and residents of the island know St. John as a small island with a wide array of incredibly good lunch and dinner spots. 
Among the chefs and caterers donating their specialties to "An Evening in Paris" are Caneel Bay Resort, East/West Catering, Farm to Table, Fatty Crab, High Tide, Lime Inn, Lone Star Taqueria, Morgan's Mango, Ocean Grill, Queen of Tarts, Rhumblines, Spyglass, Ted's Supper Club, the Westin Resort, Woody's and ZoZo's.
Theme Parties
In recent years, the ACC's major fundraiser has delighted guests with such imaginative theme parties as "A Walk on the Wild Side" at the Hall House, "Arabian Nights" at Kismet, last year's "Snow Ball" at A La Mer, as well as Roaring Twenties and Swinging Sixties theme parties in earlier years.
A special feature at this year's Parisian café scene will be the talented Livy Hitchcock as a roving portrait artist.  Hitchcock, owner of Bajo el Sol gallery with her husband Tom, will be drawing complimentary pencil portraits of party guests. 
Expecting to complete each sketch in approximately 20 minutes, Hitchcock will capture the likeness of as many guests as possible during the party's 6 to 9 p.m. timeframe. The sketch will be Hitchcock's gift to the guests and her matchless donation to the animals.  Look for the woman in the black sequined beret!
Raffles and Music
Debby Duplisea is collecting raffles to be available at the gala. The list is still incomplete, but one exceptional raffle prize will by a large painting of the winning guest's own beloved cats or dogs by Livy Hitchcock. Attendees at Pirate Bill's recent party at Bajo el Sol know how fetching are the two kitties that Hitchcock painted into her portrait. Hitchcock's pet portrait will be one of a long list of raffle prizes.
Throughout the evening, music will be provided by Linda Grace and her band. For many St. John residents, this will be a first opportunity to dance to the music of Grace's group.
For more information about the gala, contact Kelly Cruikshank at kellcc1@aol.com or Monica Munro at  monica@cateredto.com.
To drive to "L'Autre Monde" from Cruz Bay, take  South Shore Road past the Westin which will be on the right. Turn right onto Great Cruz Bay Road.  There is a road sign. Go approximately one-quarter mile and the villa will be on the right. The villa will be well lit.
It's advisable to carpool if possible because parking will be along the road or at the nearby boat dock.