Residents of all ages came out to score great finds at teh annual "No Fleas, Please" Flea Market, including Patrice Harley with her daughter Julice and granddaughter attend last week's flea market at Winston Wells Ball Field on Saturday, October 18.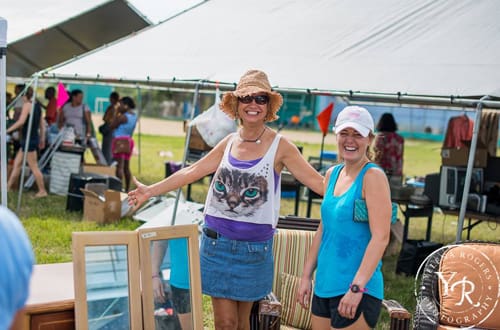 CRUZ BAY — Thanks to a donation to the territory-wide Project Homeless Connection, the St. John Animal Care Center was able to give and receive through this year's No Fleas, Please Flea market.
The island's sole organization caring for abused and abandoned animals raised about $7,000 at the group's annual fall flea market on Saturday, October 18, at Winston Wells ball field, explained ACC President Lucy Banks.
"The flea market went well in that we had a great attendance and we had lot of things donated," said Banks.
The week before the flea market, ACC officials hosted a clothing sale at The Marketplace and had the perfect place for items which didn't sell, Banks explained.
"We were really, really happy about what happened at the clothing sale the week before," she said. "The even better part was the clothing leftover was taken by the St. John Community Foundation to be used on all three islands for Project Homeless Connect. Also all the toiletries that were donated were also given to them for the homeless."
"It was a good feeling to be able to give back and it was great that we could keep it here in the territory," Banks said.
Despite a lack of donated furniture to sell, which often contributes the largest sums to the ACC annual flea market's coffers, the group was pleased with the $7,000 raised, Banks explained.
"It was successful; we made over $7,000 that didn't have," said the ACC President. "If there is any disappointment in the flea market sale is that we didn't have the amount of furniture that we would have liked. That is a two-fold type of thing."
"We make a good amount of money on furniture and a lot of people were asking for it and we didn't have it to offer," said Banks.
Residents should think of the ACC — which operates a no-kill shelter and receives scant government funds to keep its doors open — before throwing away any unwanted furniture, Banks added.
Up next for the animal welfare non-profit group is the annual Holiday Open House at the ACC shelter on Thursday, December 11, at 5:30 p.m. Join the ACC for an evening of fun and food, and meet some of the 19 dogs and 38 cats being cared for at the organization's Cruz Bay shelter.
And, mark those calendars for the ACC's main fundraiser of the year, its annual gala, which this year, will have a distinctly island theme. The ACC is hosting a Buccaneer Ball on Saturday, January 24, at Eden's Whim villa on Great Cruz Bay. Tickets for the gala, which provides much-needed funds for the non-profit animal welfare organization, will be on sale in the coming weeks.
Little Free Libraries
ACC officials are also excited to unveil the group's latest project called Little Free Library, Banks added.
"Another thing that we're doing is getting involved in this movement which started in Hudson, Wisconsin, and is international now, called Little Free Libraries," Banks said. "You build these little homes that are the size of a big mailbox. We are having one built right now."
"There are free books inside and you encourage people to leave a book and take a book," said the ACC President. "In addition to encouraging adults and children to read, by joining the movement we hope to spread more awareness about the shelter. When we register the Free Little Library it goes international and we hope to raise more interest for the shelter."
The ACC's Free Little Library, which will be attached to the Cruz Bay shelter, will join more than 15,000 such book cases around the world.
For more information about Free Little Libraries, check out www.freelittlelibrary.org.
For more information about the St. John ACC, or to make a donation to the non-profit group, check out www.stjohnanimalcarecenter.com.