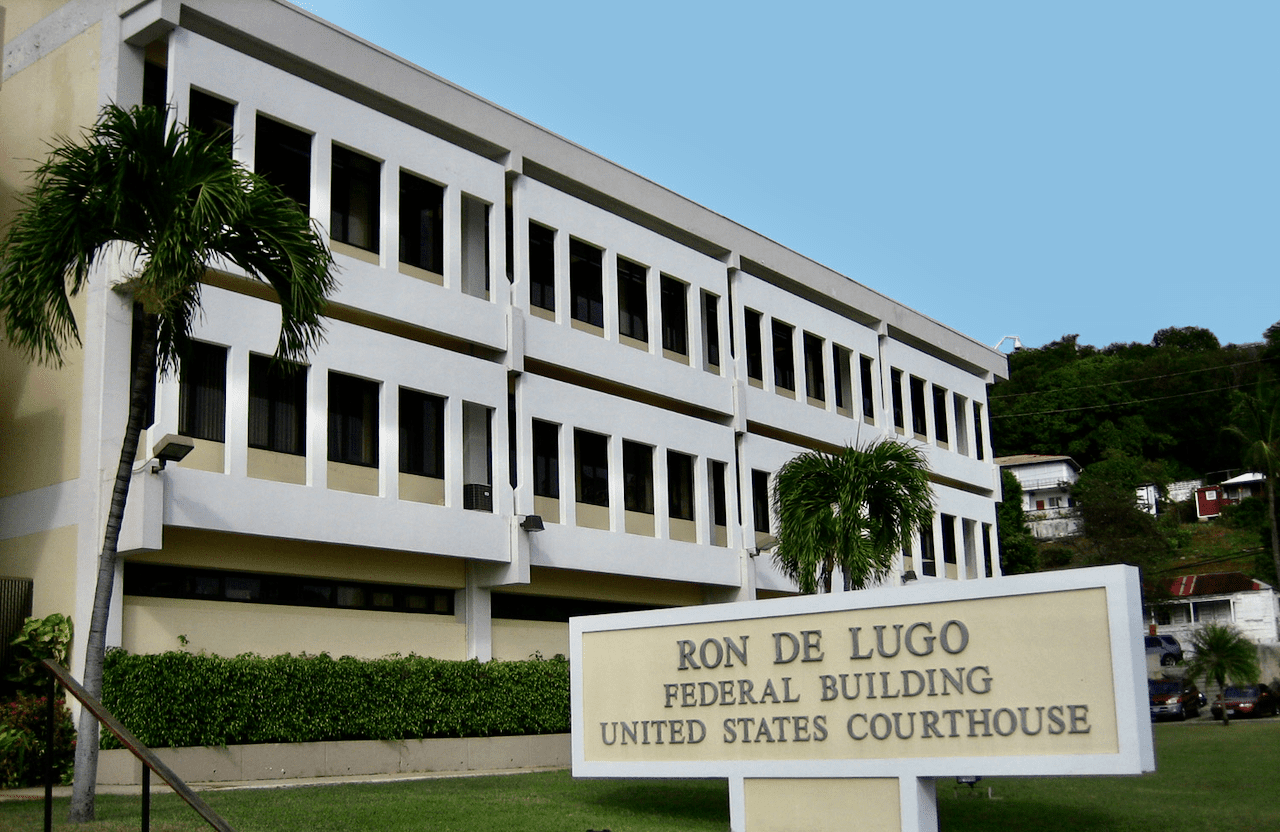 The federal trial of two accused drug smugglers became a trial for one by the middle of Day Two on St. Thomas. The judge on Wednesday granted a motion that removed a defendant who played an active role in his own defense.
Accused smuggler Russell Robinson addressed the jury and presented opening arguments Tuesday as part of his appearance as a pro se defender. A pro se status allows someone to provide their own legal representation. At trial, that status allowed Robinson to call witnesses, cross-examine witnesses called by the government and present evidence to the court.
Attorney David Cattie sat next to Robinson and served as a legal advisor. But the arrangement — authorized by the court — bogged down when codefendant Trevor Stephen refused to play along.
Robinson and Stephen were apprehended by federal agents Nov. 29, 2019, on St. Thomas at the end of a high-speed chase. Authorities also seized 210 kg of cocaine, packed in parcels that a team of individuals was seen offloading from a boat along a shoreline on the island's east end.
They are charged with conspiracy and possession with intent to distribute a controlled substance. In Federal Public Defender Matthew Campbell's first address to the jury, he said Robinson forced Stephen to help transfer the parcels by threatening him with a gun.
During his pro se appearance, Robinson refuted Campbell's statement and told the court that he was the one who was forced by someone else to haul the drugs away. Stephen, Robinson's codefendant, stayed silent.
He also refused to testify and, though his lawyer said he would not put on a defense. Robinson, acting on his own behalf, asked for a mistrial.
Chief District Court Judge Robert Molloy discussed the matter with the legal teams while the jury was out of the courtroom on a break. The prosecution team led by Kyle Payne suggested the court consider declaring a mistrial for Stephen as well since Robinson's appearance in the courtroom had left an impression on jurors.
Prosecutors also told the court neither defendant denied their role in the events of Nov. 29, 2021. They did not deny being picked up by federal agents in Hull Bay or being in possession of cocaine. The defendants were each claiming they did so under duress, leaving jurors to figure out who and what to believe.
Campbell said his client was prepared to proceed. He also criticized government lawyers for not taking a position on the mistrial motion. The judge called a recess to consider the matter and granted Robinson's request when court reconvened.
When the jury came back from their lunch break, Molloy greeted them with a new instruction: "The codefendant Russell Robinson is no longer on trial. You are no longer being asked to reach a verdict with respect to Russell Robinson."
They were also instructed not to speculate about why the change took place.
The trial continued on Wednesday afternoon, with Stephen agreeing to take the witness stand. But Molloy told Campbell he would limit Stephen's statements about Robinson threatening witnesses.