Efforts to protect livestock in the territory from the invasive bont tick may be working. Dr. Bethany Bradford, director of veterinary services at the V.I. Agriculture Department, has reported that a recent field survey determined the pest is confined to just one of St. Croix's 15 cattle farms.
The bont tick is not considered a serious danger to humans but can be very harmful to domestic animals.
The survey, conducted in July by local and federal Agriculture personnel, also found no evidence either of African swine flu or of avian flu in the Virgin Islands.
Under a federal grant, officials have been monitoring chickens and game birds for signs of avian flu since 2006 because it has been found in many regions throughout the world, including many states on the U.S. mainland. In 2021, the African swine flu surfaced in the Dominican Republic, and officials have been on the lookout for it elsewhere in the Caribbean since then.
The bont tick appeared to be a serious threat to St. Croix's cattle industry in the early 2000s. It was not found on St. Thomas or St. John.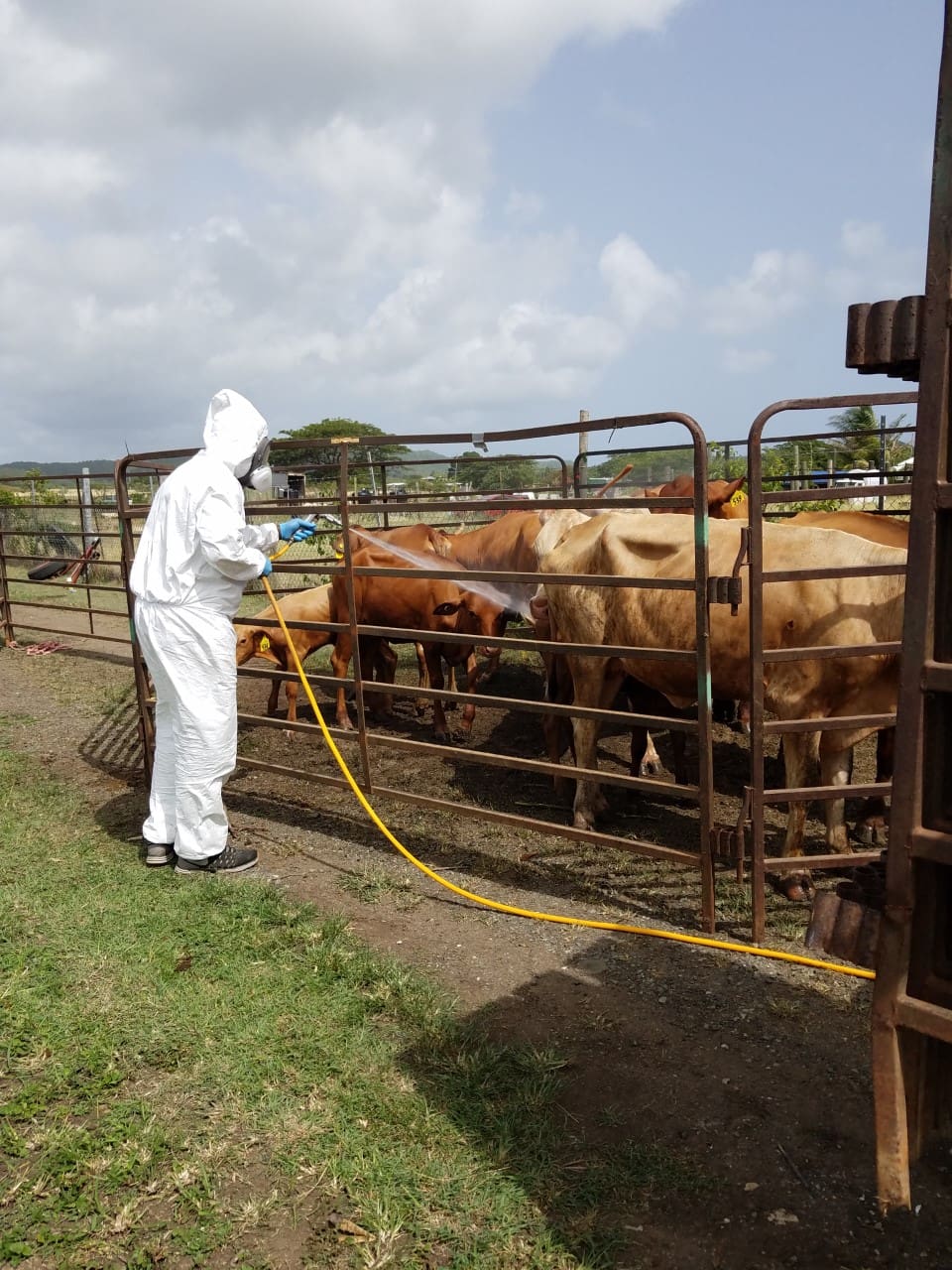 A federally-sponsored tick eradication program was conducted from 2002 to 2009, Bradford said. At one point, "we had 12 farms in quarantine" because the tick was found on their livestock.
Officials thought they were successful in wiping out the tick in the Virgin Islands, but in 2021 it was again found on a St. Croix farm. That property has been in quarantine since then.
Bradford said in the latest survey, "we found more ticks on the same farm." However, the level of their presence didn't seem to have increased from what it was earlier in the year. And the bont tick was not found elsewhere.
In imposing a quarantine, "We try not to interfere with the farmer's livelihood," Bradford said. A property in quarantine is not allowed to transport live cattle. It may, however, send cows for slaughter since there is a strict process eliminating ticks in that circumstance.
"We keep the grass cut low" around the quarantined property, she said. Agriculture also has created an eight-foot barrier of dirt around the perimeter, all in an effort to discourage ticks.
In a more aggressive attempt to eradicate or at least control the bont tick population, officials also actively hunt and kill them. The U.S. Agriculture Department is currently trying two experimental methods on St. Croix, Bradford said. One involves setting up tubes of CO2 which attract and then trap the ticks. Another uses pheromones to enhance an animal's attraction for ticks. Once the ticks are on the animal, they can be removed and killed by submerging them in alcohol.
Those two programs are run by the federal department, said Bradford. "We don't have the staff for it."
Generally speaking, because ticks feed on an animal's blood, ticks of all types can be harmful, but the bont tick is particularly troublesome because it can cause lesions that weaken an animal and make it susceptible to a variety of illnesses. It is also associated with heartwater disease, which can be fatal for an infected animal. Heartwater disease has not been found in the Virgin Islands, Bradford said, but if it were introduced, the bont tick could be a carrier.
The tick can attach to almost any mammal, Bradford said. With help from the Department of Planning and Natural Resources, her office has also looked for bont ticks on feral animals, including deer, cattle egrets (which can host tick larvae), and mongooses. "In 20 years, we've never found them."
But domestic animals living in herds or small groups, like cattle and horses, are vulnerable to the tick.
Native to Southern Africa, the tropical bont tick, Amblyomma variegatum, has spread to many parts of the world but has not been found on the U.S. mainland. It was introduced to the Caribbean in the mid to late 19th century.
The prevailing belief is that it made its way to St. Croix in a shipment of blackbelly sheep from Antigua in the 1960s, Bradford said.
Male bont ticks are easily identified because of the bright colored markings on their backs. The species is also known as the Antigua gold tick and the Senegalese tick, according to a University of Florida website.
Besides heartwater disease, which is found in animals, the bont tick can transmit African tick-bite fever, a disease which can affect humans, causing headache, fever, and swollen lymph nodes, but there have been few reported cases, according to the university article.
The site also described the tick as prolific. A single female can produce up to 30,000 eggs, and there can be three generations of ticks within two years.
Bradford said the bont tick can go for up to four years without food, which makes it easy to hide out between meals.
Bradford has a small staff, but the U.S. Agriculture Department has been augmenting it, sending workers to help conduct animal surveillance every two months.