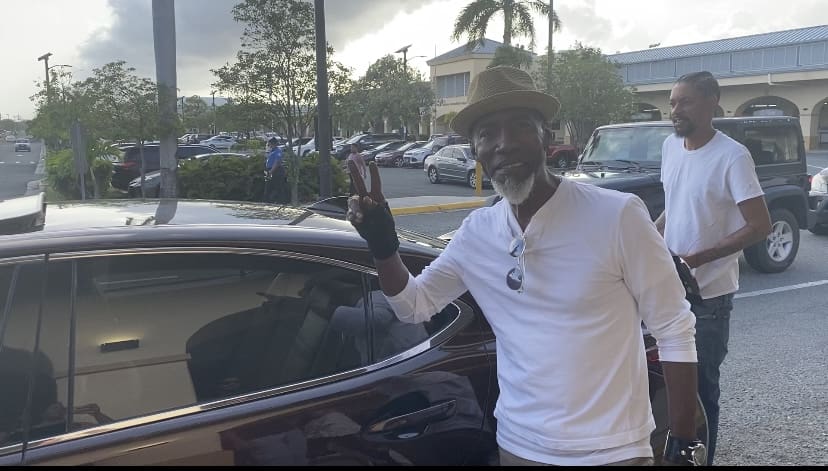 Paul Campbell, best known for his role in the movie "Shottas" as "Mad Max" will make an appearance at the "Shottaz Are Back, All Black Affair," on Saturday at the Levels Night Club in Christiansted.
The V.I. Source caught up with the actor at St. Croix's Henry E. Rohlsen Airport, where he expressed his excitement about being on St. Croix for the first time. Campbell's voice can also be recognized as the voice of Fame-FM, a local radio program on his home island of Jamaica.
Other movies Campbell is known for include "Dancehall Queen, Third World Cop." His screen credits include "Jamaica Beat," "Entry Denied," "Final Verdict," "Country of the one-Eyed God," and "Salome" for Television Jamaica Corporation.
When asked about the movie "Shottas" and how it has been able to resonate with so many Caribbean people, Campbell said, "Because it's authentic and it truly is a story about the Caribbean people and what they do. They say art imitates life and visa versa and that is exactly what 'Shottas' have done, and once you are authentic about anything at all, people never forget it."
Johnnie Ringo and Prince Grim, who are hosting the event, said that one of the main reasons is to honor Bobby Chin of "Black Chiney," who hasn't performed on St. Croix in quite some time. To solidify the theme they brought out Campbell.
The "Shottaz Are Back, All Black Affair" will be held at Levels Night Club in Christiansted and will feature other music and entertainment by Haile 1 Sound, Super Trackz Sound, North Star Sound, Fyah Emblem Sound, Jani Sound, and Ninja P.
Admission will be $25 before midnight and ladies free before 10:30 p.m. Doors will be open at 9 p.m. Pictures and autographs will also be given at the event.
Editor's Note: A previous version of this story misstated Campbell's first name. It is Paul, not Robert.