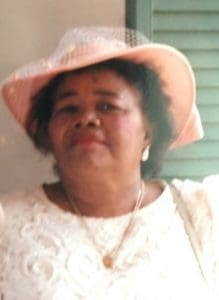 Ada Melvina Powell Acoy of Estate Calquohoun died on Feb. 3.
She was preceded in death by her parents: James and Mary Barnes Powell; sons: Alton Krigger, Ray Acoy and Ulrick "Ricky" Acoy; grandson, Kahmali Barker; sisters: Dorothy Hicks-Steper, Odessa Hurley, Miriam Powell and Lousie Powell; brothers: Charles Powell, Joseph Powell and Arthur Powell; nieces: Dianne James, Helen Johonson and Eleanor Molly; nephews: Alton Powell, Ohaldo Williams Jr., Edward "Eddie" Williams and Reginald Williams; and special friend, Louise O'Rielly
She is survived by her daughters: Annette Krigger and Terri Acoy; sons: Albert "Junie" Krigger Jr., Alverise "Baba" Krigger and Lauritz "Butchie" Acoy Jr.; grandchildren: Alton "Papo" Krigger Jr., Yemar Krigger, Kevin Krigger, Stephany Krigger, Melivna Krigger, Melissa "Nikki" Barker-Lake, Annia Degourville, Ray Acoy Jr., Jahmal Acoy, Glen O. Williams III, Thalema Williams-Cooper, Tayesha Williams and Dayon Yarnar; great-grandchildren: Amali Krigger, Aaron Krigger, Amari Krigger, Jemarise Krigger, Jaliesha Krigger, Yemar "Nene" Krigger Jr., Jamil Krigger, Kevin Krigger Jr., Kunzi Krigger, Kynaira Krigger, Frank Thomas, Ah'Narie Thomas, Mellisha Barker, Janisha Lake, J'Quan Lake, Kyrie Joseph, Azriyzl Acoy, Azanah Acoy, Ke'Andre Parris, Kallie Robertson, Asani Krigger, Onika Krigger, Ahmil Krigger and Amayah Krigger; and great-great-grandchildren: Xe'Nia Carrion, Tierra Samuel, Kaelynn Giddings, Marcus Petersen Jr., Jahliya Rock and Jahriely Matthew.
Other survivors include sister, Sarah Powell James; nieces: Marie James, Doristine Hendricks, Pearl Powell, Pamela Powell, Doris Molly, Joycelyn Francis, Jane Jones, Terri Jones, Wanda Johnson and Sharen Robinson; nephews: Kenrick James, M. Maliebu James, Cedric "Tiger" James, Paul Samuel, Henry Samuel, Wendell Powell, Neville Powell, Orville "Fish" Powell, Peter Powell, Robert Powell, Fredrick Williams, Rodney "Ipa" Williams, Oliver Williams and Thomas Brinkley; daughter-in-law, Melania Krigger; and son-in-law, Lucien "Sabree" Spencer; godchildren: Shakima Harris and Alicia Farrelly.
Other survivors include special friends: Norma "Sheppy" DeJournette, Leona Isles, Dona Ferdinand, Wilamina Cummerbatch, Gloria Waterman, Justa "Titi" Encarnacion, Ismay Harris, Retired Nurses Association, the Coker family, Maria Friday, Claudette Schrader and family, and Retired Nurses of St. Croix Inc.; cousins and other relatives: June Rawlins, Corine Messa, the Powell family, the Barnes family, the Challenger family, the Liburd family of Nevis, the Parris family of Estate Grove Place, Fiorello Williams and family, Edgar Isles and family, Vangie Jackson and family; as well as other family and friends too numerous to mention.
The viewing will take place at 9 a.m. followed by a funeral service at 10 a.m., Friday, Feb. 19, at Church of God of Prophecy, Estate Richmond. Interment will follow at Kingshill Cemetery.