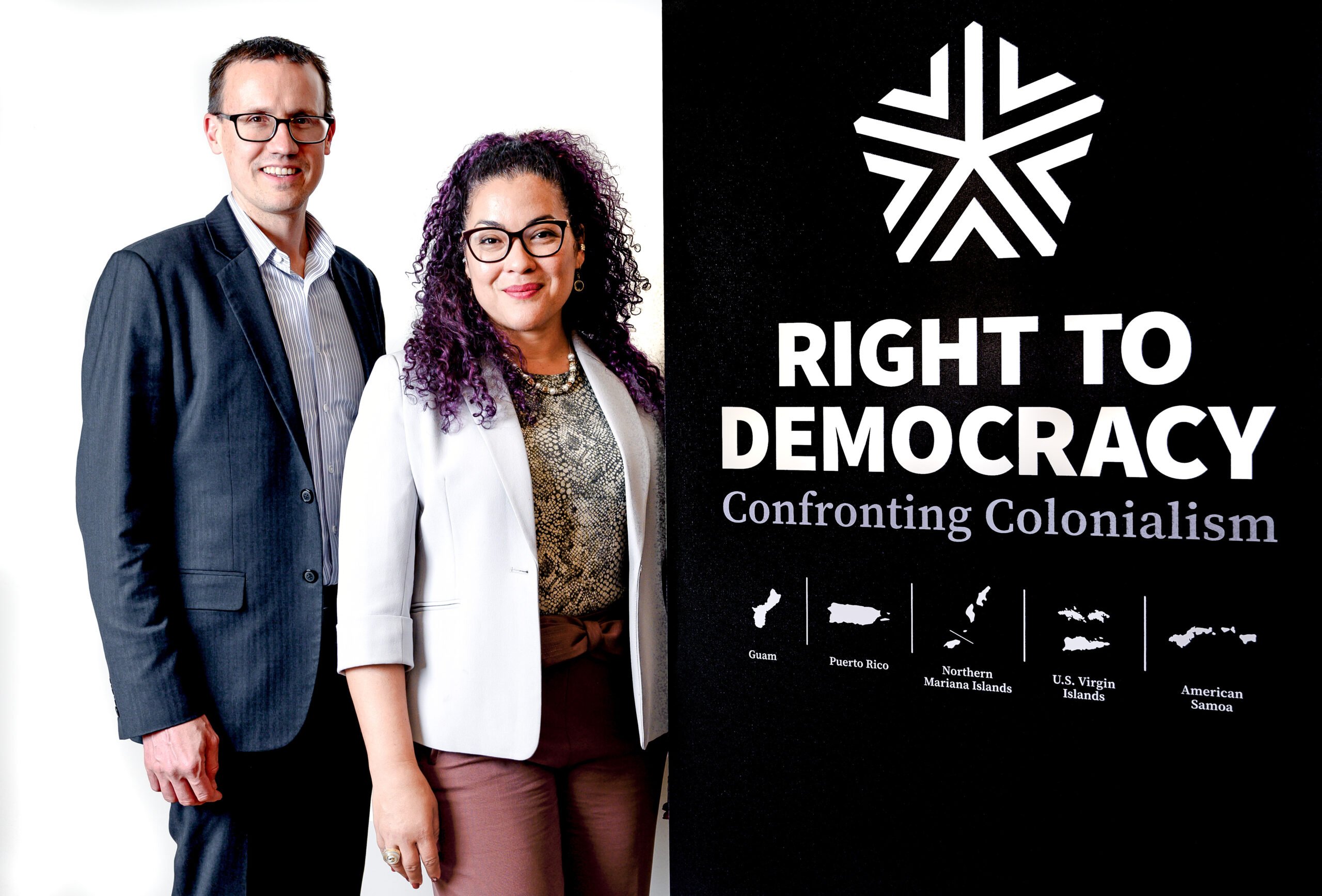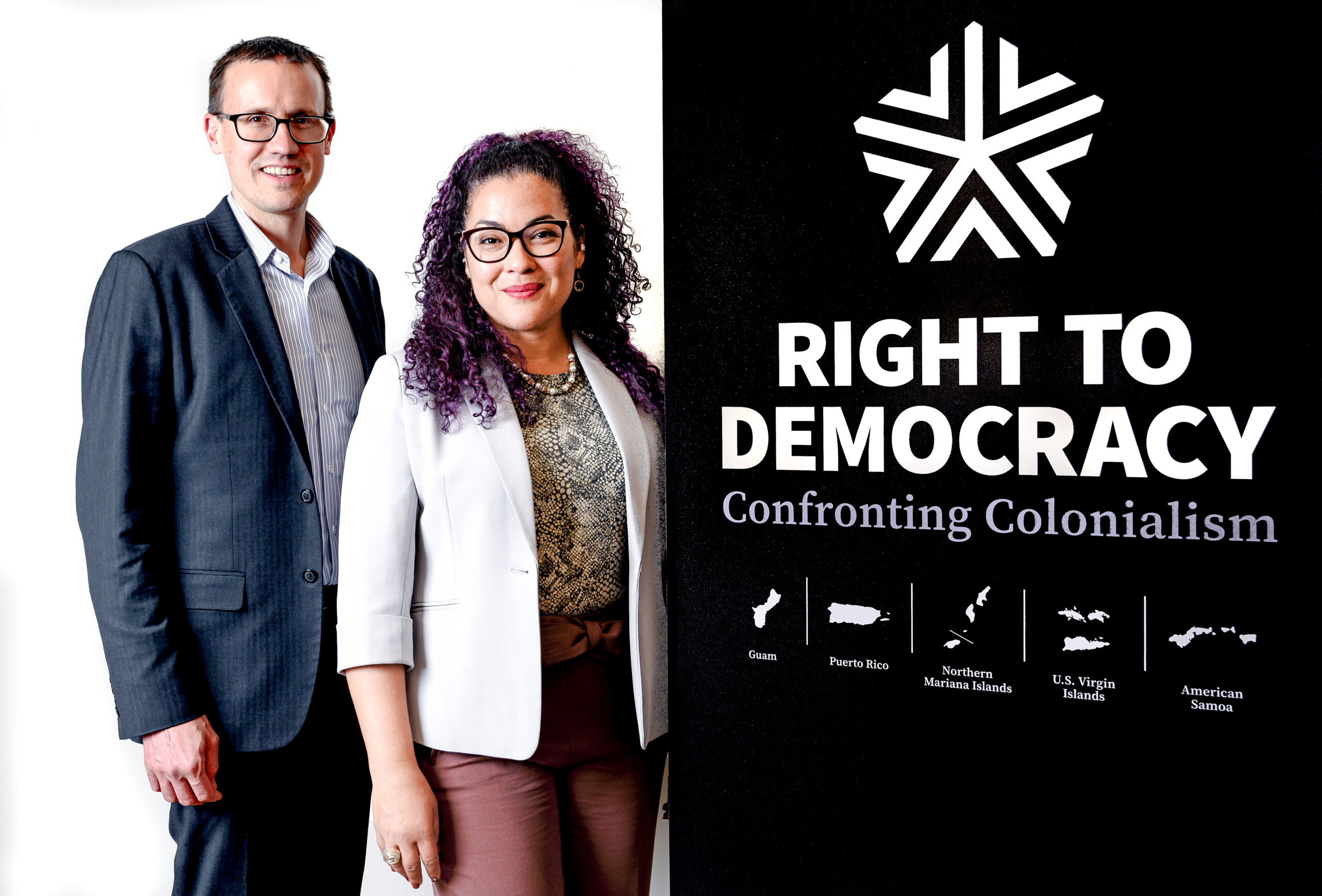 A team of lawyers launched a Virgin Islands listening tour this week to ask citizens their views on democracy. Attorneys Neil Weare and Adi Martinez Roman are using the sessions to introduce a new organization called Right to Democracy.
The pair began their tour Tuesday on St. John, followed by scheduled appearances Wednesday on St. Thomas and Friday on St. Croix. On Thursday the Right to Democracy team plans to share their ideas with members of the Virgin Islands Bar Association.
Right to Democracy is a new-formed national group dedicated to confronting the relationship between the federal government and its U.S. territories in an attempt to promote constructive dialogue. Weare and Martinez Roman call the current system undemocratic and unequal.
Weare has spent more than a decade advocating on behalf of those living in the U.S. Insular Areas of Guam, American Samoa, the Northern Mariana Islands, Puerto Rico and the U.S. Virgin Islands to gain the right to vote for the U.S. president. With the help of elected officials from those areas, he has also called on the Supreme Court to do away with a 1903 body of laws called the Insular Cases that extend U.S. colonial rule and limit constitutional rights for persons living in those areas.
Martinez Roman introduced herself in the Tuesday gathering as a community advocate who studied law in an effort to make her efforts more effective. She also helped form two advocacy groups in her native Puerto Rico, Resiliency Law Center and FURIA, Inc.
Together with Weare, the pair formed Right to Democracy and created a set of values they hope will guide their efforts. "We come from two different perspectives. Neil is a lawyer and a litigator and I'm a lawyer and advocate from a community lawyering perspective. So, trying to bring those two perspectives together in this project is what we are trying to do," Martinez Roman said.
For Weare, the ultimate goal remains revoking the laws that permit inequality and deny full citizenship to roughly 3.6 million Americans, most of whom are people of color. But they said engaging supporters and funders for a long-term effort will not be easy.
"The concepts linked to the organization's goals are complicated," Weare said. In a statement issued before the tour began, Martinez Roman expressed hope for the things she would learn from those who attend.
"I am looking forward to learning more about how communities in the U.S. Virgin Islands are impacted by the unbalanced political relationship the United States has with each of the territories and to draw parallels to my own experience in Puerto Rico," she said.
That's one reason why the team's June 22 appearance at the Bar Association's Mid-Year Meeting is included in the tour. Martinez Roman and Weare are expected to address the Laws of the U.S. Territories with a look at how those laws affect disaster recovery policies.
Through the group Equally American, founded by Weare in 2013, some V.I. lawyers and lawmakers have supported previous Insular Case challenges. Right to Democracy's Advisory Board includes former Virgin Islands Congresswoman Donna Christensen and former Virgin Islands Bar President Nesha Christian-Hendrickson.
To learn more about Right to Democracy, visit its website.