A retail store selling functional pottery and watercolors is open and a studio will open in August at Maho Bay Clay Works new home at Pickles in Paradise.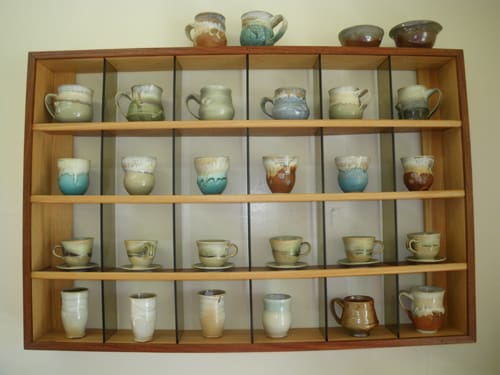 St. John artist Gail van de Bogart opened Maho Bay Clay Works in 2002, cultivating a loyal and talented pottery following and place for fellow ceramic artists.
When Maho Bay Campground closed in May, the popular pottery studio was left homeless. But thankfully not for long.
Van de Bogart, along with partner Casey Giakas, a potter who worked at Maho Bay Clay Works for six years, opened Clay Works Pottery at Pickles in Paradise in Coral Bay in late June.
A functional potter, sculptor and watercolorist, van de Bogart is a graduate of the Cleveland Institute of Art. She moved to St. John in 1989 from Long Island and opened Bajo el Sol Gallery with Aimee Traysor and Kat Sowa in 1991. Since opening Maho Bay Clay Works more than a decade ago, van de Bogart continues to teach watercolor classes as well.
Giakas, a talented potter and teacher, previously worked at Whitefish Pottery in Montana and LaMeridiana International School of Ceramics in Tuscany before moving to Love City.
While leaving their first home at Maho Bay Campground was difficult, the pottery studio's new home is fantastic, explained van de Bogart.
"The Pickles in Paradise location is just great for the Maho Bay Clay Works  Pottery," she said. "It is fun to be at Pickles, in the community atmosphere that Bev Melius has created with its delicious food and cool Coral Bay people."
"The area is attracting a nice mix of local artists, musicians, honey and sushi makers, boaters, woodworkers, plumbers, electricians and island visitors; and now me," said van de Bogart. "It's an exciting change for me after 11 years at Maho Bay Camps."
Van de Bogart opened a small retail shop to display the Clay Works' functional pottery and as well as her watercolor paintings. A pottery studio, created from an old shipping container with screened doors and windows, sits just in the back yard area at Pickles.
The final touches are being wrapped up in the studio, which is scheduled to open this month.
"The studio will  open in August and has electric and kick wheels, an electric kiln and gas kiln," said van de Bogart. "The veggie oil kiln from Maho Bay Camp will be rebuilt here as well. The 30 cubic foot kiln burns used vegetable oil from local restaurant kitchens and uses 35 gallons of oil per firing."
Clay Works at Pickles will be hosting several different classes on the potter's wheel for both adults and children. The studio will also host hand building and sculpture classes as well as watercolor painting instruction, van de Bogart explained.
"There will also be open studio sessions available very soon for those who like to work on their own," she said. "These classes are designed for locals or people who will be on island for a month at least."
Local artists and visitors can expect exciting things coming up at Clay Works at Pickles, van de Bogart added.
"We are planning to host Visiting Artist Workshops for off-island clay enthusiasts as well as locals during the winter season," said the artist and studio owner. "Last year at Maho Bay we hosted three artists, one from Spain, one from England and one who is a professor of ceramics at Austin Peay University in Tennessee. That is a great way to learn a lot in a short amount of time."