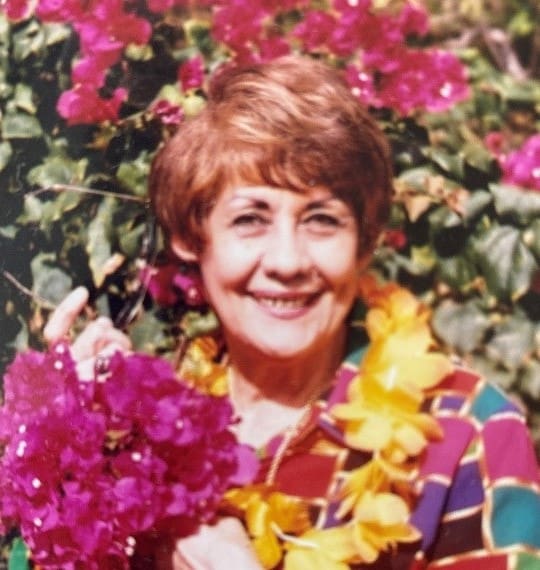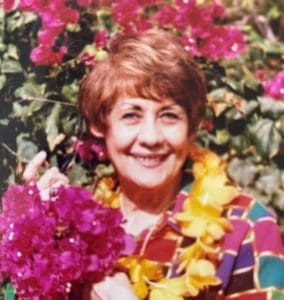 Alicia Angela Fellner was born June 18, 1938.  She passed away peacefully at her home in the care of her youngest son, Alfred Fellner, and close friend Gavin Turbe.  They both provided loving care in Alicia's final days.
Alicia was born on St. Croix but spent most of her life on St. Thomas.  She attended school on St. Thomas and met her future husband, Teddy.
Her first job was as a beautician at Tanny's in Creque' s Alley on St. Thomas.  Alicia was very gregarious, engaging and so full of life, which drove her desire to be a successful beautician.  With that drive came a desire to own her own shop and control her destiny.  She left Tanny's and opened her first salon across the street from Crazy Cow in Downtown St. Thomas. Her two lifelong friends followed her, Marion Miller and Diana Esslinger. Although Diana moved back to the States, they remained lifelong friends.  Marion Miller joined my mother at the shop downtown and eventually ran the shop at Bluebeard's for her.  They were inseparable.  They worked hard together, raised their kids together, enjoyed beach parties along with barbeques; they even danced the weekend nights away at the Hideaway club.
Richard, Marion's husband, gave away the bride, Alicia, to her husband Theodore "Teddy" Fellner at their wedding.
Alicia operated both salons for some time and eventually consolidated both shops into the Marketplace location where she continued to do hair for so many people until her retirement in 2019.  My mother worked all her life joyfully and without compromise because she loved what she did, and she made wonderful friends doing it.  Alicia contributed to local organizations, supported many charities and was very supportive of the Catholic Church, Sts. Peter and Paul Cathedral and the school.
Alicia is preceded in death by her husband, Theodore M. Fellner (Teddy); parents: Alfredo and Mercedes Gonzalez; and brother, Pedro Gonzalez.
She is survived by her sons: Theodore M. Fellner III (Dave) and his wife Linda K Fellner, Robert Fellner and Alfred Fellner; and grandson, Nathan James Fellner; sisters: Isabel "Toty" Gonzalez Conception, Maria "Mary" Gonzalez Griffin and Luz "Aunty Lou" Gonzalez Edney; and nieces: Sonia Concepcion, Rosemarie "Rosie" Rivera, Luz "Mootsie" Wade, Noella Griffin and Devery Phipps.
She is also survived by great nieces: Kristina Rivera, Mahogany Malone, Mya Rivera, Eliza Wiley and Robyn Malone; nephews: Eddie Concepcion, Paul Griffin Jr.; great nephew, Noah Wiley; and cousins: Iris Leoor Carillo de Dottin, Luz "Cookie" Camacho Castaneda, Jose "Chieto" Manuel Carillo, Jose "Chemi" Miguel Carrillo, Jose Pillar Carillo, Jose Raul Carillo, Georgina "Ginita" Carillo, Dr. Iris Dottin, Luz "Cookie" Camacho Castaneda, Carlos Camacho, Nancy N. Camacho and Carlos Vasquez.
Other survivors include special friends: Marion and Richard Miller, Diana Esslinger, Carol Nelthropp, Phyllis Benjamin, Takera J. Rieara, Lorraine Creque, Audrey Callwood, the Foster family, John and Claire; sister-in-law, Betsy Beretta; as well as nieces and nephews: Patrick Beretta, Barbara Monoson (Beretta), Dante and Jamie Beretta, Gigi Beretta and David Booth, Vickie and Jim McQuaide (Beretta) and Bonnie and Jeb Chard (Beretta).
In addition, she will be remembered by the many souls she touched throughout her life. There were too many to remember, God bless her and keep her in his eternal care.  We will miss her.
Viewing will be held at 9 a.m. followed by a service at 10 a.m., Wednesday, Sept. 22, at Turnbull's Funeral Home.