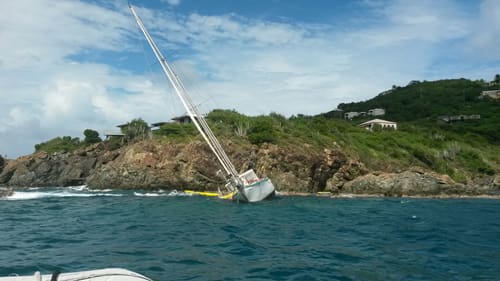 Their four children and other boaters lent a hand to John Hale and his wife Sarah after their 51-foot ketch Lady M dragged anchor and grounded on the rocks of Contant Point at the entrance to Great Cruz Bay on Saturday morning, November 22. A fundraising campaign has been started for the live-aboard family of six at www.gofundme.com.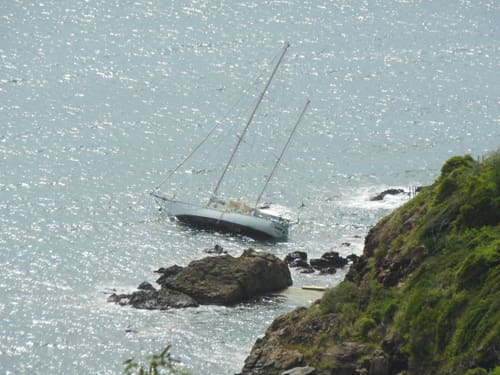 GREAT CRUZ BAY — After more than six months anchored on the outer edge of the Great Cruz Bay mooring field, the Hale family was harassed into moving their 51-foot ketch Lady M further away from a neighboring mooring on a stormy Saturday morning, November 22.
"We were anchored next to mooring balls and someone came and was yelling at the kids on Friday when my husband wasn't home," Sarah Hale told St. John Tradewinds on Sunday. When John Hale got home to Sarah and their four children from his job as a dive boat captain for Cruz Bay Watersports Friday night it was after dark.
When the man who had begun harassing the family's teenage children on Friday while both parents were at work came back Saturday morning while the island was being hit with intense rain squalls to harangue the family again about moving away from the neighboring moorings, John decided to attempt the risky re-anchoring.
Moving Mooring After Harassment
An experienced liveaboard sailor in addition to being a licensed boat captain, Hale knew he was a safe distance away from the neighboring moorings, and he knew the weather was stormy and resetting anchors always posed a risk that the new anchor settings might not hold. Hale also knew and that the boat's engine needed minor repairs.
"Saturday morning the guy was back yelling and cursing at the kids that we had to move," Hale's wife Sarah told St. John Tradewinds. The Hale "kids" on board were Mary, 17; Jack, 16; Heidianna, 14, and Sterling, 12. The family has two other older children, Leona and Christina, both 19; Leona is on a mission for the family's church in the Phillipines.
"The kids were scared," Sarah, a labor nurse at the Roy L. Schneider Hospital on St. Thomas, told St. John Tradewinds.
"We moved the anchors and everything looked great."
With new anchors set, John Hale was below deck making repairs to the engine when the children warned him that their boat was dragging anchor. By the time Hale could get topside it was too late, his wife said.
"Our son Jack tried; but it was already heading towards the rocks," Sarah Hale said. "In 13 minutes our whole lives changed."
"We got off the boat in about 14 minutes."
"We did have some people come by to help," Sarah said. "We got the kids off safely. We got off the boat in about 14 minutes."
"We salvaged everything we could salvage," Sarah added, with many of their important belongings safe in waterproof containers. "We're glad and very blessed that the kids were safe."
Members of the Church of Jesus Christ of Latter Day Saints, the family has received support from their church, she added.
"We have food and we have a place to stay," Sarah told St. John Tradewinds — although after doing two loads of laundry, Sarah realized the family had salvaged only a mixed bag of clothes.
The Hales know it is hard to find affordable housing for a large family, but they really want to get back on a boat, she said.
"It ended up being more affordable for a family," Sarah said.
The family has fallen in love with St. John, and Sarah and John, who bought Lady M in the Grenadines in March before coming to St. John on their second liveaboard adventure — they previously lived aboard for ten years, including three years in the Turks and Caicos before their most recent three years on land in Texas — want to stay.
They also want to stay on a boat, she added.
"I think at this point we're still trying to take a breather," Sarah said.
With a gofundme.com internet fund set up for "Hale Family St. John" by the wife of a co-worker of John's, the family has been overwhelmed by the support they have received from people they don't even know, Sarah told St. John Tradewinds.
"We know who set it up," Sarah said. "I was crying when I found out about it."
Gofundme.com Site Raises More Than $4,000 in First Day
By Sunday afternoon, November 23, the site had raised $3,920 from 27 donors.
"We always try to help people, we never ask for help," Sarah said. "It's very humbling."
"We are very thankful," Sarah said. "You have to be thankful for the blessings you receive. The church is helping us; there are not a whole lot of needs — except we're homeless."
The Hales can be reached at capthale@hotmail.com.
"It's just frustrating," Sarah said of the man who harassed them into moving their anchors during foul weather. "We knew we were a safe distance from the moorings