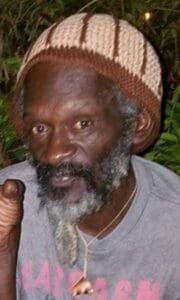 Almeric Horace "Shabazz" Menders of Estate La Grange died on May 25.
He was preceded in death by his father, Raymond T. Menders; brothers: Raymond Sr., and John and Earl Menders; sisters: Dawn Menders and Sonia Thomas; niece, Akiesha, nephew, Raymond; and special friend, Franklin "Cow" Wilson.
He is survived by his mother, Melita Leona Miller‐Menders; daughters: Omega, Nadine and Sienna Menders; son, Omari S. Menders; stepdaughters: Tiffany and Unity Freer; stepsons: Jonathon Freer and Richard Freer; grandchildren: Tayie Nomble Menders, Kehinde N'kenge Menders, Amen Menders, Nile Menders, Jahleal E. Williams, Janira A. Williams, Jahmari Benjamin, Anyah A. Pryce, Adonay S. Greenidge and Anisha Y. Greenidge; brothers: Donald Francis, Leon Thomas, Noel, Wallace Menders and Reynard Menders Sr.; sisters: Rosita, Ramona, Gertrude and Jaqueline Menders; and aunts: Gladys Anthony, Beulah Roberson and Caroline Slater.
He is also survived by uncle,  James Parris Sr.; nieces: Akilah, Akiama, Rita, Thomas, Tekisha and Danisha Francis, Reykeala and S'yrai Menders, Leona, Janet Hendrickson, Angela Vanterpool, Jessica Sanchez, Latisha, Shenisha, K'leisha, Kira, Kishma, Kenua and Tiana; nephews: Ashmead, Khalied, Deray, Malik Thomas, Noel, Nevon, Reynard Jr., Ray Roi, Reynaldo, Dwayne, Earl Jr., Steve Jr., Jahleel, Jelani, Jasey and Ray Jr.; great nieces and nephews too numerous to mention; godmother. Louise Petersen; godbrother, Renwick Sam; and family: Miller, Messer, Springer, Pickering, Henry, Trotman, Guatier, Petersen, Fawkes, James and other family members too numerous to mention.
Other survivors include special friends: Kenneth Richards, Cassandra Thomas, Dale Ritter, Jamal Nielsen, Tal Edney, Tano, Nijah Charles, Feather Bruce, Edmead Gore, Amadee, Amus, Alom, Shahlom, Mario Moorehead, Rubio "Bush" Heywood, Sonny Barnes, Neal Iles, Ray Iles, Deli Iles, Andreas San Kitts, Linda Dorsey, Karima, Kai, Ray "Bigga" Fawkes, Franklyn "Frankie" Johnson, Jason, Dennis McIntosh, Daisy Bermudez, Kafwee, Bow McIntosh, Karen Dickenson; the Sackey, Hendrickson, Browne, Nesbitt, Murray, Richards and McIntosh families; as well as other special friends that are too numerous to mention.
Persons wishing to bid their farewell may join the family from 3-5 p.m., Thursday, June 23, at James Memorial Funeral Home Chapel.
Following his wishes for his final journey, a private burial at sea will take place on Friday, June 24.