Boys and girls chased each other in a pickup football game along Gibney Beach on Sunday afternoon, September 24, as they celebrated the end of the American Legion Viggo E. Sewer Post 131's first-ever flag football league season.
The nearly 40 children and their parents attended an award ceremony that afternoon at Oppenheimer.
"The kids had a great time at the barbecue and awards ceremony," said American Legion Post Adjutant Paul Devine. "We had plenty of food, and we had sack races, and egg and spoon races. We had all kinds of fun."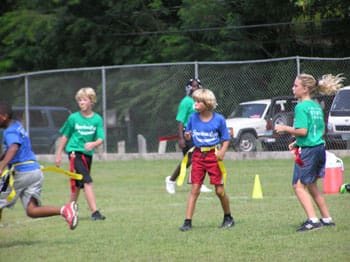 Nearly 75 people crowded into the Oppenheimer pavilion, where the coaches of the three teams rewarded their players for their hard work.
The celebration was a culmination of a flag football season that brought together kids from all walks of life, said Devine.
Parental Participation
"The parents really participated quite a bit with their kids, which is really what we were trying to accomplish," Devine said. "I had parents tell me, 'I've been here 22 years, and I didn't know half of these parents.' It was a nice way to get people to meet each other."
"A great community thing was accomplished through their kids," Devine added.
Devine was also pleased with the league's sponsors, he said.
"We handed out trophies at the ceremony to each of our sponsors — Quiet Mon, Gone Ketchin', Woody's, Fish Trap, Slimman's Parking, Shipwreck Landing, Skinny Legs, Island Masonry, Holiday Homes and Breckenridge Custom Homes," said Devine.
The turnout this season was not as great as the American Legion anticipated. However, through word of mouth, the league could double, according to Devine.
Word Spread Well
"We were hoping for 60 kids this summer, but we only got about 37," he said. "So, we're hoping to hit 60 when we start the league up again next year. The word has spread really well, and I think we'll probably get a lot more participation."
Devine hopes to have six teams in the league next season, and to keep statistics on the games, which was not done with the league's three teams this summer, he said.
"We were keeping score, but we didn't really keep a record of wins and losses," he said.
The league will also have a casual "just for fun" season beginning some time in early October, said Devine.
One child who will surely be back for the next season is Jamel James, who enjoyed the flag aspect of the sport of flag football.
"I had a good time," said James. "When you're running and you get to pull the flag off, that's my favorite part."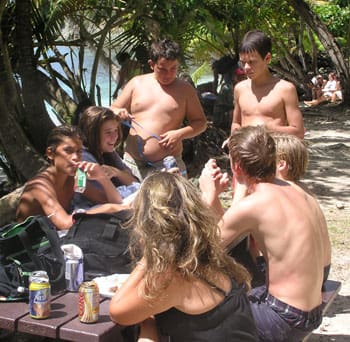 Playing for Positive Future
Laurie Odenbach, whose 10-year-old son Johnny played in the league, was happy to see kids from across the island come together to play, she said.
"It was one of the first times we've seen St. John kids from every school come together to play sports," she said. "When it started out, they didn't have very many players, but as people saw what was happening, kids kept coming in. My son loved it."
Playing together as kids can help form a positive foundation for the future, said Odenbach.
"The last game my son played was so nice, because there were kids playing on the playground, parents were watching, the sun was setting, and it was just like a regular night in Anyplace, USA," she said. "We've had so much negativity here, and the only way kids are going to grow up and work everything out is if they know each other. This is the only sport that really introduces them to each other."
League Is "Step Forward"
Odenbach's son Johnny enjoyed meeting other kids and being a running back, he said.
"I liked playing with the rest of the kids," Johnny said. "I liked being a running back. I can run from five yards all the way for a touchdown."
Odenbach praised the American Legion for their efforts in forming the league.
"It was a really great effort, and I commend them for it," she said. "It's a real step forward."
The American Legion will advertise for the upcoming "just for fun" fall season, and the next flag football league season, set to begin sometime in February.
"The kids very much enjoyed themselves," said Devine. "They had a fabulous time, and they all did great."