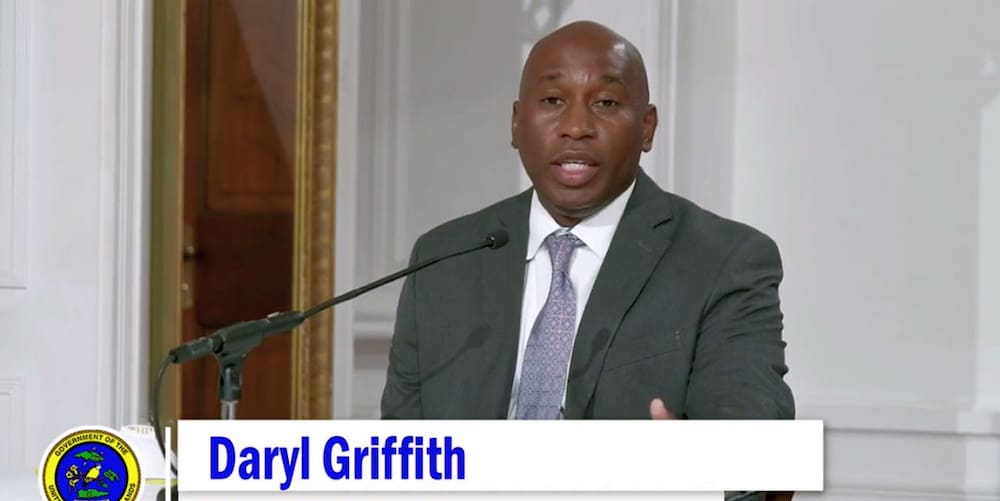 Heralding the newly passed American Rescue Act as "landmark" federal legislation, Government House officials detailed Monday what local residents can expect in terms of new relief, including the third round of stimulus payments, unemployment benefits and expansion of the Earned Income Tax Credit.
Speaking at Monday's weekly virtual news briefing, Government House Communications Director Richard Motta Jr. said the third round of stimulus checks will be going out once the territorial government receives a lump sum amount from the U.S. Treasury to cover the payments. According to guidelines, individuals earning up to $75,000 and couples earning up to $150,000 are eligible for a $1,400 payment per person and for each claimed dependent.
Additional assistance includes:
– Supplemental unemployment benefits of $300 per through Sept. 6;
– The expansion of the Child Tax Credit to $3,000 for children ages six to 17 and to $3,600 for children younger than six;
– Additional funding for the Paycheck Protection Program to issue small business loans with a special push to include nonprofits;
– Additional grant funding for the V.I. Education Department and University of the Virgin Islands;
– Additional funding to help support child care facilities;
– Support for low-income families, such as more funding for the Energy Assistance Program and to the Special Supplemental Nutrition Program for Women, Infants and Children;
– Public health funding to administer and distribute COVID-19 vaccines, provide contact tracing and buying testing supplies and personal protective equipment;
– Targeted support for bars and restaurants;
– Additional funding for the Emergency Rental Assistance program, which the V.I. Housing Finance Authority will launch at the end of March; and
– Expansion of the Earned Income Tax Credit from $530 to $1,500 for adults without children and raising the income limit from $16,000 to $21,000.
"To highlight what this means for the territory, the Earned Income Tax Credit creates a $20 million shortfall in tax revenue each tax year for the territory and is a major contributor to the territory's backlog in paying timely tax refunds," Motta said. "Because our mirror of the U.S. tax code requires the territory to pay out more than $20 million in tax credits annually for tax revenue it does not collect, this provision in the American Rescue Plan not only gives the working poor in our territory a financial boost, but it also provides critical support to our government in meeting this mandate of the mirror tax code."
Also speaking Monday, V.I. Housing Finance Authority Executive Director Daryl Griffith said starting Wednesday his agency will launch a major "media blitz" to explain who is eligible for the rental assistance program and how residents can apply. The program can help take care of as much as 12 months of outstanding rent and up to three months of rent in advance. The "go live" date for the program is March 29, he said.
Meanwhile, Motta said the District Court's recent decision to allow the territory to resume collecting excise taxes will not only help the V.I. government balance its budget, but it will help with the payout of outstanding obligations, including the reimbursement to government employees of the 8 percent cut taken out during the national economic recession nearly a decade ago. In his State of the Territory address, Gov. Albert Bryan Jr. said the first payment of excise tax collections will be put toward the debt, which Motta confirmed on Monday.