From broom making to bread making, students from across St. John and St. Thomas learned about native arts and foods at the 23rd Annual Folklife Festival.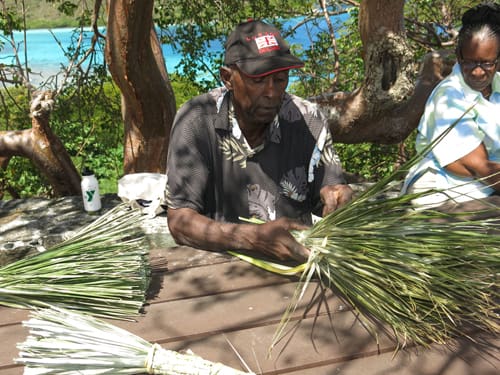 The sound of the conch shell rang out above Leinster Bay on Thursday morning, February 27, as the 23rd Annual Virgin Islands National Park Folklife Festival kicked off at Annaberg Sugar Plantation.
With a theme of "Our Culture, Our Future: Passing the Torch," the two-day festival featured many talented local crafts people demonstrating everything from wood carving to basket weaving before a crowd of students from across St. Thomas and St. John all in the shade of the Annaberg Sugar mill ruins.
The Echo People set the tone with African-style drumming and dancing and Smalls and the Music Makers kept the beat up with their infectious scratch band sound.
Among the demonstrations were wood turning by distinguished St. John wood artist Avelino Samuel, broom making by Edmund Roberts and seine net making by Mario Benjamin. During the two-day free festival, students also had the chance to see how to make dumb bread, johnny cake and Mauby; and taste those efforts as well.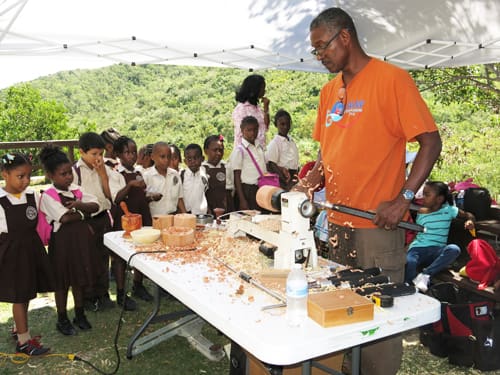 St. Johnian wood sculptor Avelino Samuel, above, demonstrates how to use a lathe for fascinated students at the 23rd Annual V.I. National Park Folklife Festival at Annaberg Sugar Plantation Ruins.
Students also enjoyed tasting sugar cane cut right from the Annaberg garden and watching chicken wings fry up in an old pot over coals made on the Annaberg grounds as well.
VINP docents were on hand to share the rich history of the Annaberg Sugar Plantation and answer questions from the public.
Festival organizers welcomed younger students on Thursday, February 27, and older students on Friday, February 28, who heard from culture bearers including historian Dr. Gilbert Sprauve, folklorist Glen "Kawabena" Davis and African drumming instructor Eddie Bruce.
The St. John Folklife Festival is hosted by VINP in partnership with Friends of V.I. National Park each year during Black History Month.