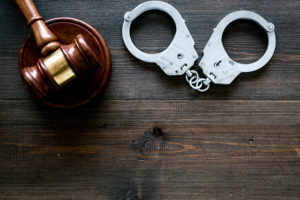 The V.I. Department of Justice arrested Human Services employee Everton Garvey on Thursday for allegedly defrauding the government by doctoring applications to get Medicaid for people who earned too much or were otherwise ineligible. According to a release from the Justice Department, Garvey is an eligibility specialist for the Virgin Islands Medicaid Program within Human Services. Garvey reportedly turned himself into the Justice Department and was arrested.
Garvey is charged with several counts of Medicaid Program fraud he allegedly committed while working at Human Services. He is charged with conversion of government property, fraudulent claims upon the government, forgery, and embezzlement or falsification of public accounts.
According to an affidavit in support of the arrest warrant, the investigation concluded Garvey fraudulently entered information into the Virgin Islands Benefits and Eligibility Enrollment System, a computer program, which resulted in some applicants becoming eligible for benefits when they would otherwise not have been eligible. The program is used to determine whether an applicant is eligible for Medicaid benefits. Employees are required to enter proof of citizenship, social security information, income, household information, and other documents required by the Medicaid program into it. Garvey allegedly fraudulently underreported income for certain applicants which caused them to unlawfully obtain medical funds when he knew the applicants were not lawfully eligible for Medicaid benefits. In one other instance, Garvey allegedly fraudulently entered an incorrect social security number which caused an undocumented recipient to unlawfully obtain Medicaid funds.
This is not the first and may not be the last arrest in this investigation. In January, the Justice Department arrested Medicaid program supervisor Kathleen Gussie.
[adrotate group="6"]
This investigation began in February of 2020 when the Justice Department got an anonymous call alleging the fraud. After a preliminary investigation in July of 2020, there was sufficient information gathered to investigate 13 employees of the Medicaid Program. As a result, the V.I. Medicaid Fraud Control Unit in the Justice Department found roughly $54,000 in Medicaid funds was improperly appropriated by some employees of the Medicaid Program when they unlawfully enrolled recipients in the Medicaid program. But the unit was reportedly unable to recommend criminal charges be brought against some employees because it was unable to obtain some program files although the files were subpoenaed.
"The arrest of Everton Garvey does not conclude the investigation. The investigation continues and additional arrests are expected," Attorney General Denise George said in the department statement.
To report Medicaid fraud, waste, and abuse, call the Medicaid Fraud Control Unit hotline at (888)-404-6328. All calls are anonymous. You may email your complaint to vimfcu@doj.vi.gov or through the Virgin Islands Department of Justice's website.