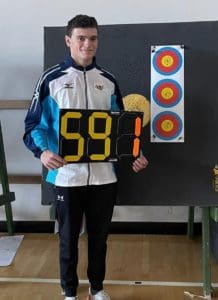 Nicholas D'Amour, representing the Virgin Islands, continues to improve on the world stage.  This weekend he competed in the second stage of Indoor Archery World Series.  Nearly 3,000 archers registered for the first stage in November, with over 2,000 scores ratified for the results, and more than 5,000 people have entered the second, which ran from Dec. 18-20, 2020.
This past weekend, D'Amour bettered his score from stage one with a 591. He tied for 10th in the world.  He competed against 1,196 archers world-wide in the Senior Olympic Recurve Division. He shot his impressive score while participating in an international training camp at the Gloria Sports Arena, in Belek, Turkey.  He trained with the National Olympic teams from Turkey, Spain and Russia.
In the November competition, D'Amour finished 13th in the world in stage one.  He shot a 587.  In stage one, 635 archers competed in the Senior Olympic Recurve Division.
Stage three is scheduled for Jan. 15-17, 2021.  The fourth and final stage is scheduled for Feb. 12-14, 2021.
Final results.  With a score of 591, with 52 10s, Nicholas finished tied for 10th. 
10   9      Total
1      Brady Ellison 58   2      598
2      Oh Jin Hyek 57     3      597
3      Thomas Chirault 56     4      596
4      Min Byeongyeon 54    6      594
4      Steve Wijler 54     6      594
4      Jack Williams 54  6      594
7      Mauro Nespoli 53        7      593
8      Karni Singh Chauhan Karni 52   8      592
8      Jean-Charles Valladont 52 8      592
10    Nicholas D'Amour 52 7      591
10    Yubin Nam  52      7      591