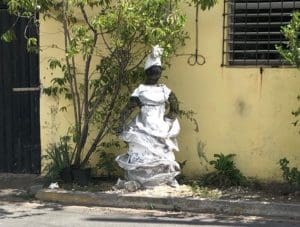 Over the last few years, people have been noticing wire sculptures, mosaics and other art springing up on the streets of Frederiksted. The project is created by local artists under the guidance of Clean Sweep Frederiksted, and now there is a trail of objets d'art made of recycled materials from one end of town to the other.
"When art shows up, space stays clean," said Virginia Clairmont, Clean Sweep's chief executive officer and president.
The organization pays a stipend to the artists, and some of the businesses have made donations to the non-profit organization for the sculptures on their properties. Some Lions Clubs have worked in conjunction with Clean Sweep – "They have the same mission statement," Clairmont said.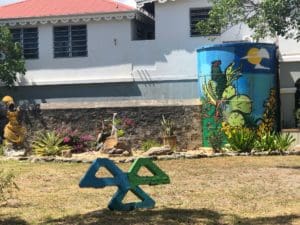 Aldershville Park was one of the first areas where sculptures grew from the bare ground to form a garden complete with a wire sculptured Sunshine Lady, a pair of egrets against the backdrop of a floral painted water tank, by Hakim Callwood. The finishing touches are the rebuilt concrete benches painted in bright colors. Wire artist Waldemar Brodhurst said Sunshine Lady commemorates the elderly who lived across the street years ago in the Aldershville Senior Center. Closer to the shoreline, a large red hibiscus adorns a rock wall.
A few steps to the South, painted benches, a wire iguana on a palm tree and a lime-green dressed garden lady grace the park in front of the Frederiksted Public Library. Brodhurst created the wire sculptures and others along the art walk as well as plastic barrel lids and paper mache shapes painted like ornate masks which stare down at the public from trees.
Brodhurst is a Frederiksted resident who has been practicing his art since 2012 and has sold his work at galleries, including Iona Sky Gallery. "Trash into treasure," he calls what he creates for the Clean Sweep project.
"My goal is that poor, middle class and rich people can buy it," he said.
Brodhurst's favorite piece in the community art project is his latest – a bamboula cultural dancer, dressed in traditional white, poised outside the United Caribbean Association. Brodhurst's son and daughter are following in his footsteps – recognized as artists in their own right.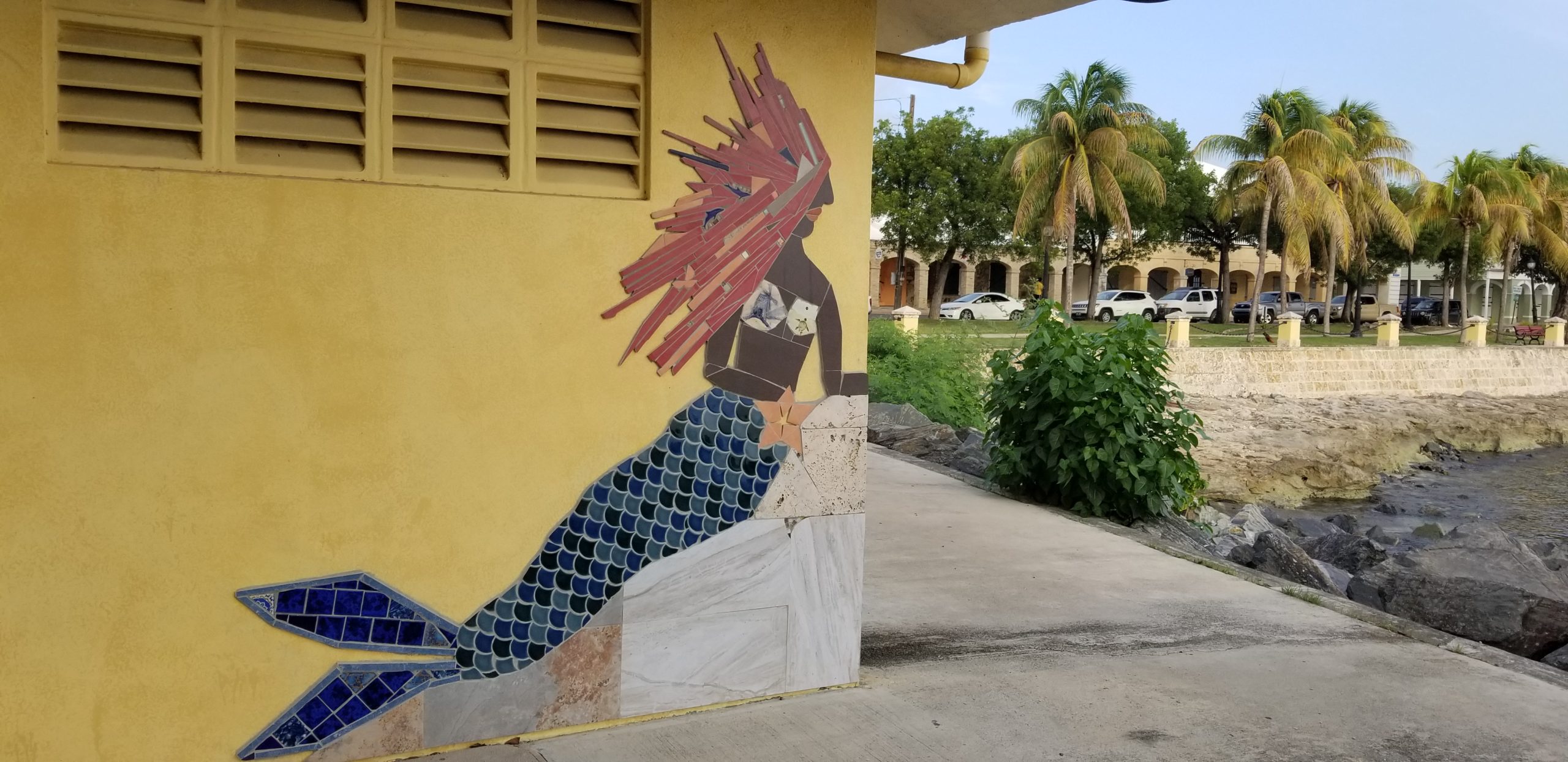 Across the street at Turtles Deli/Smoke STX, Donna Boles installed a larger-than-life mermaid and turtle of broken tiles in mosaic patterns. Boles also created a mermaid and Big Wave Dave – a turtle – next to the spectacular Brown Mermaid at the Frederiksted Pier. Boles said her work is not true mosaic but recycled broken tiles.
Boles has been volunteering for Clean Sweep Frederiksted since the beginning. She said Clairmont finds locations for art projects, and then Boles comes up with a design. She is retired and likes to travel to cities to study community art projects, such as Cuba's public art.
"It draws people in. It makes people proud" of their neighborhoods, she said.
Heading North on Strand Street white wire sculptures – an angel nurse and a unicorn – stand proudly on the lawn of Frederiksted Health Care Inc.
Further down Strand Street, a wire moko jumbie stands by the front door of historic Victoria House and two chicken caricatures fashioned of tires and other material mark the front of the Frederiksted Mall. All three creations were made by Brodhurst.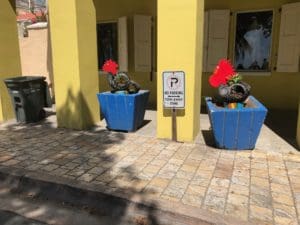 In addition to the mosaic work by Boles on the pier, there are two large murals covering the scuba boat docking wall, by Carolyn Roblyer and Caitlin Taguibao.
More colorful sculptures and murals can be seen on side streets, King Street and the waterfront road south of town to surprise walkers. The art walk stretches from Beachside restaurant north to the United Caribbean Association building.
The first project by Clean Sweep Frederiksted was a massive cleanup of Frederiksted involving 250 volunteers, and then they decorated trash cans and scattered them around town. Clairmont said some are stolen or damaged so replacements are always needed.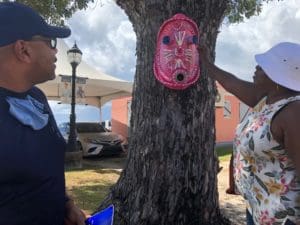 Clean Sweep was started by Clairmont in 2014. There are six board members who advise on locations and projects to be undertaken. Clairmont and Robert Protho, vice chairman, told the Source the organization is getting ready to take another big step to revitalize Frederiksted. Clean Sweep will apply to become a community development organization so they can qualify for grants and take on more infrastructure projects.
"Residents can have a voice in what they want to see," Clairmont said. "We (Clean Sweep) can be participants without displacement."