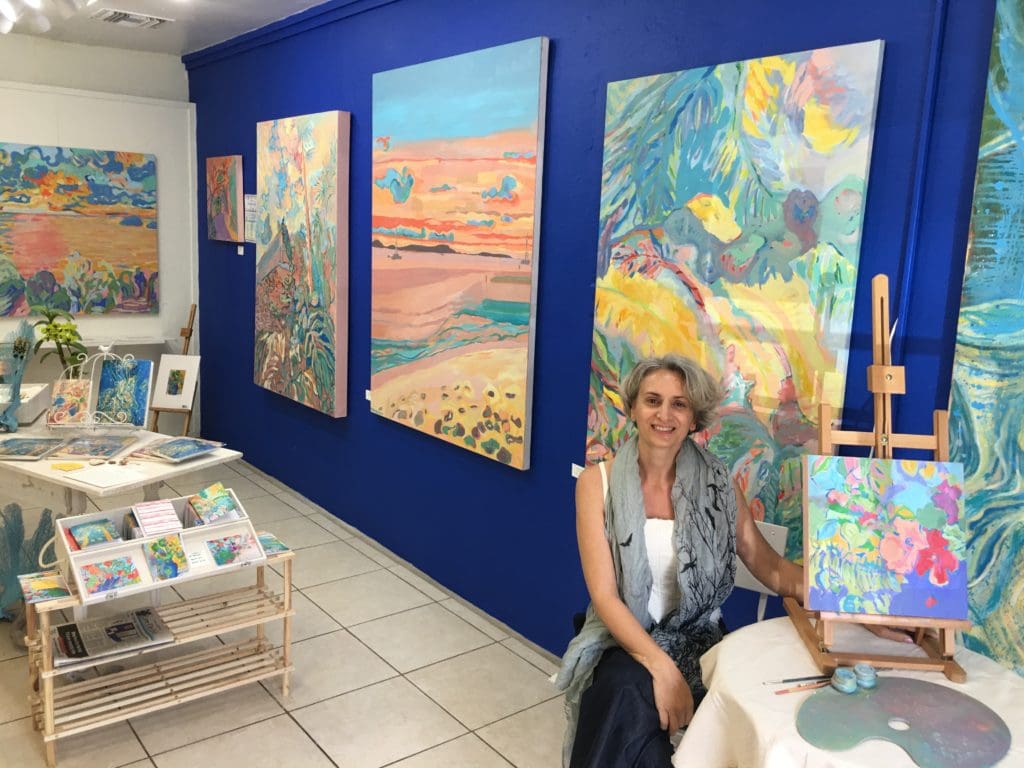 When visitors step into artist Katia Moltisanti's new gallery in Cruz Bay, she wants them to feel the vibrations of the colors in her paintings.
"Each color has a vibration," she said. "Yellow has the vibration of hope and spontaneity. Blue is for calm. Orange is for vitality and happiness. Green is for new beginnings. When we're in a colorful place, we feel those vibrations."
Color reigns supreme in the gallery, which opened several weeks ago across from the Lime Inn in the complex of shops next to Fred's (once the leading nightlife spot on St. John).
Moltisanti said she often dreams of a color she'll use next in her painting. Nature provides the imagery.
"When I can, I go to a place with a lovely view. I put my big easel outside and start to sketch with charcoal. But I don't paint outside. I go back into the studio and work with the memory of the landscape. I use the colors as if they're words in a poem."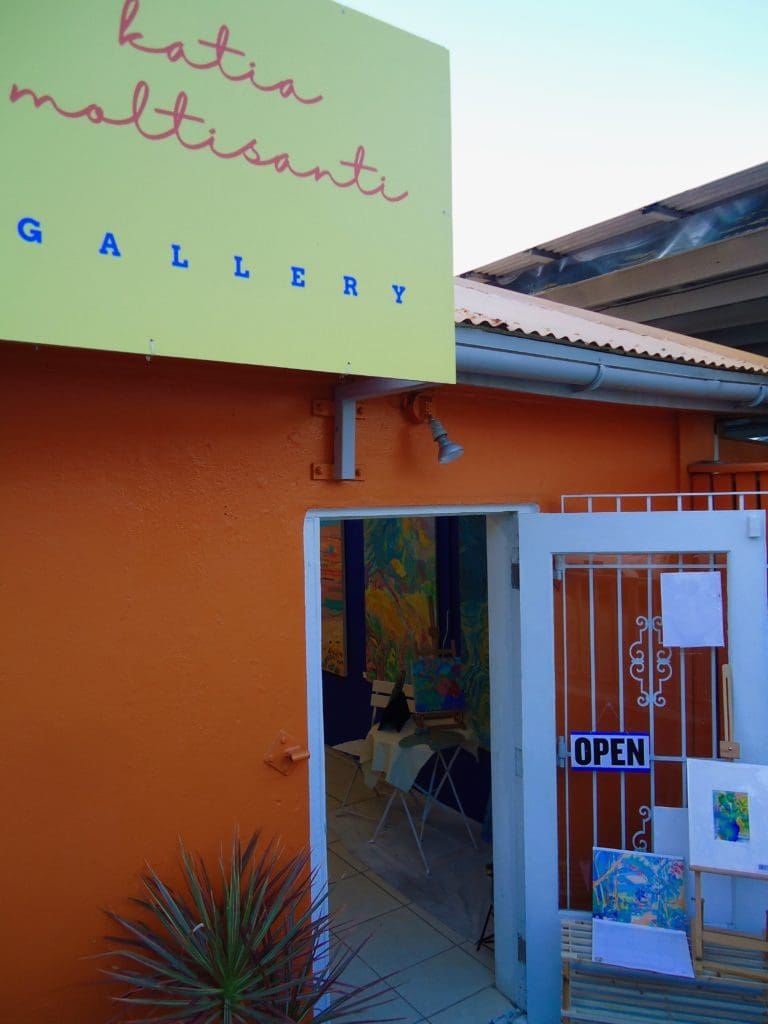 Visitors who come to the gallery, which is open from 3 p.m. to 7 p.m. Monday through Saturday, often find her at work on a painting. In addition to large and small format oil paintings, Moltisanti has designed a line of notebooks produced in Italy by a family that has been making handmade paper products for 10 generations. She also sells evening bags and other objects with her colorful designs.
Moltisanti used her time at home during the pandemic to create a collection of paintings. "Being shut in gave a lot of artists like me the chance to be productive. The gallery is a consequence of that productivity," she said.
This fall as St. John reopened to tourism, Moltisanti emerged from her "cocoon" and started to think about establishing a gallery of her own, but she knew finding a spot would be tricky in a small town where real estate is pricey.
Around the same time, she went back to another one of her passions – teaching art to children, this time at the Gifft Hill School.
There she met the grandchildren of Faye Samuel who manages the property still known as Fred's. When a small space became available in the growing retail complex, Moltisanti was thrilled. "To be on this generational family property is an honor," she said.
Moltisanti, who is Italian, has developed an expertise in teaching language to both children and adults through art. For 13 years, she and her sister ran a school in New York City which offered art classes in Italian. "The best way to learn a language is when you're involved in an activity; there's less pressure to master the language," she said.
At Gifft Hill School, the target language is Spanish, but the skill development goes far beyond that.
"I teach young children the importance of the power of their hands – to draw, to cut, to glue. Their hands become more agile. I like to use recycled materials and do projects in 3D. After we build something, we paint it, tell a story. Then we go out in nature and find objects to add. For the kids, their projects become a favorite toy; they feel a sense of pride when they say, 'I made that.'"
Moltisanti particularly enjoys it when children share their skills and enthusiasm with each other and start to use words like "gorgeous" and "amazing," which they pick up from her.
Drawn by the beauty of St. John, Moltisanti and her husband Giovanni Gurrieri, a chef, first moved to St. John in 2016. "The first thing I noticed when I arrived was the smell of frangipani. It was like being in Europe. The hibiscus and bougainvillea reminded me of home in Sicily."
Then Hurricane Irma struck in 2017 destroying their apartment, and the couple returned to New York. "I couldn't stop thinking of St. John," Moltisanti said. Humbled by the power of the storm but heartened by the spirit of community as the island worked toward recovery, they returned in 2018.
Moltisanti now welcomes visitors to the gallery as she applies the color to the canvas. When she finishes a painting, she thinks of it almost as a child that is ready to go out in the world and bring joy to others.
To see more examples of Moltisanti's work, check out her Instagram account (katiamoltisantiarte) or visit her website www.katiamoltisanti.art.