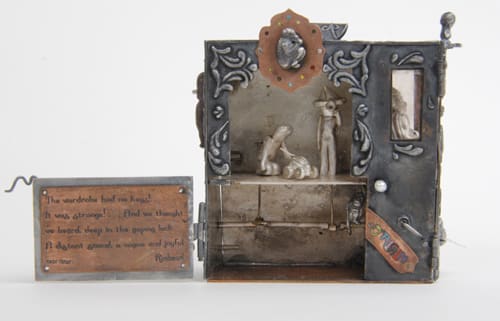 Nogueira's lost point of origin, above, depicts children playing and a fortune teller transporting the viewer to a place of wonder while offering thrills of motion.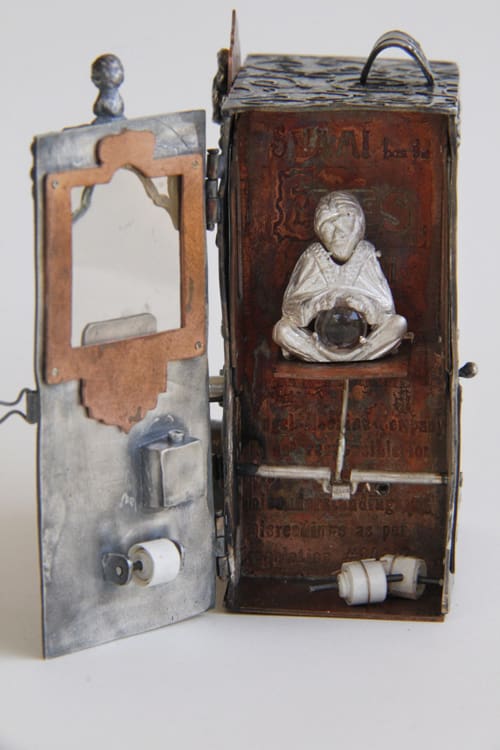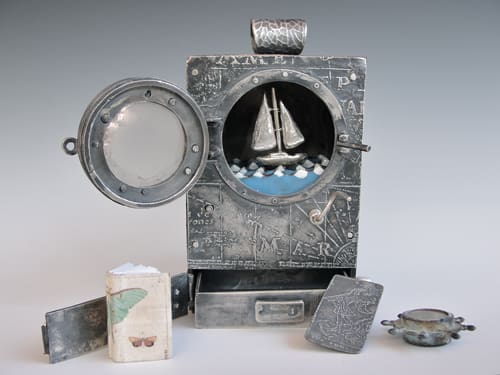 In a world jaded by war and violence, where teens are often bathed in the light from computer and TV screens, it can be difficult to capture the imagination of childhood, yet Kim Nogueira has done just that.
Painstakingly creating a miniature world of moving parts full of mystery and possibility, the St. John artist and jeweler's latest creations awaken the child in everyone.
Nogueira's automatons are tiny — the largest are only two-and-a-half inches tall — movable, and wearable, sculptures posing as jewelry, what she calls "mechanical ornament for the body." And each of her creations includes an astonishing little thrill for the viewer.
Wind up the little crank in threshold — made in 2011 of fine and sterling silver, bronze, vitreous glass enamel, paper, mica, found object and cultured pearl — open the tiny porthole and watch the mini enamel waves swoosh back and forth. Open the tiny drawer on the bottom of the box and be amazed by a teensy compass, map and book all crafted by Nogueira.
"That is kind of a story about me and my traveling here," she said. "It's about beginnings and travels and possibilities."
In eyes of truth, created in 2012 of fine and sterling silver, brass and tourmaline, the crank makes the little fortune teller's head look down into crystal ball.
Created in 2012, lost point of origin is made of fine and sterling silver, bronze, found object, vitreous glass, enamel, cultured pearl, mica, paper and thread. The front of the automaton features two children with old fashioned toys, which move by a crank.
The side of the pendant features a fortune teller controlled by a second crank which actually sends out a fortune written on a tiny piece of paper. A quote from Tennyson reads "All experience is an arch wherethrough gleams that untraveled world whose margin fades for ever and for ever when I move on the back of the pendant."
The creations are beautiful and obviously take an enormous amount of patience, time and determination to execute. Nogueira spends anywhere from a few weeks to a few months on each piece and if she makes one mistake, she's forced to start from scratch.
"It's such a challenge, knowing that it can be done, but having to figure out how to make it work," said Nogueira. "You have to plan out each step and you have to do everything one by one. If you mess up, you have to do the whole thing over again."
The St. John artist has worked at R&I Patton Goldsmithing for the past 12 years which is where she first learned jewelry-making skills. Nogueira is putting those skills to amazing use in her automatons which take soldering, etching, sculpture, grinding skills and more; all done on such a miniature scale it's difficult to understand just how she manipulated the material, which adds to the sense of amazement.
"I love tiny things," said Nogueira. "Making automatons on that level is harder and most are made in wood and are big. But I like tiny things and I like the challenge."
While the techniques behind the works are unquestionably impressive, what comes across most of all is the absolute sense of wonder embodied in these almost impossibly small moving pieces of wearable art.
"There are serious emotions that I wanted to express and get out from inside," said Nogueira. "They have to do with childhood and the future of childhood, about the society we live in and how society is changing so rapidly. Kids don't really play in nature anymore; you have all these machines and TVs instead."
When beginning a piece, Nogueira's starting point is often a quote or a poem. Rimbaud, Tennyson and Mary Oliver are few of the luminaries who have inspired the artist to create, she explained.
"I have to have words," said Nogueira. "I can't do anything unless I have something with words."
It is that combination of extremely talented technique and sense of mystery and emotion which make Nogueira's works so enchanting and enticing. And her peers in the automaton world have noticed.
Nogueira began dabbling in the form only a year ago when she heard about an online competition using metal clay and relating to motion. She won the competition taking first place in Metal Clay Today's "Metal Clay in Motion" juried competition and has won several since including  Metal Clay Artist Magazine's  "metal clay plus" biannual juried competition in 2012.
Her work was recently selected to appear in  "The Art and Design of Metal Clay Jewelry and More Calendar 2013" after she was included in the 2012 calendar as well.
The automatons are not cheap or easy to make and the price tags reflect that work. Nogueira is currently only offering one for sale, eyes of truth, for $860. But her passion for miniature metal automatons is not likely to abate any time soon, so fans can expect more options for purchase in the future.
For more information, check out www.kimberlynogueira.com.