With 14 years of art education around the world, St. John artist Lee Eng Khauv is back from painting plein air in the Loire Valley of South France — as evidenced in her latest paintings of french vineyards, villages and landscapes.
While in France, Khauv attended a "Plein Air Masters" workshop in October and worked with master painter Kim English of Colorado. The course included painting sessions around the Loire Valley — all in the rainy Fall weather.
As the rain fell from the sky, Khauv was challenged and cold, but not even the showers could stop this artist from painting.
"I was tested as an artist because it rained all week," laughed Khauv. "To be outside in plein air can be challenging — because of the weather — you set up; it rains; you break down and wait for the rain to stop; and then you realize oil and water don't mix."
Capturing the Moment
"There's a force in you as an artist that needs to capture the moment," Khauv said. "Painting plein air makes one paint fast and spontaneous so that moment in time isn't lost."
"I love painting outdoors, but this last trip to France tested the limits of my skills and endurance," the artist said. "Unfortunately, Mother Nature did not cooperate and the trip was wet and cold. We found ourselves setting up only to have to break down minutes later due to heavy rain."
Despite the odds, Khauv succeeded in completing 14 paintings.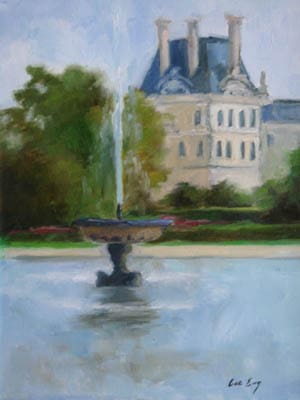 World-wide Collectors
Khauv's impressionist artwork hangs in numerous island villas and professional business offices on St. Thomas and St. John. Her collectors span from across the United States to Europe.
"I have been interested in landscapes and marine life all around the world," said Khauv. "Every year on my travels, I discover more and more beautiful landscapes and seascapes. I have traveled, seen and painted many parts of the world, but I will always love to paint our Caribbean bougainvilleas, beaches and boats."
A St. John resident for over 16 years, Khauv is known for her seascapes of quivering water surfaces and reflections and prefers to paint in oil but works in all mediums, adding she has mastered drawing.
"Because drawing is the foundation of all good art, I spent a summer in Florence, Italy, at an artist academy mastering the human anatomy," Khauv said. "I was taught to see and draw, in charcoal, the human anatomy to perfection."
"It was a wonderful experience that trained my eyes to see the world in lines and shapes," she said. "After one has mastered the anatomy, one can paint and draw anything."
Being Part of Art Community
"I have had numerous solo exhibitions but also participate in the Artists Association of St. John, and more importantly, I am dedicated to the organization's cause," Khauv added. "It's important to support fellow artists."
After a solo exhibition at the Westin Resort and Villas, Khauv was approached by the resort's hotel manager Matt Balcik to be part of the weekly "manger's cocktail hour" and display her art.
The opportunity would prove to be positive and evolved into three shows a week — displaying in the resort's front lobby area Wednesday through Friday, from 5 to 9 p.m.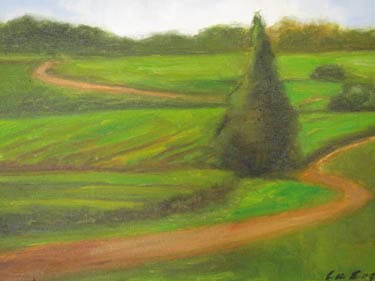 Great Holiday Gifts
'Tis the season for "original" gift ideas — Khauv has original art in stock this holiday season for the discerning gift-giver.
"I have miniature pears, orchids, mangoes, grapes and pineapple paintings — all of which would be a perfect gift for anyone seeking original art," Khauv said. "Many of the them can be purchased as sets and can also be hung unframed because the canvas sides are painted."
"These miniature oil paintings would be great for people who love to spend time in the kitchen — food lovers," she said. "The art adds a little spice to the kitchen walls."
All Original Art
Khauv has steered clear of creating prints of her artwork. All of her works are originals.
"I don't make any prints — which is very rare," Khauv said, explaining the pressures of the art industry. "This is the way the master's did it and I will continue to keep my artistic integrity intact."
Challenged but enchanted by the different colors and lighting of the environment, Khauv is always determined to capture the moment, adding she is always happy to pick up her paint brush.
"I don't know where my next art adventure will be, but I know I will always challenge myself and strive to be the best I can be as an artist," Khauv concluded.
For more information on Khauv or to purchase her one-of-a-kind artwork, visit her web site at www.laleeart.com, e-mail laleeart@yahoo.com or call 340-693-8790.