On Thursday, June 22, the artwork of Theodora Moorehead and Tony Romano will be featured in the first show on St. John curated by Aubrey "AC" Burgess of Aubrey Artwork.
The public is invited to The Wine Shop in Wharfside Village, Cruz Bay, from 6 to 9 p.m. for the opening which will include at least a dozen works by each of the two headlining artists.
Theodora Moorehead, known as a community activist and percussionist with the band Quelbe Resurrection, has garnered additional attention in recent years for her "doodle" art – mesmerizing black and white abstractions.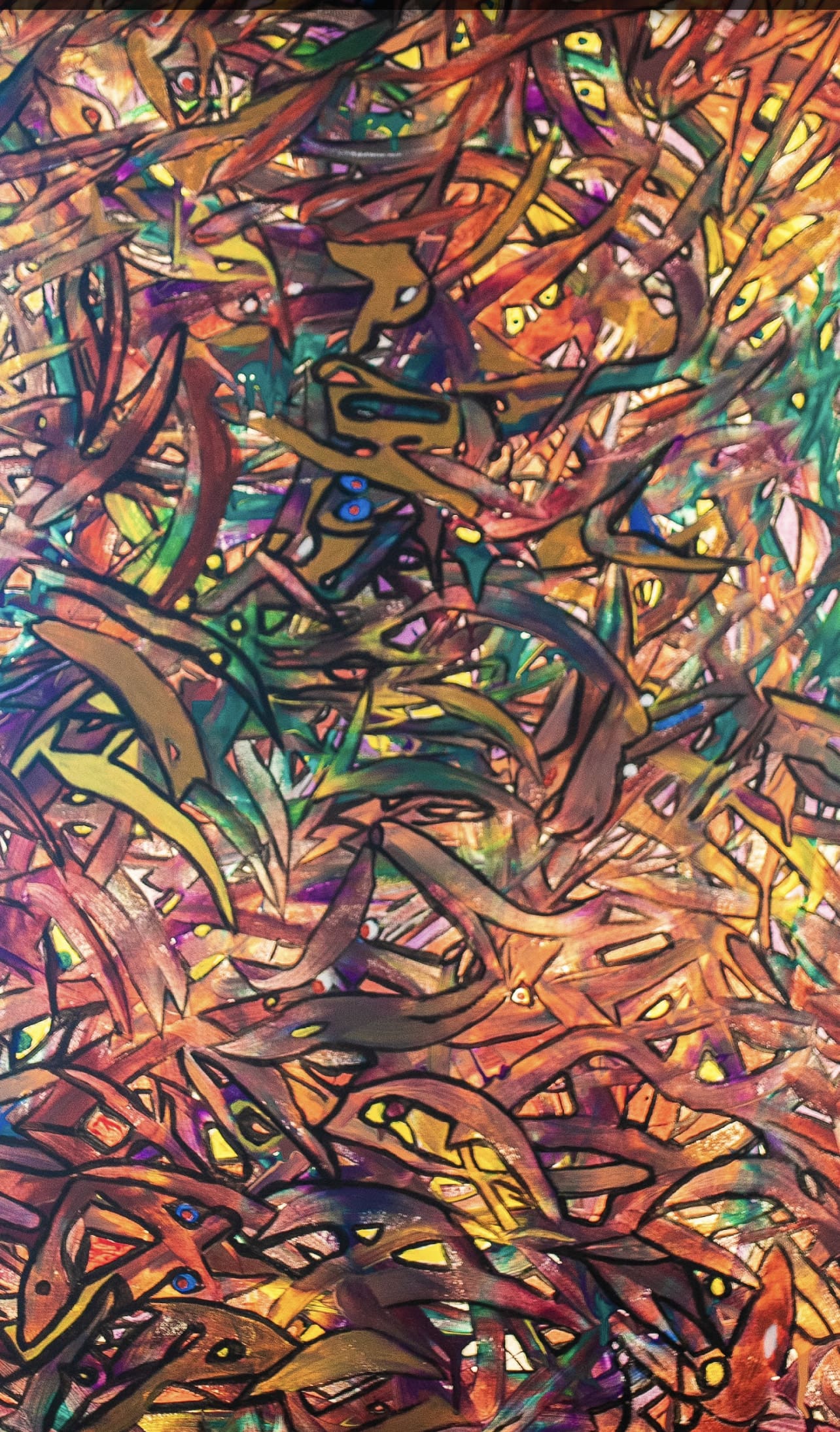 "Although I didn't know Ms. Moorehead except to say hello, I was really pulled by her work, so I approached her, and she said she was ready," Burgess said. "This upcoming show will present a broader scope of her work," he added.
Tony Romano has nurtured a passion for painting rivaled only by his passion for Northern Italian cuisine. His eponymous Smith Bay restaurant set the standard for fine dining on St. Thomas for more than 20 years. Although the restaurant closed a decade ago, Romano has continued to flourish as an artist. 
Romano's latest work features the technique known as encaustic – a  mix of wax and pigment fused onto a surface with heat. "Look for colors bursting from the canvas in various mediums that even include wood and cork," said Burgess.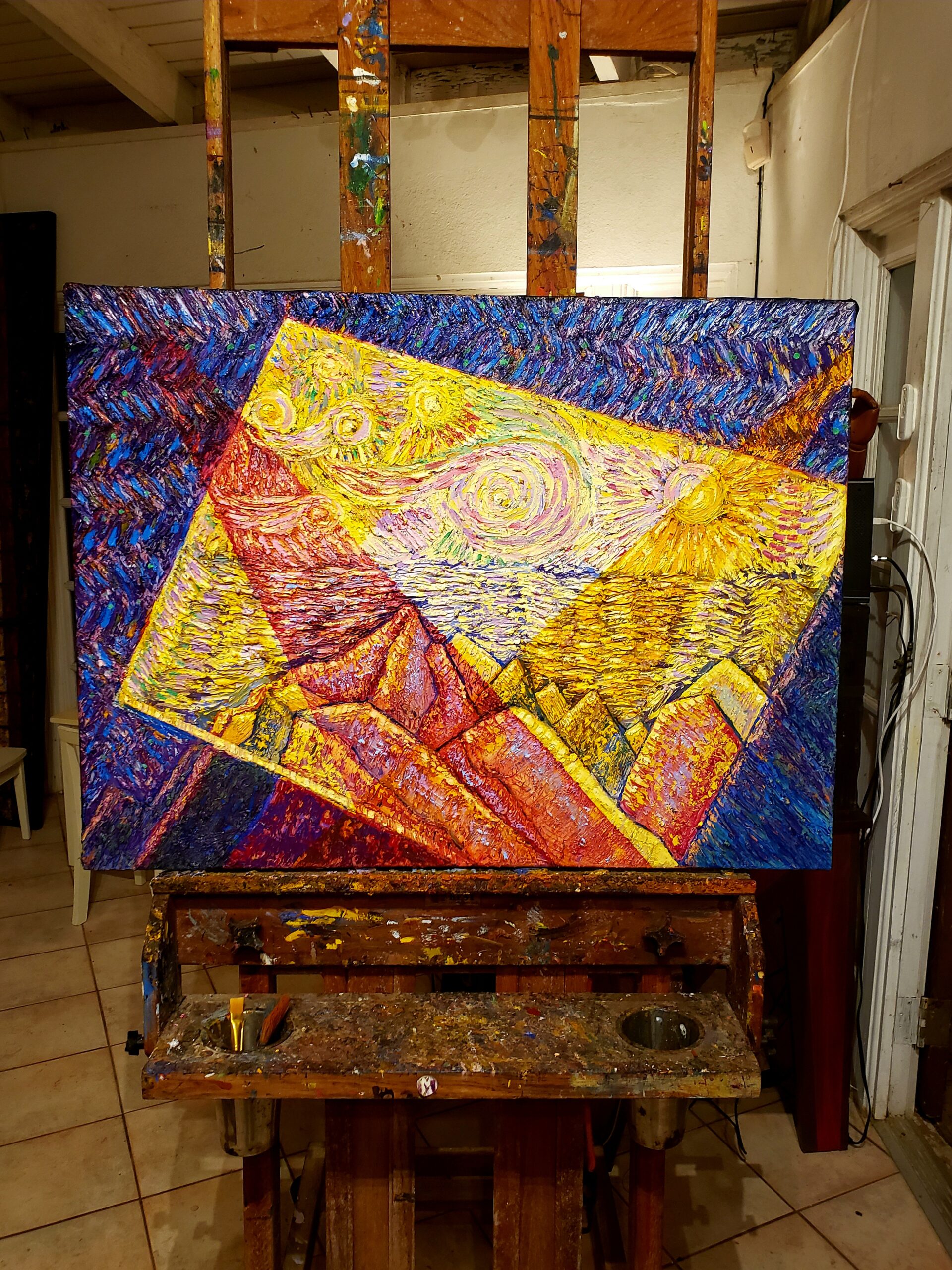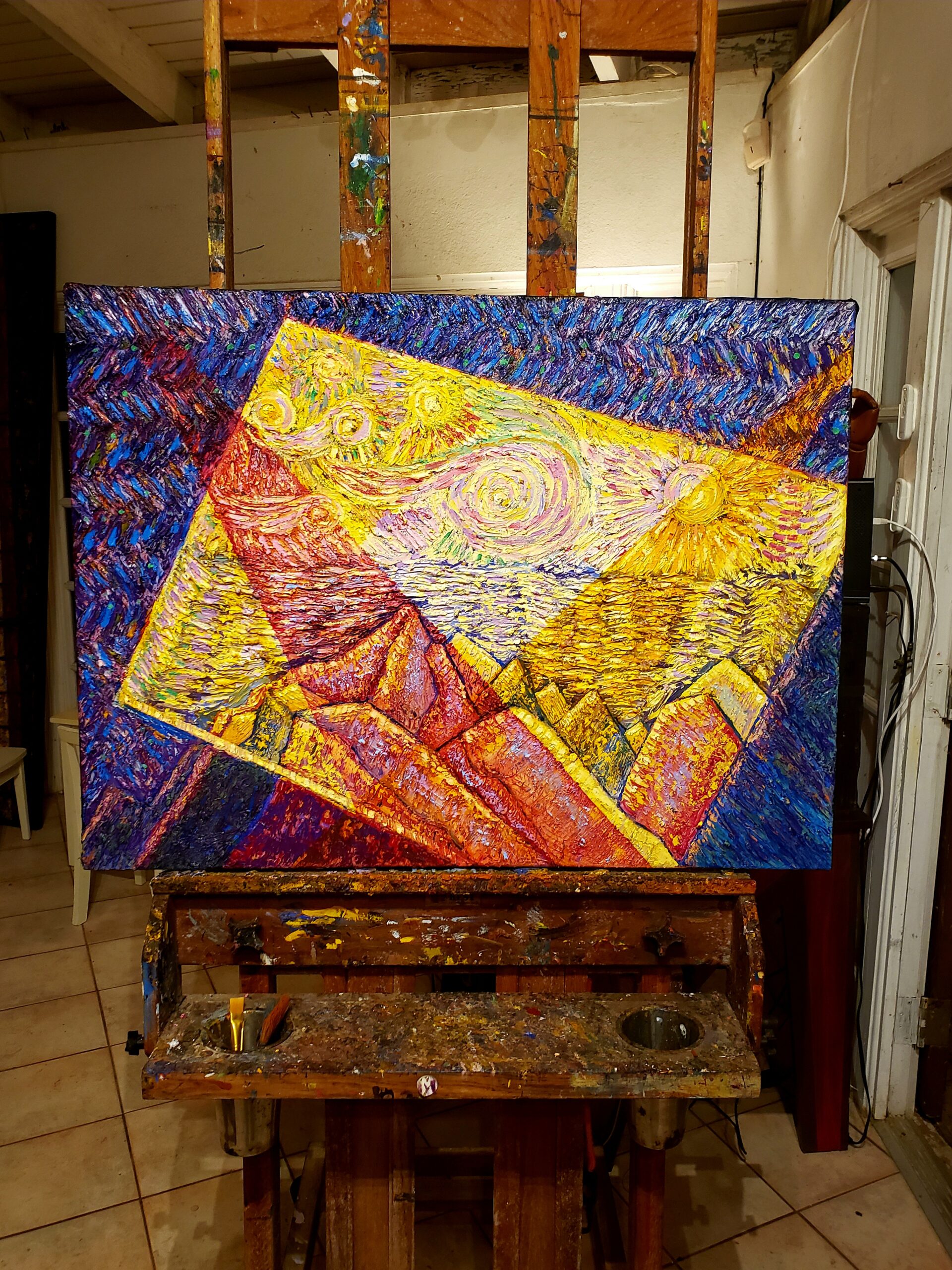 Burgess, who now co-manages the upscale LaTapa Restaurant in Wharfside Village, has long been involved with food and art, as well as education. Born and raised in Red Bank, New Jersey, he took classes in stained glass and woodworking as a youth. 
After high school, Burgess enrolled in culinary school, but dropped out and moved to the Virgin Islands in 1989 to find work in the food and beverage department at Cinnamon Bay Campground.
In 1995, Burgess went back to college, this time to a university in Puerto Rico where he earned a degree in elementary education. Between 2001 and 2008, he did various things, including teaching at what is now the Gifft Hill School on St. John and All Saints Cathedral School on St. Thomas.
While at All Saints in 2008, Burgess produced a multi-media class project called "Looking at Charlotte Amalie Through a Lens" in collaboration with Gallery St. Thomas. That stirred him the desire to devote more of his time to art.
When a 2018 cancer diagnosis sent him back to the States for treatment, Burgess settled in Baltimore and reinvented himself once again.
One day while walking past a string of upscale apartment buildings, an idea came to him: Why not approach the buildings' management about showcasing the works of artists who aren't seen in places where people can afford to buy their art?
It was a win-win concept; the interiors of the buildings were ornamented with fine art, and the artists found a place to display their work.
After a while, Burgess brought his service to a five-star hotel, the Sagamore Pendry Baltimore, and to five other properties in Baltimore and Washington, D.C. "I'd show up and transfer the space in the building," Burgess said. "Then galleries started calling me."
A little more than a year ago, the Caribbean beckoned to him again, and Burgess moved back to St. John. His work at LaTapa brought him in contact with Victoria Theriault, the owner of the nearby wineshop, and Aubrey's Artwork was rekindled in the Virgin Islands.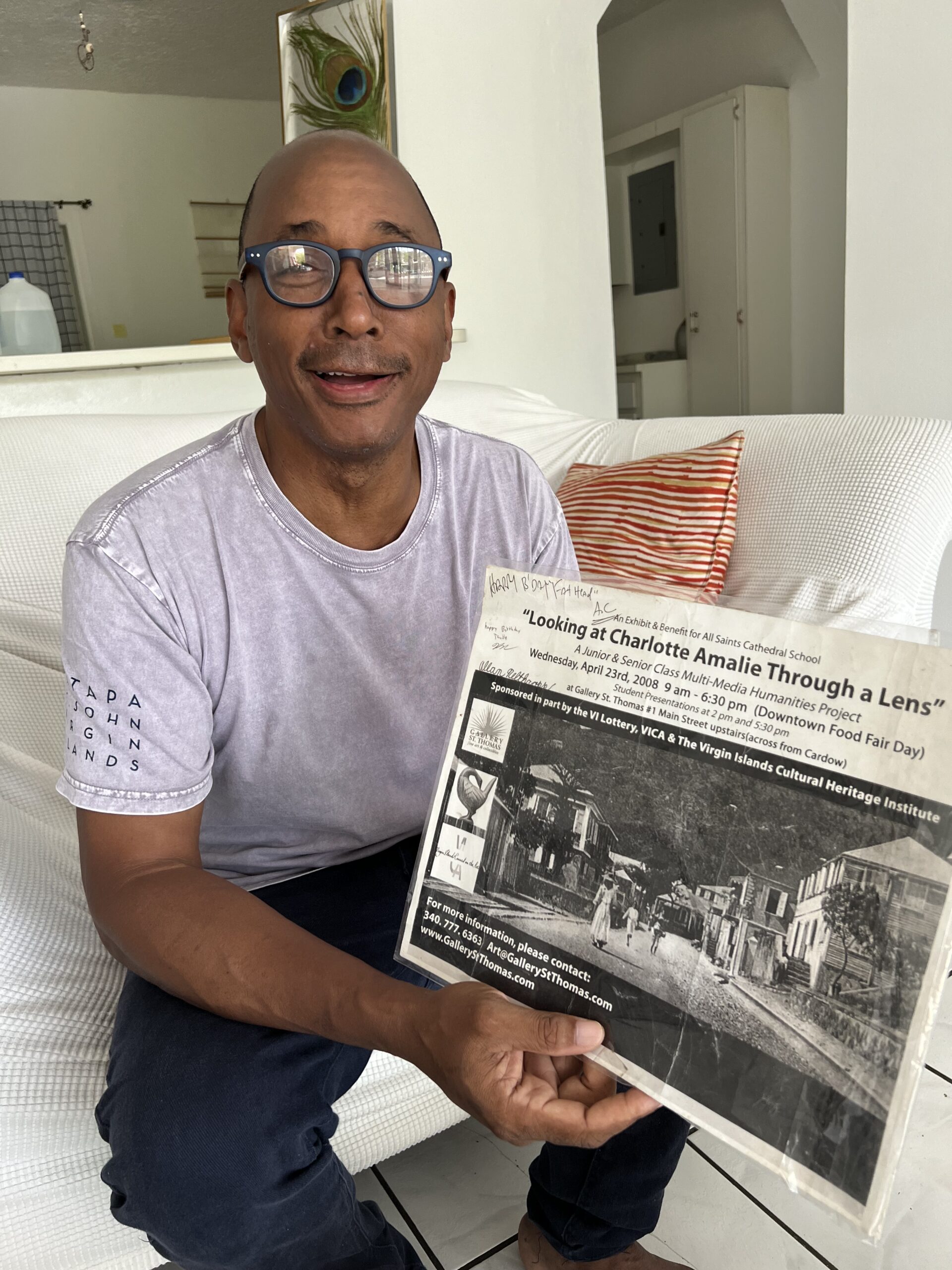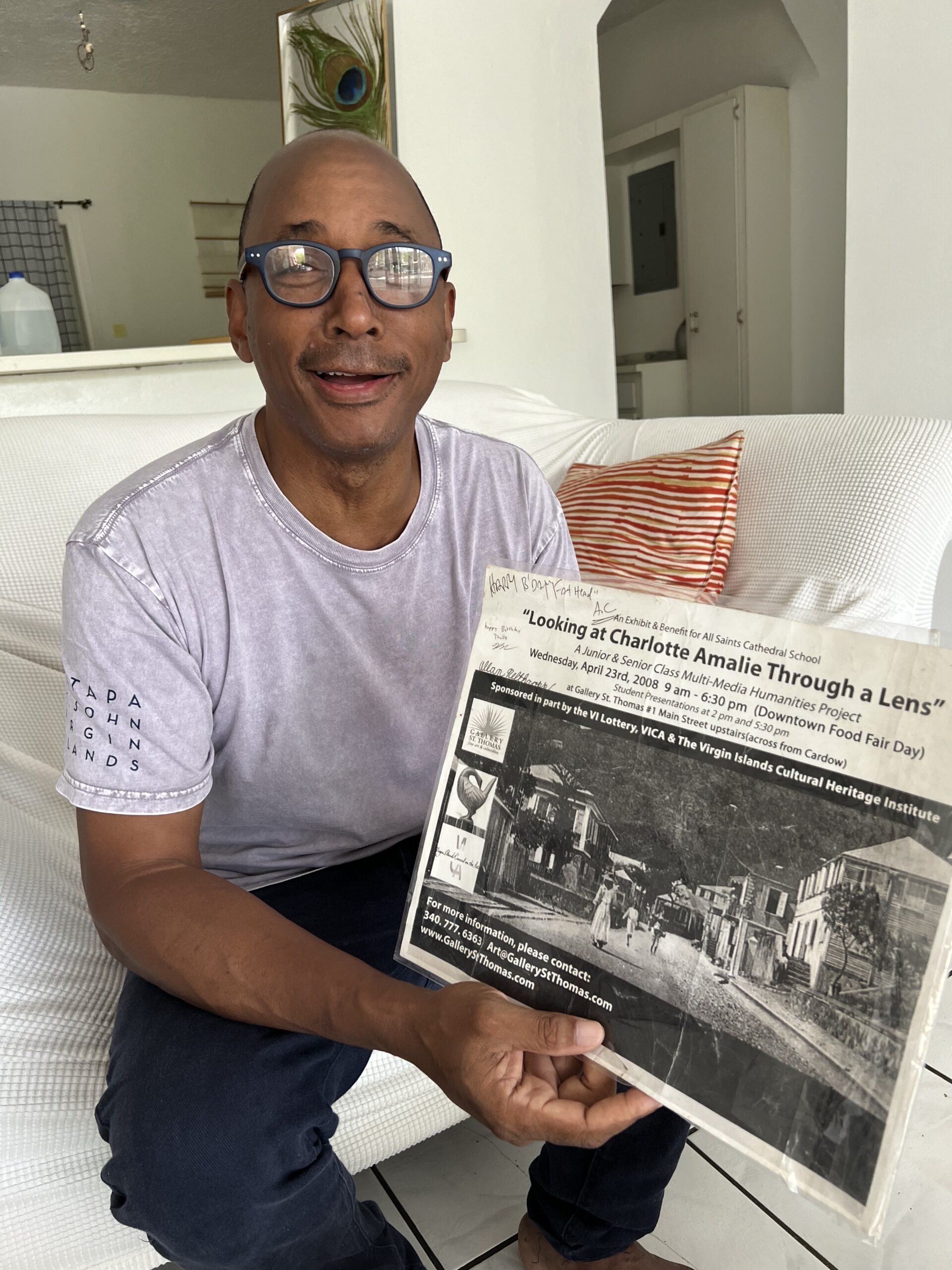 Dawn Leroux, the manager of Wharfside Village, encouraged Burgess to hang the work of other artists he has collected. On the opening night only, the works of 12 other artists, including Jared Shomo, Enzo Newhard, and Shaiman Lalich, will be on display along the corridor outside of the wine shop.  
For further information, text Aubrey Burgess at (433) 589-4425.