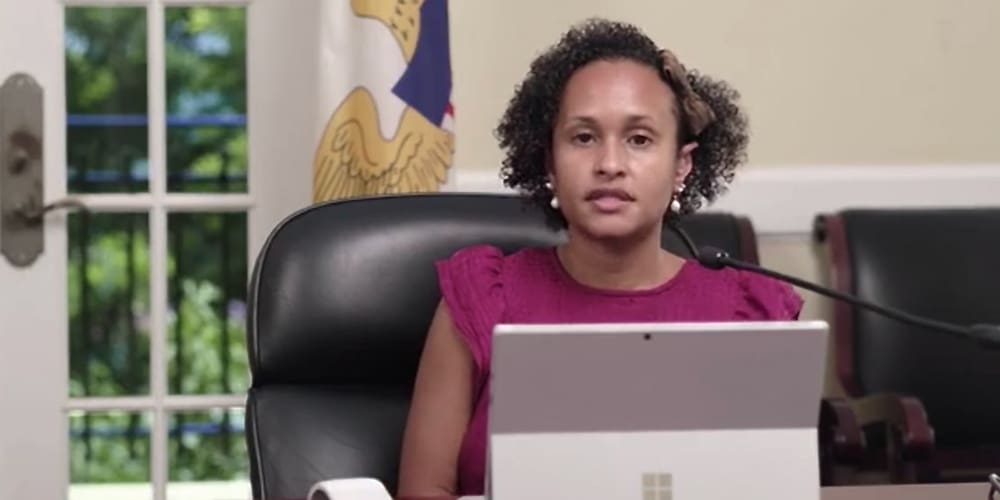 Putting the territory's 62 COVID-19 related deaths into perspective, the V.I. Department of Health's Medical Director Dr. Tai Hunte-Ceasar said Tuesday that it took 159 days of pandemic for the territory to record its first 19 deaths, 324 days for the second 19 and only 31 days for the most recent wave, all of which happened in August.
An additional five COVID-19 deaths have been recorded in the first week of September.
Speaking during the weekly news update at the Public Finance Authority offices on St. Thomas, Hunte-Ceasar said more than 575 days have passed since the territory's first case of COVID-19 was recorded in April 2020, and the death toll might have been higher had it not been for monoclonal antibody treatments being administered in the hospitals, she added. There have been between 200 and 400 active cases of COVID-19 every day since July.
Currently, there are 193 active cases, with 120 on St. Croix, 68 on St. Thomas and five on St. John, putting the territory's seven-day positivity rate at a little more than 3 percent.
And, while patient numbers seem to be going down in the hospitals, Hunte-Ceasar said that's because many have been removed from isolation, while others have died. More than 90 percent of the cases are due to the ongoing Delta variant surge, including the two patients recently admitted to the Schneider Regional Medical Center on St. Thomas and the six at St. Croix's Juan F. Luis Hospital, of which two are vented.
Hunte-Ceasar said that in a recent hospital board report, chairman Chris Finch noted that in August, Juan Luis reported as many as 20 hospitalized at once, while prior to July the highest total was five at one time. Meanwhile, the highest for SRMC was 15 hospitalized in August, with as many as five vented.
"There have been many days where we have had over 10 vented patients," she said. "We are seeing one death per day on average, meaning that there are some days in which we have none, but on subsequent days, we have two or three," including Sept. 3, when three deaths were recorded within 24 hours.
Hunte-Ceasar questioned how many more deaths are needed before it's acceptable "to ask others to do the right thing."
"We've had nine months of vaccines to date," she added. "It's the best tool we have, and it's free. A little more than one-third of our deaths have occurred since vaccines have been available."
All deaths have been among the unvaccinated, including the recent death of a 30-year-old man and a 57 year-old man, who died after a long-term hospitalization at Schneider Regional.
So far, 51,585 residents have taken at least one dose of the vaccine, while 43,605 have received both.
Hunte-Ceasar reminded residents that it's against the law not to quarantine if they have tested positive, or have been directly exposed to someone who has.
"For each positive case, there may be an additional 10 or more people infected who they have been exposed," she added.
In other news, this week's $100,000 Vax to Win winners are: Dianne Carroll from St. Croix and Wubnesh Nelson from St. Thomas. Five $10,000 prize winners were also announced: Tafron Testamark and Rosa De Cruz on St. Thomas, Marcus Davis and Ida Rios on St. Croix and Donna Smith on St. John.