Despite intermittent heavy rain, the crowd in the Winston Wells ball park stayed late into the night to find out who would be crowned the St. John Princess 2006-2007 on Sunday evening, June 18.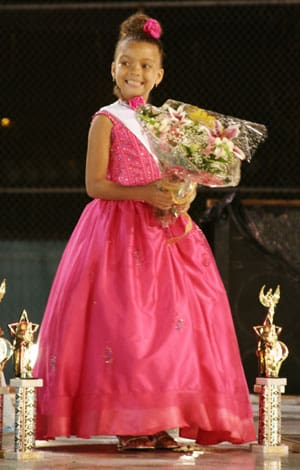 All four contestants — Alli-Yah Henry, Aysha Clendinen, Yalfri Santana-Reyes and Mirisa Clendinen — wooed the judges, but it was Aysha Clendinen who finally took home the crown with her identical twin sister Mirisa named as first runner up.
The seven- and eight-year-olds competed in a number of segments which showed off their talent, poise and charm.
[adrotate group="6"]
Colorful Swim Wear
For the swim wear segment, Henry donned an adorable yellow one-piece with gold mesh sarong and crownless straw hat. Playing on the beach with Kermit the Frog, Henry introduced a Muppets theme, which was a part of each of her later segments as well.
Aysha wore a turquoise two piece tankini with a matching hat and straw beach tote. Santana-Reyes was a picture of perfection in a royal blue one piece with a short ruffled skirt and Mirisa showed off a pink and white two piece number with a matching pink hat.
Quirky Sports Wear
The sports wear segment gave the young ladies a chance to show off their quirky side. Henry, continuing with her Muppets theme, embodied an archery enthusiast, since archery is Kermit's favorite sport. Henry wore a green and yellow padded jacket and tall brown boots. The green hat perched on her head was replete with a long feather.
Aysha, who won best sportswear, wowed the judges first of all with her prop — a full-sized red motorcycle. The seven-year-old, in a black shiny two piece button-up track suit, black boots and red motorcycle helmet, jumped up on the bike and pretended to ride.
Santana-Reyes kept the energy high as she ran up a ramp onto the stage with purple butterfly wings, embodying a hang glider. She glided around the stage in a purple lycra body suit with iridescent lilac trim.
Mirisa's sports wear segment was a tribute to V.I. boxing legend Emille Griffin. Wearing pink satin shorts, a white tank top and silver boxing gloves, she showed off her quick feet in a recreation of a boxing ring.
Story Book Character
Keeping with her Muppets theme, Henry dressed up as Miss Piggy for her story book character segment. Henry, in a yellow dress and Miss Piggy mask, danced around the stage with Kermit himself.
Aysha, who also won for best story book character, embodied Tinkerbell in a green lycra body suit and tutu with blue fairy wings. She was suspended above the stage in a bird cage that lowered dramatically while she sprinkled fairy dust. Aysha also wooed the judges by releasing birds and balloons from hidden compartments with a flash of her wand.
Santana-Reyes perfectly channeled Dora the Explorer, the star of an animated adventure and educational television show, with a detailed head piece and hands. She acted out a story line about traveling to St. John to the delight of the crowd.
Mirisa brought the popular story of Cinderella to life. Wearing a drab house dress, she swept around a fireplace, singing about missing the ball while she completed her chores. The voice of her fairy godmother emanated through the ball field as Mirisa revealed herself in a beautiful ball dress and waved to the crowd from her pumpkin carriage.
Evening Wear
All of the young ladies were stunning during the evening wear segment of the show. Henry, a definite crowd favorite, was darling in a shimmering orange gown with ruffled shoulders.
A sigh of enchantment was heard across the ball field when Aysha entered the stage in a stunning melon colored gown made of three scalloping layers of chiffon with an iridescent cape draped over her shoulders. It was no surprise that she also garnered the best evening wear title.
Santana-Reyes's extraordinary gown was fashioned from yards of turquoise tulle. The bodice of her dress was made of turquoise lace with small flower adornments.
Mirisa didn't disappoint the crowd with her lovely fuchsia ball gown and matching shawl. The bodice of her dress was adorned with pearls and rhinestones that glittered as she swept across the stage.
All of the contestants showed their poise as they ducked rain squalls and windy conditions throughout the night. The popular Wrecktion Band kept the crowd grooving throughout the festivities.
It was nearing 11 p.m. as St. John Princess 2005-2006 Kadijah Edwards took her final walk across the stage as reigning princess.
"Serving as a role model for young girls on St. John was the best part of this experience," she said.
The crowd's excitement was at a peak as the winners were announced.
Santana-Reyes took home the title of Miss Congeniality and Mirisa was crowned Miss Photogenic, Most Cooperative and First Runner Up. Aysha swept the rest of the categories, winning for Best Sports Wear, Best Story Book Character and Best Evening Wear, before being crowned St. John Princess 2006-2007.
Look out for Aysha in the St. John Festival parade for Mas, Music and a Cultural Mix for Festival 2006, on Tuesday, July 4, at 11 a.m. in Cruz Bay.