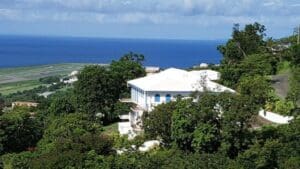 On April 23 and April 24, 18 delegates throughout the Virgin Islands will gather at the Bahá'í National Center on Crown Mountain on St. Thomas for the 54th Bahá'í National Convention, which will include the annual election of the national board of trustees, called the National Spiritual Assembly of the Bahá'ís of the Virgin Islands.
This election is held every year during the Festival of Ridván, which normally occurs from April 21 to May 2. In addition, the delegates will consult on the affairs of the community and how they can best contribute to its betterment, particularly here in the U.S. and British Virgin Islands.
The Bahá'í elections are spiritually based; no electioneering or nominations are permitted; each delegate will prayerfully vote for the nine adults who best exemplify the qualities of devotion and ability needed to serve on the national board.
The nine members elected this year will administer the affairs of the community. They will also serve as delegates to the international convention held in Haifa, Israel, in April 2023 that will elect, from among all the Bahá'ís in the world, the nine individuals who will serve on its highest administrative body, the Universal House of Justice.
For more information, contact Rodney Clarken, Ph.D., at rodclarken@gmail.com or 970-691-2740.