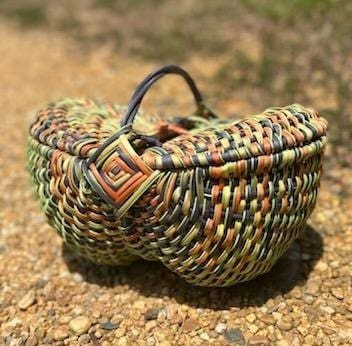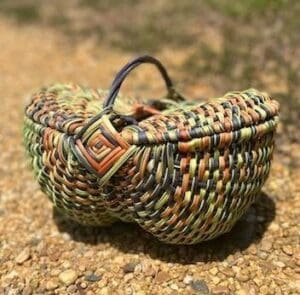 On Friday, June 30, Bajo el Sol Gallery will host a market basket pop-up exhibition by Crucian Bayside Creations. From noon to 3 p.m., visitors to the gallery will have the opportunity to purchase traditional Virgin Islands market baskets and to meet the siblings who hand-make them. On that same afternoon, the gallery will inaugurate its Emerging Artist Program with a pop-up exhibition from 4-7 p.m., featuring Jayni Blackwood.
This will be the second market basket pop-up the gallery has held for the five Henry siblings: Letitia, Carla, Lloyd, La Verne and Carmen. The siblings carry on a tradition of basket-making that was passed down to them by their aunt, Eileen Henry-Huggins. To bond during the major life upsets caused by the COVID-19 pandemic, the siblings spent time weaving and sharing their basket creations with their family and on social media. In time, the demand to purchase the baskets grew, and together they formed Crucian Bayside Creations.
The siblings each add their own modern flair to their baskets by using different wood types in the basket handles and by including unique splashes of color in their basket designs.
The pop-up exhibition for Blackwood will follow the market basket pop-up. Blackwood will be the first of many to participate in the new Emerging Artist Program. The program was conceived of to give promising young Virgin Islands artists a unique opportunity to develop their artistic skills, connect with experienced mentors, and give them the exposure of exhibiting their work in a professional gallery environment.
"We are excited to be launching this inaugural program and Pop-Up exhibition with Jayni Blackwood, a talented St. Johnian artist who has demonstrated a real commitment and drive that will enable her to excel in the visual artists," said Priscilla Hintz, curator of Bajo El Sol Gallery.
About Jayni Blackwood:
Constantly exposed to St. John's allure, Blackwood grew up doodling flowers on the top right corner of her notebook and drawing tropical landscapes on any printing paper she got her hands on. From sand, she sculpted sea turtles and stingrays while enjoying a day at the beach.
She attended and graduated from the Ivanna Eudora Kean High School, where she officially gained a love for painting. Throughout her high-school years, she designed business logos, murals, t-shirts, tattoos, digital art, typography, portraits and countless paintings. Following her graduation in the top ten of her class
in 2021, Blackwood enrolled in SCAD to study graphic design, where she uses her work to depict the culture and unique characteristics of the Virgin Islands. Her ultimate goal is to develop as a young artist from St. John by honing her talent and technique and being exposed to a diverse collection of artistic concepts and mediums.
Priscilla Hintz Rivera Knight and David Knight Jr., Bajo El Sol Gallery & Art Bar owners since 2016, are proud of the gallery's nearly 30-year legacy of support and engagement with the arts community of St. John and the greater Virgin Islands. The gallery is home to thought-provoking monthly exhibitions, readings by award winning V.I. writers and poets, documentary screenings on some of the Caribbean's most respected thinkers, as well as talks by local academics and visiting curators.  The gallery is located in Mongoose Junction, St. John.