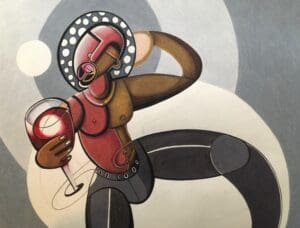 Bajo El Sol Gallery will open "Mind's Eye," a new art exhibit, at 4 p.m., Saturday, May 14, in Mongoose Junction, St. John, featuring work by Afreekan Southwell, Iyaba Ibo Mandingo and Ieshia George.
Multi-disciplinary in scope, this show will feature not only assemblage, textiles, painting and wood carving but a poetic performance and guest musicians.
Experimentation, contemplation and activism provide the portals via which Southwell, Mandingo and George invite viewers into "the thrill and wonder of the artist's mind" to encounter everything from faces conjured from mahogany seedpods, eyes as portals to the heart and soul, and "the inspiration that flows from Mother Nature, the original artist."
About the Artists
Iyaba Ibo Mandingo, born in Antigua, is a multi-disciplinary artist from the Griot tradition. His objective is to use the material of his work – be  it paint, ink, "garbage" or found objects, or words and theater — to "tell the story of us." He recounts his time as an undergrad at Southern Connecticut State University in the late 80s and early 90s — during a time of so many police brutality and murder cases, and an alarming number of Black on Black killings — as an experience that "absolutely politicized my art and poetry."
Mandingo is a former artist-in-residence at the New York Theatre Workshop and has appeared regularly as a performance poet both in the United States and abroad, including the Fort Green Juneteenth Arts Festival, the Nuyorican Poetry Café, Brooklyn Moon and Next Door Café.
As a visual artist, his work has been included in several group and individual shows both in the United States and internationally. His "Grave Marker Series" was displayed at the African American Museum of Philadelphia as part of a special exhibit called "Arresting Patterns."
His one-man play "unFRAMED" had its off-Broadway debut in the spring of 2017 at the Elektra Theater NYC and was also selected as a feature at the Harlem Arts Festival 2017 and the Rhode Island Fringe Festival.
He has authored three chapbooks of poetry: "41 Times," "Amerikkan Exile" and "40 days and 40 nites of write" and co-produced a CD "Self Portrait." His first novel, "Sins of My Fathers," was released in 2014. "Fu You Tongue Heavy Lakka 56" his first collection of poetry was released in 2018.
Bajo El Sol Gallery, E's Garden Tea House and the Dorsch Theatre are among the venues in the Virgin Islands that have hosted his work.
Mandingo's work for "Mind's Eye" stems partly from a recent visit to St. Croix during which he "looked down, saw the mahogany pods in their fallen places and immediately saw faces. I took a few back to the mainland and went to work pulling out the images I could see in my mind's eye. They danced perfectly with the textiles I had already been working with for several years."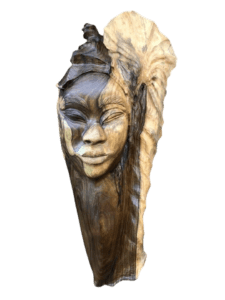 Afreekan Southwell is a multi-talented artist who for three decades has been working in the visual and performing arts throughout the Virgin Islands, Caribbean and United States. He is originally from Antigua, where he learned wood carving at primary school. He taught himself to paint when he moved to St. Croix in 1981, and ever since he has learned the artistic disciplines, developing his skills as a painter, wood carver, sculptor and turner throughout the years.
In the field as a performing artist, he is an actor, poet, and drummer. Southwell's first professional debut performance was David Edgecombe's "Coming Home to Roast" followed by numerous Caribbean plays. In South Carolina, he directed and co-directed theatrical plays for the Gullah People's Moja Festival in 1998 with writer Carlie Town. In New York, he performed in the off-Broadway monologue play "Sex is Just a Three Letter Word; 69 is Just a Number" by playwright Jahida Diaab. In Oakland, Calif., he provided poetry and backup singing for St. Thomas-born singer and performer Floyd "Rasul" George's album "Destiny."
An organizer in his own right, Southwell is a community activist who helped to establish a 14-year-old non-profit organization, Strength to Strength, that has a radio program aired every Saturday night on the people's grassroot station, WSTA 1340 AM. He has been hosting the show and interviewing lecturers in their own fields, such as holistic health and healing, African history, and authors who have written books from the Caribbean and the African Diaspora, exemplifying the level of African Consciousness. He has been sharing African-Caribbean cultural history through the arts with young people in schools and communities throughout his travels. Presently, he is a member of The St. Thomas-St. John Woodworkers Society.
Ieshia R. George was born in New York to parents of Caribbean and Central American descent. She moved to the U.S. Virgin Islands in 1990 to live with her maternal grandmother and aunt. She graduated from Charlotte Amalie High School.
George creates stylized abstract images of her subjects with an emphasis on "the emotional aspects surrounding the human condition of love, companionship and lack thereof." The eyes are usually a central part of her work and often tell a story of their own, in keeping with the idea that they are portals to the heart and soul. Her preferred mediums are ink and colored pencil on paper and acrylic on canvas.
George has been drawing since she first "picked up a pencil" and pictures are her natural language. She thinks in pictures, not in words, and creating is an integral part of her being. She has been sharing her work with the public since 1996. Her first solo exhibition took place in 2004 at the Reichold Center For The Arts, followed by the "Calling All Artists" exhibition at the Caribbean Museum Center for the Arts in St. Croix, the "Nuit des arts" at the Delta Sorority in St. Thomas, two solo exhibitions at the Virgin Islands Council on the Arts, and as a participant in various group exhibitions in other venues and creative spaces.