Due to the surge of COVID-19 cases throughout the Virgin Islands, and St. John in particular, Bajo El Sol Gallery in Mongoose Junction will not be hosting its seasonal 'Second Saturday of the Month' art opening event in January.  However, from Saturday, Jan. 8 through Friday, Feb. 11, Bajo El Sol Gallery will be featuring "Fluere." This exhibit will showcase new works by abstract painter Robin Clair, multimedia artist Aimee Trayser, ceramic artist Jessica Rosenberg and metalsmith Morgan Rosenberg.
Gallery hours are from 10 a.m. to 6 p.m., Monday through Saturday (closed on Sundays). Bajo El Sol asks all those visiting the gallery to follow current social distancing and mask-wearing protocols.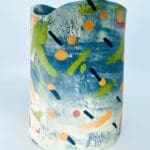 Robin Clair is an abstract painter living and working on St. John. From action painting to color fields, Clair's work reaches for harmony via the emotional and intellectual balance found in nature. Ideas from the fine arts and science present an exchange of ideas and an order arranged by abstraction on her structured canvases.
Jessica Rosenberg is an artist living on St. Thomas who works with stoneware, porcelain and raku clay bodies. Colored clay has been her focus for several years. Starting with white stoneware or porcelain, she adds stains/colorants to the clay to have a range of colors to use. Some pieces are made using the nerikomi technique; other pieces are fashioned by layering colors and patterns onto a base slab of clay, which is then shaped and fired.
Aimee Trayser's pieces, which are both mysterious and sensual, are inspired by nature and visions from her dreams. Her collages fuse material elements with the passion and joy of the artist's spirit.  She works from her studio on St. John.
She creates using layer upon layer of exotic and handmade papers. She looks for rich fibers and textures, collecting materials wherever she goes. She uses acrylic gel medium, rich golden gessoes, liquid watercolors, inks, acrylic pigments, mica particles, metallic powders, and opalescent.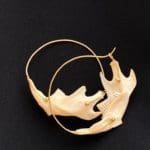 Morgan Rosenberg was born and raised on St. Thomas. She went on to earn a degree in photography and metals. At age 13, Rosenberg made her first ring in a metals shop and fell in love with the craft. She has been working full-time as a goldsmith for the past 10 years. Her work is a combination of fine silver and high carat yellow gold. Through jewelry, she aims to create keepsakes by making beautiful pieces that preserve a cherished item. She is inspired by Victorian mourning jewelry and has been fascinated with collecting teeth, bones and gemstones from a young age, which she then uses in her jewelry.
About the Gallery: Located at Mongoose Junction, Cruz Bay St. John. Bajo El Sol Gallery & Art Bar is a hybrid art gallery, bookstore, café, and rum and cocktail bar. As a gallery and events space, it is dedicated to offering the best in Virgin Islands fine art and cultural expression.