Bajo El Sol Gallery on St. John will open a new show at 3 p.m., Saturday, March 12, called Tropic Soul, featuring new works by esteemed Virgin Islands artists: Avelino Samuel, Lisa Etre, Karen Samuel and Elisa Bryan. The show will also feature guest musical artists Evanna Chinnery and Mark Wallace. There will be complimentary wine served in the courtyard.
"Through still life, landscape and turned wood, the featured artists encourage contemplation of the natural environment of the Virgin Islands and the elements of cultural heritage often overlooked within the scenic and in the quiet arrangement of everyday objects," said Bajo El Sol Gallery co-director David Knight Jr.
"The show also seeks to honor the combined several decades of service to arts education the artists have given to the Virgin Islands community as teachers and arts advocates," said Knight.
Bajo El Sol Gallery: Located at Mongoose Junction on St. John, Bajo El Sol Gallery & Art Bar is a hybrid art gallery, bookstore, café, and rum and cocktail bar. As a gallery and events space, it is dedicated to offering the best in Virgin Islands fine art and cultural expression.
About the Artists: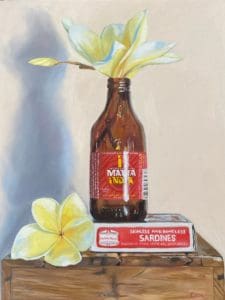 Elisa Bryan, a native St. Thomian, graduated from the Atlanta College of Art in 1992 and returned to St. Thomas and continued painting. Her work has appeared in solo and group exhibitions. Her latest series of paintings are a return to her passion for still life painting. They are also, she says, a reaction to the COVID-19 pandemic, which slowed the pace of life and encouraged a new way of listening and seeing.
This collection represents island life from a different perspective, she says, a quieter perspective through which she hopes the viewer can find moments of their own stories reflected.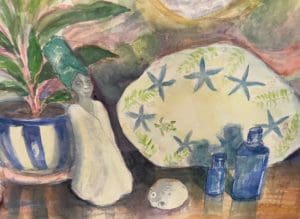 Lisa Etre grew up on St. Croix and relocated to St. John in 1980. She graduated from American University in Washington D.C. in 1975 with a BA in art; she traveled and studied painting and print making in Mexico and South America. She is the former head of the art department at Ivanna Eudora Kean High School on St. Thomas.
Her paintings and ceramics seek to depict the lifestyle, spirit and environmental beauty of the Virgin Islands. Side by side with her commitment to arts education, Etre continues to develop her artistic expressions. Her colorful graphic gouaches, oils of island scenes and bright watercolors are known throughout the Caribbean.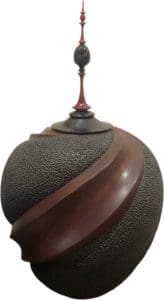 Avelino Samuel was born and raised in Coral Bay, St. John, where he first developed an interest in woodworking at a young age. Today, his creations, both decorative and functional, reside in private collections across the globe. Samuel is highly sought-out internationally for his wood-turning demonstrations, which he has shared in places as far away as Tanzania and Australia.
After earning a master's degree in industrial arts education from East Michigan University, Samuel returned to St. John where he taught industrial arts at Julius E. Sprauve School in Cruz Bay for 30 years, training new generations of Virgin Islands craftspeople and artists. One of his specialties is creating highly ornate hand-turned hollow vessels, primarily from local woods, including genip, raintree, white prickle and West Indian mahogany.
He uses oils, polishes, natural stains and lacquers, as well as a hand-burning techniques, to give the vessels their striking textures and finishes.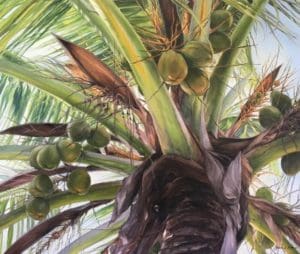 Karen Samuel was born and raised on St. John and has been recognized for her artistic talent since her teenage years. She is a graduate of Ivanna Eudora Kean High School on St. Thomas and holds a degree in arts education from George Washington University in Washington, D.C. She is known for her portraits and landscapes in oil. She additionally works in graphite, conte crayon, colored pencil, gauche and watercolors.
She began her art career with commissioned portraits of local dignitaries and island history, which can be seen in many public buildings in the territory. The contemporary scenes of island life she paints aim to capture the quiet dignity of the people of the Virgin Islands. Samuel is also known as a quilter and clothing designer. Her commissions include wedding gowns, evening wear, pageant outfits and carnival costumes.