Simonsen will feature work focused on, and often in, water for the Bajo show.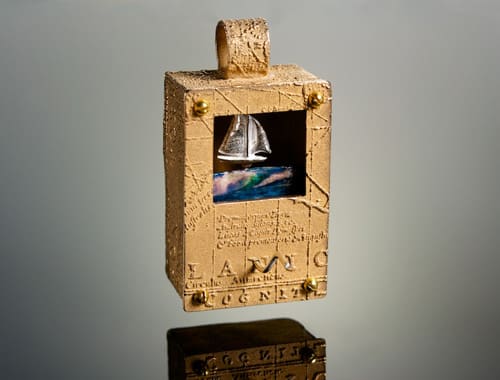 A sailboat bobs atop the waves in Nogueira's "Sea Salt."
[adrotate group="6"]
Bajo el Sol Gallery in Mongoose Junction is kicking off its season with an exciting opening show featuring work by Kim Nogueira and Steve Simonsen on Friday evening, December 6, from 5 to 8 p.m.
This is Nogueira's first show and no one will not want to miss the chance to check out her impressive collection of wearable art jewelry and automatons of mechanical wonders.
"Using tiny antique household objects and vintage childhood toys, I examine the fragility and endurance of childhood wonder and its profound effect on our everyday adult lives,"
Nogueira explained in her artist statement. "By incorporating movement in this work, I hope to engage the wearer's sense of responsibility as well as draw attention to the marvels of everyday life."
Nogueira uses her goldsmith expertise combined with her skills in metal clay and enamelling to create  wonder-inducing pieces of wearable art that are both beautiful and fascinating. The painstaking art of crafting movable pieces in these little wonders, called automatons, bring out the inner child in everyone.
Many of Nogueira's pieces evoke childhood memories and are reminiscent of antique toys. She puts the jewelry together with movable pieces which delight one's imagination while engaging one to touch and play with the piece.
"Employing the traditional fabrication techniques of the goldsmith in combination with metal clay and often enamelling, I explore the curious interplay between past, present and future as it relates to memory, emotion, childhood wonder, possibility and responsibility," the artist explained on her website, www.kimnogueira.com. "I draw on inspiration from my extensive collection of turn-of-the-century and mid-twentieth century vending machine toys and tiny antique playthings to form these connections."
"By adding interactivity with movement and mechanics, my automata work engages the wearer by at first cautiously encouraging them to participate in my narrative," she explained. "Can I open this? Can I turn this crank?"
Often the answer to those questions is a delighted "Yes." Cranks do turn, a small boy eats a pink colored cotton candy, a sailboat rides blue and white waves, or a ringmaster waves to a young girl passing by standing atop a horse. All of these elements are found in Nogueira's work which suggest travel, dreams and wonderment.
"I suggest fragility by action and concurrently attempt to ignite a feeling of wonder and curiosity as the wearer activates figures and forms and is drawn into the atmosphere of my message," said Nogueira. " Wonder is an  emotion that asks you to expand your horizons, explore possibilities and consequently feel responsible, especially if what you are wondering about is diminutive, can fit in the palm of your hand, and be worn over your heart."
"It is my hope that this often-buried emotion, in combination with the questions, issues, and conflicts that I bring up in each individual piece, will be a part of moving our society forward in a way that is respectful of the earth and its astonishing biodiversity," she said.
Nogueira, whose work on each piece can take months at a time, is always learning new techniques and challenges herself with every piece she crafts.
"A lot of the things I make, I don't know how to do them when I begin," she said. "I come up with an idea or a concept that is beyond my skill level and then I force myself to learn how to do it."
Nogueira has been working in the small world of automata for two years now and  been racking up awards and accolades. Recent awards include first place in the juried Mitsubishi Materials Corp's "Tales of the Heart" competition in February 2013, where her mechanical memory box in honor of her son, "Reliquary of Childhood Memories," amazed the judges.
Her work will also appear in two books out next year, "Behind the Brooch: A Closer Look at Backs, Catches, and Pin Stems" by Lorena Angulo and Lark Books "1000 Beads."
The artist credits a childhood growing up in New England and a lifelong love of antiques for her interest in automata and her attraction to what she calls "archetypal figures."
"To me these are very archetypal figures; the clown, the fool, the dreamer, the traveler," she said. "It's about following your heart and your intention. The mom and the son with a suitcase; they are joining the circus or not maybe. The lion is for courage and strength."
While many of the elements are personal for the artist, the messages are universal. The viewer is left to interpret for themselves if the mother and son are running away or towards something, which adds to the delight of Nogueira's pieces.
"Viewers can create their own story lines," she said.
Another amazing about Nogueira's work for the Bajo show is that the pieces — while having moving parts and evoking emotion and wonder — are also wearable jewelry.
Joining Nogueira on December 6 will be work by renowned St. John photographer Steven Simonsen who will be showcasing recent work highlighting his very favorite element; water.
"For this show we are showcasing what Steve does best, which is shooting in, under and around the water," according to his artist's statement. "There will be framed fine art canvas pieces ranging from 12×12" to 18×24". Most of the images were captured in the Virgin Islands."
"The collection is a combination of art and science, underwater portraits of marine life and people with beach scenics, aerial and split level views,"  according to the statement.
Don't miss the opening reception for Nogueira and Simonsen on Friday, Decmber 6, from 5 to 8 p.m. at Bajo el Sol Gallery in Mongoose Junction.