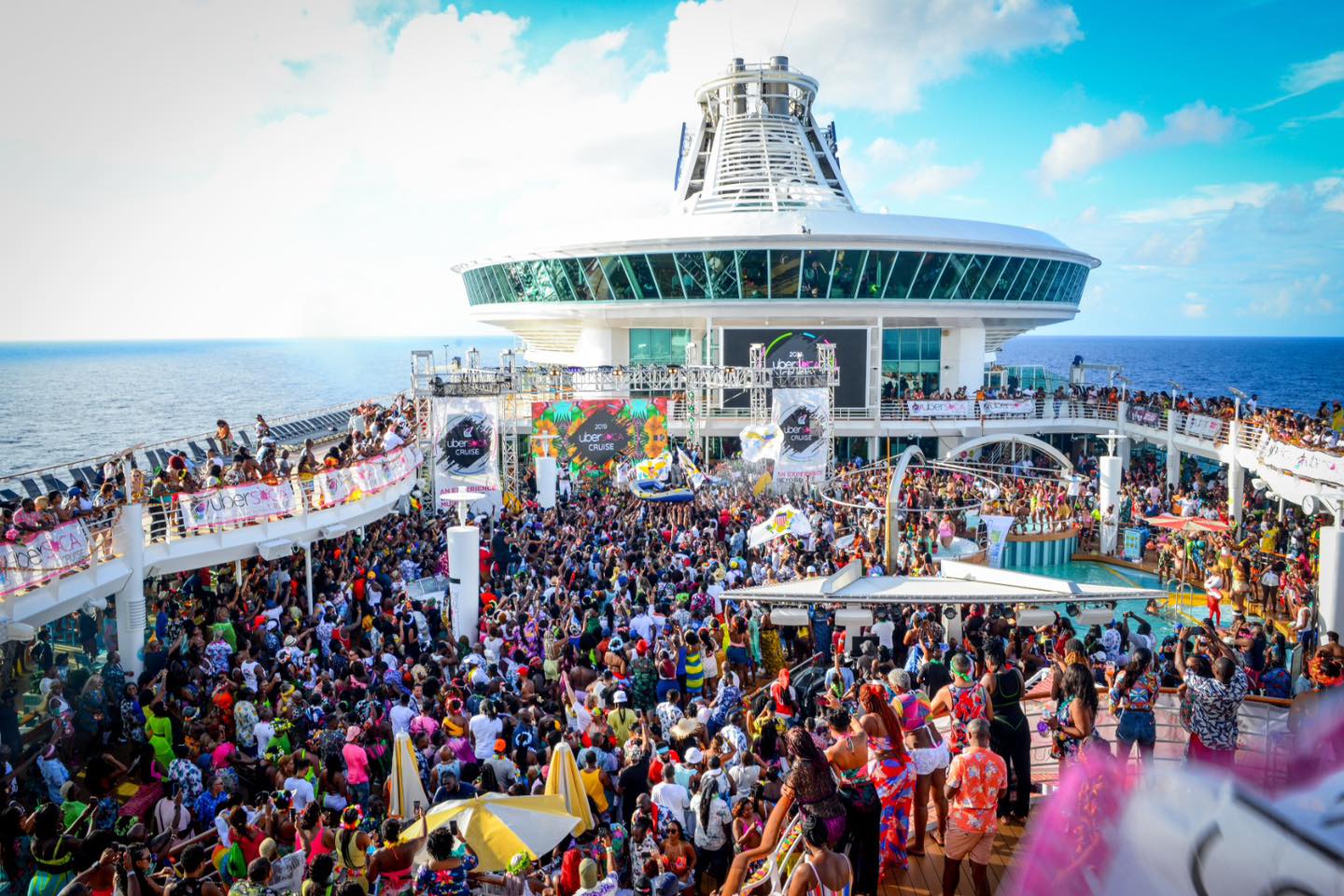 Ahead of the arrival of the UberSoca Cruise on St. Thomas on Thursday — a day when more than 19,000 tourists could descend on the island — government agencies and public and private schools have scheduled changes to accommodate the J'ouvert event planned for the ship's passengers from Long Bay to Veterans Drive.
The UberSoca Cruise, sponsored by the Tourism Department, Division of Festivals and others, is expecting to host up to 4,000 passengers from the Norwegian Epic. Three other ships are also scheduled to dock on St. Thomas Thursday, with a combined passenger and crew capacity of 19,567.
The public is also invited by Tourism to join the festivities.
The tramp is set to go along a major road leading to and from Charlotte Amalie from 2 p.m. to 5 p.m. Police have issued a traffic advisory and asked big trucks to stay off the road for the event's duration and directed motorists to use alternative roadways in and out of town.
Officials say they're implementing administrative leave with an eye towards preventing logjams with school buses and parents picking up students around the same time as the tourist J'ouvert tramp.
Richard Motta Jr., spokesman for Gov. Albert Bryan Jr., said the governor is expected to sign an executive order Wednesday, giving non-essential government workers a half day of paid leave. Public schools in the St. Thomas-St. John District will close at noon on Thursday. Private and parochial schools have announced closing times to help their students leave ahead of time.
"We realize there are schools letting out. … It's an attempt to try and mitigate traffic and confusion on the roadway," Motta said.
A motorists' advisory released by the V.I. Police Department Traffic Bureau on Tuesday says traffic in the eastbound lane along the roadway from the Lucinda Millin Home for the Aged to Mandela Circle will be closed from 2 p.m. to 5 p.m. Thursday. Two-lane traffic along Veterans Drive from Lover's Lane to Fort Christian will be closed.
"All eastbound traffic from downtown will be directed towards the Emancipation Garden and onto Norre Gade to continue traveling eastbound. … Traffic traveling westward from Mandela Circle will be able to continue traveling westward and onto De Beltjen Road to continue westward," the VIPD statement said.
Heavy trucks are advised to avoid the area. "These vehicles, due to their weight and length, will be difficult to maneuver on the alternate routes and they are restricted from traveling on De Beltjen Road," according to the advisory.
The Port Authority is also keeping an eye on traffic flow as the special event unfolds. Agency spokeswoman Monife Brathwaite Marrero said taxi operators stationed at the Austin Monsanto Marine Terminal at Crown Bay have been advised.
Two ships are scheduled to dock at Crown Bay on Thursday. Both the Celebrity Constellation and the Wonder of the Sea are scheduled to arrive at 7 a.m., and depart at 3 p.m. while the UberSoca event is taking place. The two ships have a combined crew and passenger capacity of 12,457; any number of which may opt for island tours, shopping tours, or beach trips to St. Thomas or St. John.
"We're in communication with the taxi drivers. We also share that with our staff as well," Marrero said. Port Authority Marine Manager Joseph Cranston Jr. has also been keeping ship agents informed about the event, she added.
That includes advisories shared with the port agent for the Carnival Celebration, a second cruise ship calling at the West Indian Company dock along with the Norwegian Epic. The Celebration, with capacity for 5,374 passengers and 1,724 crew, is scheduled to arrive at 7 a.m. and depart at 4 p.m.
Those relying on public transit on St. Thomas are being advised by VITRAN that bus service will be suspended as of 1 p.m. Thursday. "The road closure scheduled for Thursday, April 13 … on Veterans Drive will impact VITRAN's fixed-route service. To accommodate the Uber Soca Cruise activities the last St. Thomas fixed-route bus will leave the depot on Thursday at 11 a.m., and service will be suspended at 1 p.m. The suspension is necessary as VITRAN buses cannot maneuver through the designated alternate routes," said a statement released by Public Works on Wednesday.
More information about the VITRAN bus schedule can be found by logging on to www.VITRAN.com.
And customers using the Water and Power Authority's customer service windows at Port of Sale Mall, and the executive office at the Al Cohen Building, are advised of their closure as of noon on Thursday. A statement released by WAPA on Wednesday also informs the public that disconnects for non-payment of utility bills will be suspended Thursday and Friday, but will resume on Monday.
Anyone wishing to pay their water or electrical bills during this time can do so by logging onto www.wapavi.com, by dialing 340-774-3552 or 340-773-2250, and choosing Option 3. Payments can also be made in person at First Bank, Banco Popular, or the Bank of St. Croix.