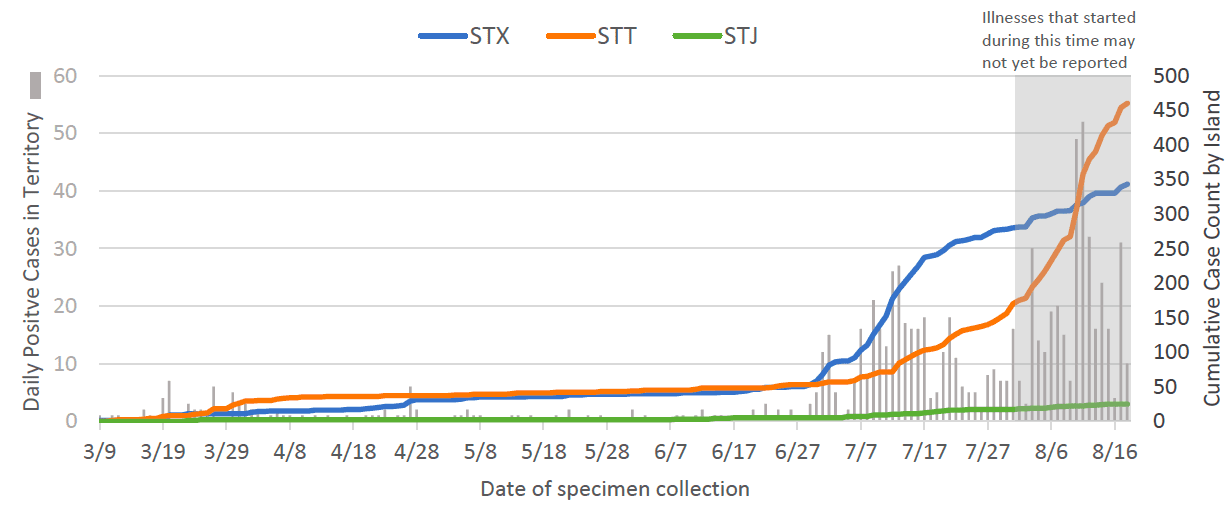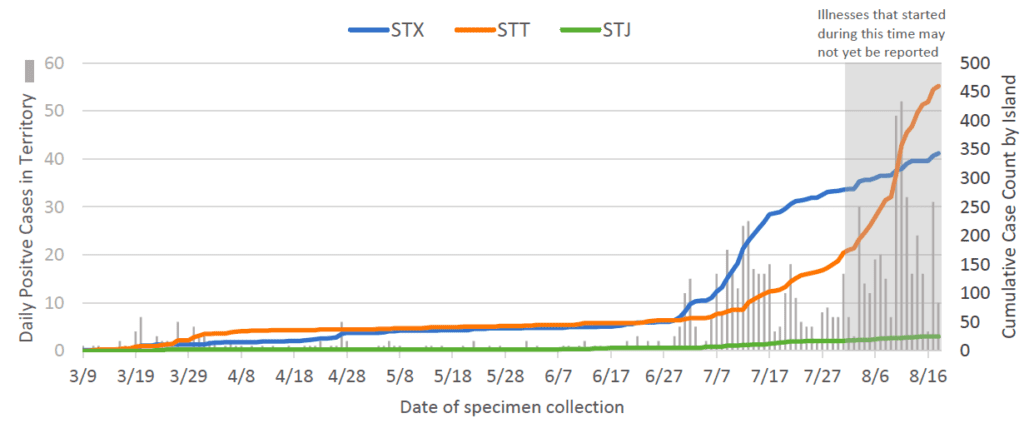 Gov. Albert Bryan Jr. instituted new restrictions on hotels, bars and beaches and sent non-essential workers home to try to stem a rising number of COVID-19 cases. So how bad is it? Will it get much worse? While the U.S. Virgin Islands' numbers spiked, there are signs things are beginning to turn around. But it is too soon to be certain, and it depends on how well we all do at stopping the spread over the next few weeks.
The Health Department issues detailed updates every day.
But the numbers can be confusing. Let's break it down.
After the initial outbreak in March, the territory, like most of the world, largely shut down, requiring masks, restricting hotel reservations and more. New infections declined and nearly vanished.
Back on May 1, a total of 66 Virgin Islanders had tested positive, out of 1,042 people tested. A month later, on June 1, only four more people had tested positive, with 2,012 people tested. Sparsely populated St. John went more than two months without a single new case and only had four total cases as of June 7.
Since not everyone was tested and there is community spread – meaning the virus is spreading in the community without clear paths of contact – there are also some undetected cases.
The territory started opening back up. Testing also ramped up dramatically, from well under 100 people per day to around 200 tests most days and more than 600 tests on some days. As of Aug. 18, some 13,360 Virgin Islanders had been tested; around 13 percent of the entire population.
Case numbers started to rise everywhere at the beginning of July, but fastest at first was on St. Croix, fed by a large outbreak at the Limetree Bay Refinery. By mid-July, St. Croix was beginning to level-off and St. Thomas shot up.
From July 18 to August 18, St. Croix's positive test count went up 76 percent, from 195 to 343. Over the same period, St. Thomas' count exploded 411 percent, from 90 to 460 cases.
St. John increased about 100 percent, from 12 to 25 total cases, over that period.
For the past week, St. Thomas has been averaging well over 20 new cases per day and added 22 cases from Monday to Tuesday, and another 23 from Tuesday to Wednesday. St. Croix has been typically adding ten or fewer cases and went up by 8 cases from Monday to Tuesday, but doubled that number from Tuesday to Wednesday with 16 new cases. The percentage of tests that come back positive helps tell us whether enough tests are being done and is suggestive of where the trend is. If testing is going up but the percentage of positive tests is going up too, it means the virus is spreading rapidly. But if testing stays the same and the percentage goes down, that suggests the spread is slowing.
If you look at the seven-day rolling average, cases for the whole territory are starting to show a downward curve. Most of the improvement is on St. Croix, although Wednesday's DOH registered a jump in cases. St. Thomas appears to be leveling off, but it is too soon to tell. One or two good days does not make a trend.
Two weeks ago, the seven-day average was less than 10 percent positive. A week ago, that shot to more than 15 percent. Right now, it's back down around 10 percent.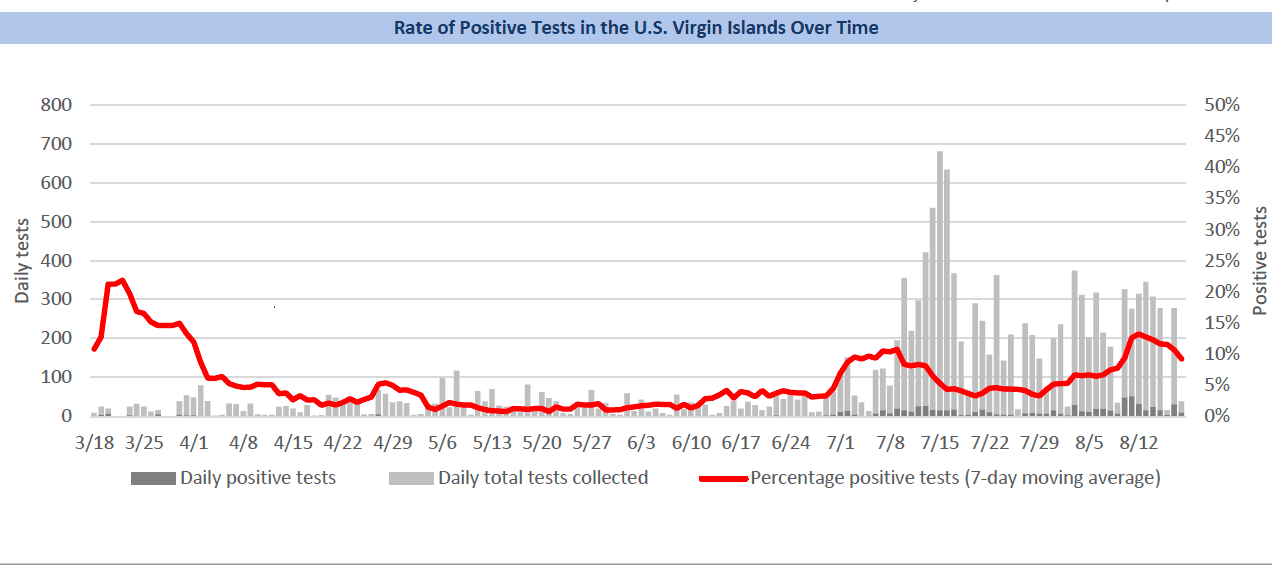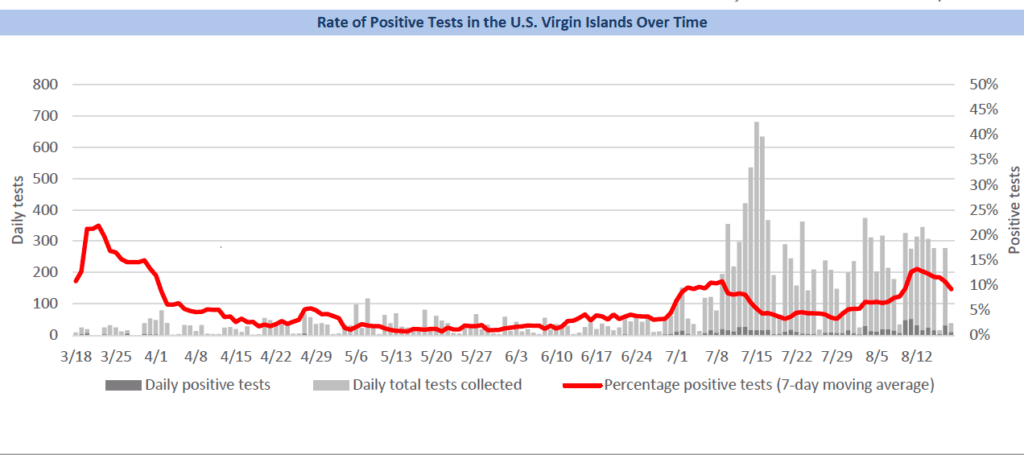 Health officials have emphasized maintaining six feet of distance, avoiding physical contact, washing hands, wearing masks and avoiding indoor gatherings. The Health Department numbers back up this advice. The biggest source of infection is "close contact" with a person who is infected, accounting for 171 St. Thomas cases and 213 St. Croix cases. That is followed by "community spread," meaning the source cannot be identified. But viruses transmit from person to person, so some kind of close contact – whether standing in line in a store or whatever else – occurred to allow the virus to travel from an infected person to the new victim.
Recent travel is a much less common vector, cited in 43 St. Croix and 31 St. Thomas cases.
Editor's note: The Department of Licensing and Consumer Affairs has provided the following cellphone numbers where residents can report activity that is against the law, including violations of the governor's executive orders, that may put others at risk or in danger. Information, photos or videos can be texted to the following: The general number is 340-725-5129. The other two numbers are 340-727-7226 on St. Croix and 340-771-7226 on St. Thomas. You can also call 911 to report serious crimes.