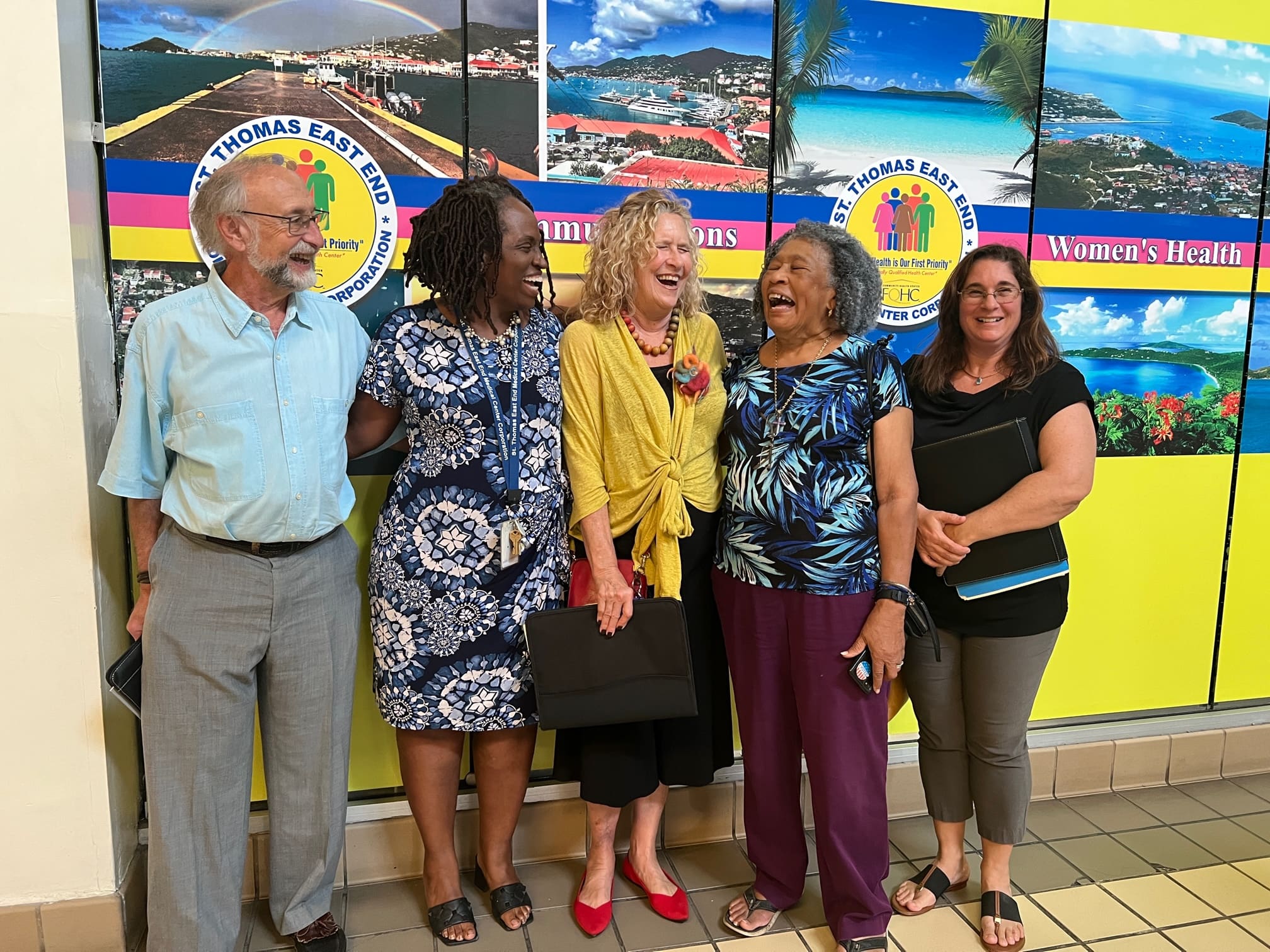 Now familiar faces in the territory after more than three decades of giving to local healthcare facilities and non-profits, David and Tina Beale received a warm reception at the St. Thomas East End Medical Center this week as they handed over a check for more than $65,000 for critical supplies and equipment.
The impact of their efforts, made through and on behalf of the Bennie and Martha Benjamin Foundation, was celebrated almost immediately as they entered the center's executive office, where providers and East End's board members gathered to usher them in and share more about how donations made over the years have boosted both their facilities and healthcare programs across the community.
"It's their generosity that helps us and supports the services that we provide and it's those individuals, like the Beales, that work behind the scenes – the ones that no one knows, the unsung heroes – that help us do what we do and continue to do it at infinitum," said East End's Deputy Executive Director Rene' Crawford. "Their support is always so appreciated, both by staff and our patients."
While COVID-19 pushed the intake numbers down at the center over the past couple of years, Crawford said as East End continues to expand, so will its services and programs, which will be supplemented by the Foundation's most recent gift of dental equipment – needed for prosthetics, panoramic radiology and x-rays – and refrigerators to keep vaccines from being compromised, among other things.
The Beale have been coming back to the territory annually since they helped launch the Foundation in 1991, just two years after the passing of its namesake Bennie Benjamin – born Claude Benjamin – a recognized songwriter from St. Croix who left the territory in 1920 to make his fortune selling songs in New York. In his career, he composed or performed more than 100 songs that made it on the Billboard charts, founded his own publishing company, was a member of ASCAP, the National Academy of Popular Music, as well as the Songwriters Guild of America. He was on the Council of the American Guild of Authors and Composers. 
He married his wife Martha in 1940 and after her death, wanted to leave his small fortune to start a Foundation that could promote quality health care in the U.S. Virgin Islands, David Beale said.
The Foundation doesn't seek contributions, but rather continues to build off of royalties from Benjamin's songs and investments made over the years. According to Beale, the original $2 million in startup funding is still there, and the Foundation has been able to give away close to $3 million over the years.
The biggest benefactors have been the University of the Virgin Islands' nursing program, the hospitals on both islands, the Charlotte Kimelman Cancer Institute and the Virgin Islands Cardiac Care Center, though mini-grants for specific, health-related projects to several non-governmental, not-for-profit agencies such as the Women's Coalition, Ten Thousand Helpers of St. Croix, Inc., and HOPE have also been awarded.
"We feel it's a gift to be able to use this funding to do some good in the world," he added when asked why he and his wife continue their efforts on behalf of the Foundation. "We call it a 'mitzvah' in Hebrew, doing good deeds, and if we have this opportunity to do that, it's very rewarding and we have also enjoyed building the relationships here over the years. It's been a wonderful experience for us."
For more information on funding availability and requirements, email info@benniebenjaminfoundation.org or call (561) 243-1477.