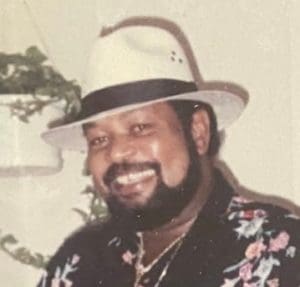 Bernard "Bernie" Bethelmie died on July 8.
He is survived by his wife, Gertrude Phillip Bethelmie; children: Griffith and Thomas Bethelmie (Dominica), Arshaw Bethelmie (S.C.) and Beverly Bethelmie-Bryan (Atlanta); adopted children: Aletea Isles-George, Clive, Deon, Burnell, and Andrew Isles; stepchildren: Stephanie Charles, Devita, Dupley, Robert, Nicole, Leighton and David Phillip; and grandchildren: (Layla, Angel, Skyla, Micah, Nathaniel, Maurly and Maurice Johnathan Bryan Jr., Jahmisha Vivian, Jaiden Amir Arshaw, Zion Arshawn Bethelmie, Ashton Damare and Donnell Route.
He is also survived by great-grandchildren: Yazmin Luz Vegas and Ki'Myra Kila Cruickshank; son-in-law, Maurice Bryan; daughter-in-law: Michelle Bethelmie; brother-in-law, Patrick George Sr.; sisters-in-law: Verona Bethelmie and Lee Bethelmie; brothers: John Baptiste and Rushan Bethelmie (Dominica), Henry Bethelmie (deceased) and Fontinelle Bethelmie (St. Croix); and sisters: Angelica Maxwell (deceased) Mathilda Prevost (Atlanta), Catherine Massicott (Texas) and Elta George (St. Croix).
More survivors are nieces and nephews: Rudy Bethelmie (Dominica), Rick Bethelmie (Boston), Pauline and Dona Bethelmie (UK) Moses Bethelmie (St. Croix), Mary Joseph (N.Y.), Veronica, Michael, and Dora Maxwell(St. Marteen), Icilda Maxwell (Guadelope), Odette Maxwell (St. Croix), Belbrave and Perryman Maxwell (Dominica), Paul Prevost and Melba Collier (Atlanta), Anastasie Massicott (Atlanta), Debbie and Melva Massicott (Texas), Lisa Massicott and Martina Alexander (Va.), Georgina Woody, Vanessa Mitchell, Patricia Richards, Johnathan George and Patrick George Jr. (Atlanta).
Other survivors include close relatives and friends: Pastor and members of Apostolic Faith Church, Pastor and members of Island Baptist Church, Pastor and members of Calvary Baptist Church, Edward, Charles and Therese Jacob, Patsy Peters, Winston, Linda and Vincent Warrington, Alphose, Shirley, Theresa and Athiaia Nixon, Brenda Christian, Martin Joseph, the staff of V.I. Housing Finance Authority, the Jackson family, the Massicott families, the Prevost families, residents of Mt. Pleasant West; as well as several other relatives and friends too numerous to mention.
A viewing will be held from 5:30 p.m. to 7 p.m., Wednesday, July 22, at James Memorial Funeral Chapel.
Funeral service will be held at 10 a.m., Thursday, July 23, at Kingshill Cemetery. The family respectfully requests that attendees wear a face mask and adhere to the social distancing requirements.
Thank you for your blessings and prayers during this time.