Antilles grads Nina Maccio and twins John and Laura Decker.
Photo by Judi Shimel. 
ST. THOMAS — An early admission student to the University of the Virgin Islands went to the head of the class at his high school graduation ceremony Sunday. The shining moment for St. John's Derrick Thomas Jr. was one of the highlights of a weekend filled with milestones.
Three St. John students – including a pair of twins – flipped their tassels at Antilles School's Mark Marin Center on Saturday night. And the survivor of a fatal car accident received his high school equivalency diploma from the Adult Continuing Education Program.
Friends and relatives watched each of their graduates from the seats in auditoriums over the weekend, one week before St. Johnians shine again in graduations at Gifft Hill School and the Ivanna Eudora Kean High School.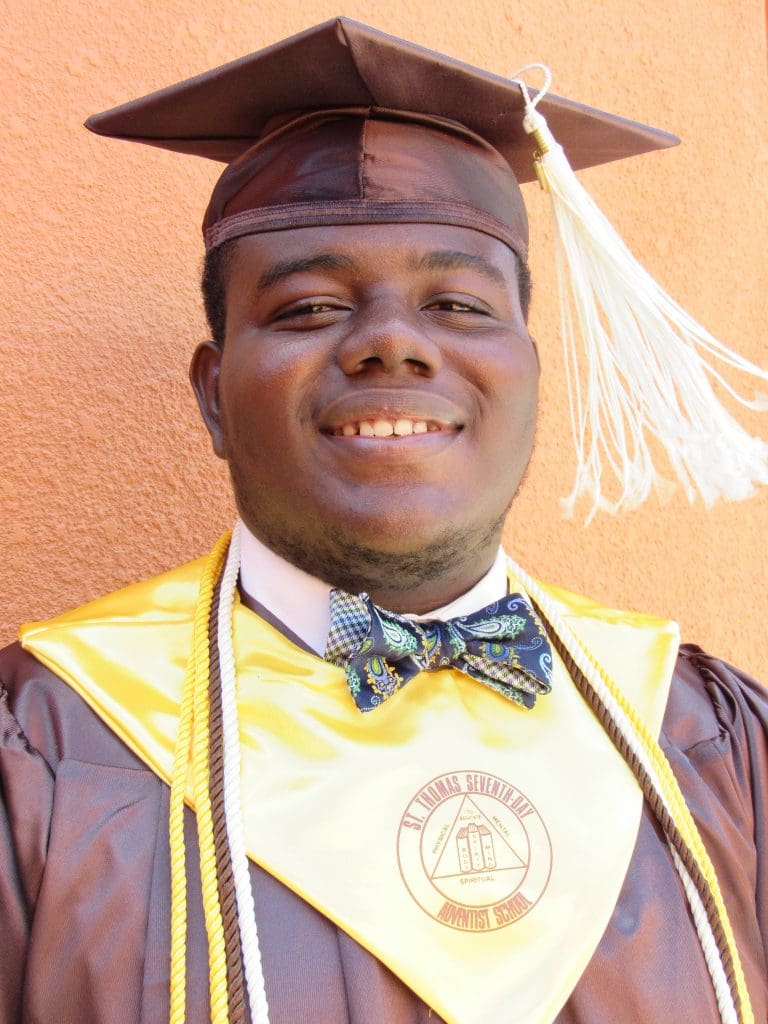 Thomas, 18, began commuting to attend the St. Thomas-St. John Seventh Day Adventist School in Anna's Retreet in kindergarten. He praised his six fellow graduates in his valedictory speech. "This is it, class, we finally made it. Doesn't it feel exciting? I've been honored and blessed to have a class like you. Some of you I've known all of my life," Thomas said.
He also thanked the congregation at the Cruz Bay Seventh Day Adventist Church for their support throughout the years. Thomas is currently enrolled in an engineering program at UVI, studying applied math. When that phase of study is done, he said, he will go on to one of the partner universities within the program and work towards an engineering degree.
At Antilles, Nina Maccio, John and Laura Deckoff discussed their plans for the future from the Mark Marin Center. Maccio is scheduled to attend Suffolk University in Boston to study entrepreneurship. "I want someday to own a business like my mother," she said.
Eighteen-year-old twins Laura Deckoff and John Deckoff said the days after graduation will lead them off into separate directions. As they received their diplomas they stood side by side on stage, displaying their achievements.
Both began their Antilles experience three years ago. "It was really great for me. I got to study art and theater, which is what I'm going to school for," Laura said.
Her next stop is New Zealand and Massey University. John, on the other hand, said he was still weighing his options. "I'm going to FAU next year, it's in Boca, probably do some fishing," he said.
FAU stands for Florida Atlantic University.
The next day, outside Charlotte Amalie High School Auditorium, V.I. Lottery Public Relations Director Sean Raimer stood beside his son, Amin, as he showed off his GED. It was hard to tell which one was more pleased.
Two years ago, on Jan. 10, 2015, the picture was much different. Aman was injured in a car filled with teenagers that went off Centerline Road and struck a utility pole near the Kings Hill intersection.
Sixteen-year-old Eley Smith Jr. was killed in that crash. Inside the auditorium at the continuing ed ceremony, Principal Desha Powell praised Eley as the only student to commute from St. John and finish.
"I started with some credits from Eudora Kean, finally finished, making everybody proud," Aman said. "My family kept pushing, I always had support. Might as well just come and deal with it."
In addition to those who celebrated from St. John was one who came to St. John to celebrate.
Valencia Charles still wore her graduation sash from the Raphael O. Wheatley Skills Center Post-Secondary Career & Technical Education Institute when she arrived for a special dinner with sons Noel, Noah and Jeavon.
Charles studied for a year to achieve a certification as a phlebotomy technician.