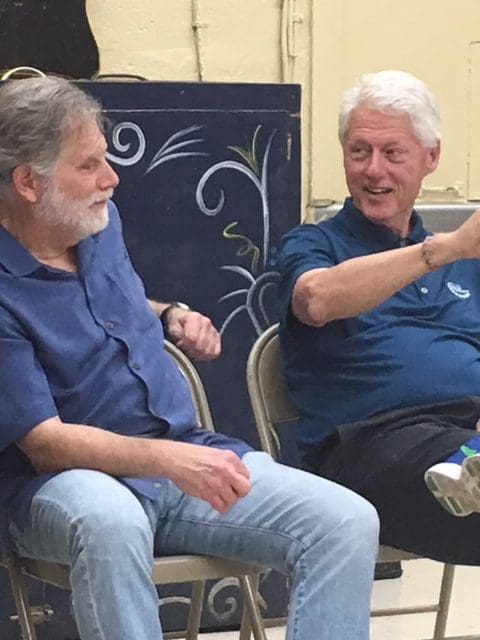 Ex-President Bill Clinton met Monday afternoon with members of the St. John Long Term Recovery Team at the Julius E. Sprauve School in Cruz Bay as part of an effort to build resilience in communities affected by natural disasters.
"I'm here because of my experience with natural disasters. Caribbean nations and islands are among the places most at risk because of climate change," he said.
St. John was the third stop on a tour that included visits earlier Monday to My Brother's Workshop and the Schneider Regional Medical Center on St. Thomas. On Tuesday, he's scheduled to meet in Dominica with President Savarin and Prime Minister Skerritt, and visit schools on that island.
"I think the U.S. should have done more for the Virgin Islands and Puerto Rico," he said. "The financial and emotional bandwidth was less than it might have been because you were not the first storm." He was referring to other natural disasters such as Hurricane Harvey and then the wildfires in California that grabbed headlines before and after Hurricanes Irma tore through the islands on Sept. 6.
Clinton said his foundation would be involved in a session on April 3 to find ways to assist the Virgin Islands, Puerto Rico, and other Caribbean islands including Dominica, "some which are not being bailed out and have no internal resources," he said.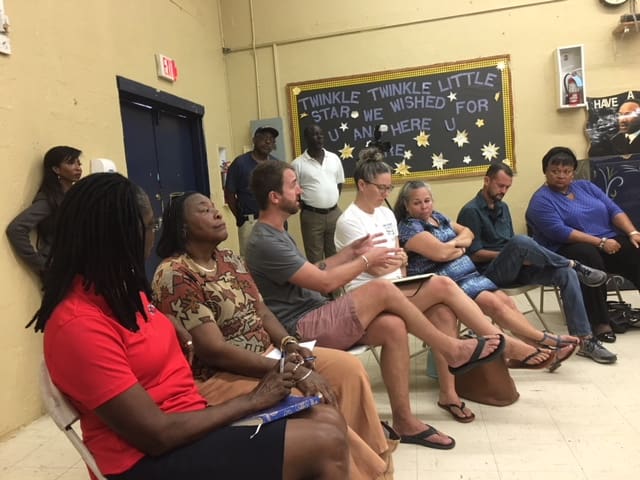 Meeting on St. John with nearly two dozen community members who have been active for several months with the Long Term Recovery Team, Clinton posed the question, "What is your wish list? It's easier to help people who know what they want."
"We'd love to tap into your experience," said Celia Kalousek, executive director of the St. John Community Foundation which convoked the Recovery Team. "What do you suggest?"
Clinton had a ready response. "First, minimize the emergency in the first place by making alterations that can cut down on the damage. Second, emergency response depends on the supply chain; shorten the time. Third, think about what you want five years from now in terms of development, and build a plan for five years from now."
Clinton emphasized the importance of planning actionable goals, but also in thinking through "whether you want this to be an idyllic place of preservation, or whether you want a more conventional development strategy."
In either case, Clinton said, cutting energy costs by implementing new sources of sustainable energy would be necessary.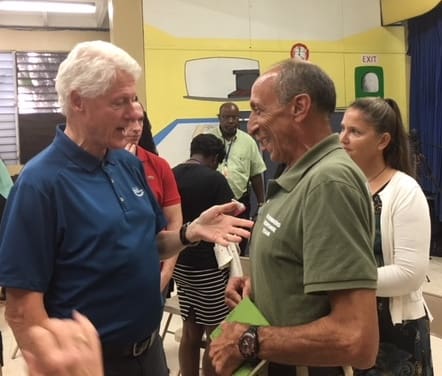 "Your cost of electricity here is around 36 cents per kilowatt hour. It used to be as high as 50 cents. In New York, it's 13.8 cents. In Iowa, it's 5.8 cents."
Clinton said one-third of Puerto Rico's bankruptcy could be attributed to high utility costs. The Virgin Islands' economy was also in danger, he said. In recent years, the government was forced to sell bonds to pay accumulated utility costs that couldn't be borne by customers alone.
"I talked to your governor. He's got a good grasp of the economics," Clinton said. "The quicker you move on [planning] to manage this debt, the better."
Although solar panels did blow down in hurricanes Irma and Maria, Clinton is still a proponent of sustainable energy.
"Solar is viable everywhere in the Caribbean; wind depends on intensity, and geothermal depends on whether you have it or not," he said.
He suggested completing a study to identify the best combination of sources.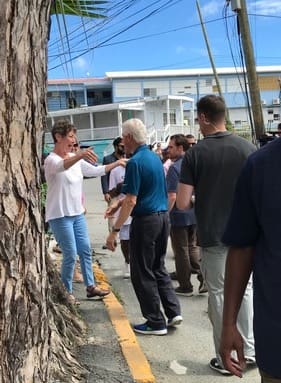 Discussion at the meeting ranged over many topics, including the difficulty in building sustainable roads, the high cost of bringing in supplies, challenges involved with distribution, and limited space for re-locating emergency facilities.
But Clinton insisted that planning must be done because future storms were inevitable.
"You might not get federal funds for all of this. In the political climate now, it's unlikely. But the more creative you are without looking crazy, the more likely you are to find people to help you."
"I'm a long-term guy. I don't care how long it takes although I'm going on 71, so I should care," Clinton joked.
He recalled the old Chinese curse, "May you live in interesting times," and then added, "Whenever you get discouraged, think of this: This is a time of the most rapid economic, social, cultural, and environmental change. It's a privilege you get to carry the responsibility into the next generation."
Shared content for St. John Tradewinds and Virgin Islands Source.