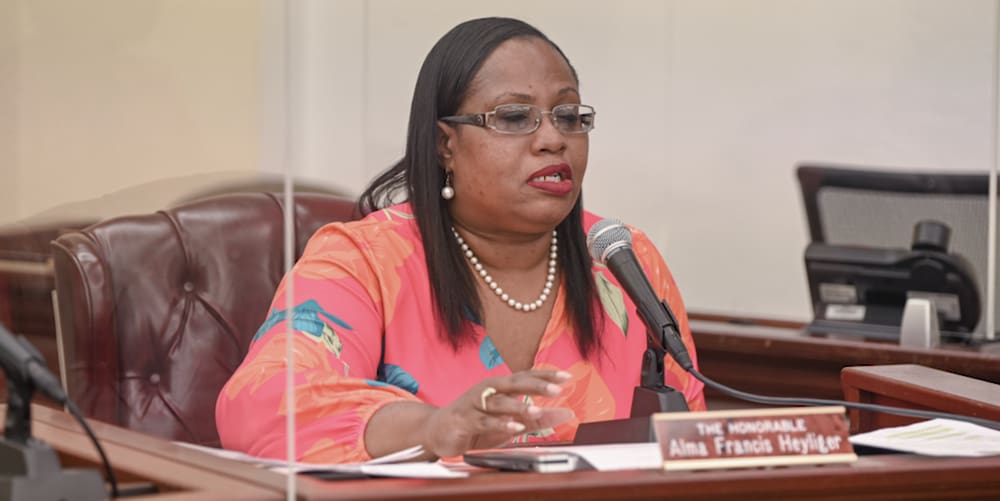 Delegate Stacey Plaskett, like some other women in the Virgin Islands, is breaking the law, but she has little chance of being prosecuted.
Sen. Alma Francis Heyliger testified at the Rules and Judiciary Committee Friday that, by law, when a woman marries in the U.S. Virgin Islands, she must take the surname of her husband. Heyliger said the law is 100 years old and "antiquated." She pointed out that many women, including the vice president of the United States, Kamala Harris, have chosen not to take the name of their husband.
Heyliger is sponsoring a bill amending the old law and giving a newly married couple options as far as names go.
Sen. Steven Payne said he understood the intention of the proposed bill but it still had him struggling with his "old school attitude." He said he and his brothers all had the name of his father. He added he worried if children did not share the name of the father, it would tempt fathers, who were already on the line, to avoid the responsibilities they had to their children.
Other senators had questions about definitions in the bill such as those for husband and wife. It was mentioned that maybe the whole section should just be removed. In the end, the bill was held in the committee for further discussion.
Another bill sponsored by Heyliger was given a favorable vote by the committee and forwarded to the full body.
This bill related to estates of people who died and would allow payment of some debts without survivors first going through probate court. Probate proceedings in the territory are often lengthy and expensive.
Heyliger said the bill would increase the limit of debt a debtor must pay the survivors of a decedent from $5,000 to $10,000.
She said this would allow families where money was low to bury their loved ones with "dignity." She said she had experiences where she had to help others with burial expenses. She said she had seen instances where families had gotten close to blows over who was going to pay the funeral expenses.
Also moving forward from the committee with a favorable recommendation was a measure enacting the Uniform Electronic Legal Material Act, "to provide for the management of electronic legal information in a manner that guarantees the trustworthiness of and continuing access to important governmental legal material." Sen. Novelle Francis said the measure "speaks to the modernization" of the court system and was "timely."
An Act concerning the payment of fuel taxes to the Bureau of Internal Revenue was also passed quickly and forwarded to the full body.
Sen. Milton Potter said the act has received consideration in other committees, was not controversial, and would give officials an accurate account of what gasoline was imported into the territory and the amount it should be taxed.
Potter chaired the meeting. Attending were Sens. Kenneth Gittens, Francis, Donna Frett-Gregory, Payne, Franklin Johnson, Heyliger, Carla Joseph, and Genevieve Whitaker.