A notice posted at the Bureau of Motor Vehicles on St. John, above, included a warning that the St. Thomas BMV office also was experiencing computer problems. Vehicle owners were issued hand written "Special Permits," below, for registration renewals until the computers were available to process registrations.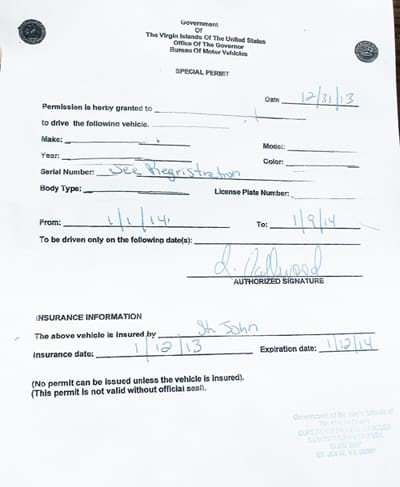 Despite continuing computer problems, Bureau of Motor Vehicle Inspection Lane employes on St. John tried to keep registering vehicles with paper records to circumvent computer system problems.
But some St. John motorists were irate about the delays and about being required to pay cash for daily fees until the computer system was back in operation for re-registering unregistered vehicles.
Owners of vehicles with expired registrations being re-registered were required to pay $7 per day for a temporary paper registration, according to one resident who called the Governor's Office to voice his discontent.
"Something is not right," the Cruz Bay resident said in his call to the Governor's Office on December 30 to complain about the required cash payments for re-registering his vehicle.
A notice has been posted at the Inspection Lane for weeks stating that "Due to continuous Computer Server Problems… We will not be able to print Registrations or Driver Licenses." Customers were asked to call the St. Thomas BMV for assistance "before going there, as they too are experiencing Server problems due to electrical power surges."
The holiday closings of government offices made things a little worse.
"There's a story down there this morning," one Tradewinds reader e-mailed to report on Monday, December 30. "Big jam up.  I just walked by and it was a mob scene."
"You can get the car inspected but cannot get the registration paperwork completed because 'the computer down; try next week," another resident said. "No other explanation was given. I personally went the first week of December and the BMV was locked. I got the car physically inspected on December 16 and have been trying every day since to get the registration paperwork done."
Although the Inspection Lane's computers were out of operation, vehicle inspections were being performed when the BMV office was open between Christmas and New Year's Day.
The BMV began issuing "Special Permits" on December 31, which were valid until January 9, 2014, when officials obviously hoped the computer problems would be solved.
Then the inspection lane closed for the New Year's holiday and didn't reopen for the remainder of the week.
The computer system is expected to be back in operation and the Inspection Lane reopened — sometime after the Three King's Day holiday, Monday, January 6.
"I think it's time they dusted off the typewriter," one resident said.