CRUZ BAY – It doesn't take much looking to find bumper stickers sailing along the roads of St. John that describe the place as a "Sunny Spot for Shady People." But now, in the recovery days after Hurricanes Irma and Maria, one St. John snowbird has decided to bring shade and people together in new and different ways.
The work of the St. John Shade Project has appeared over the past several days. Last week, the project — and a crop of broad bistro umbrellas — popped up on a weekday in Cruz Bay.
First stop: an ice cream shop at Mongoose Junction. Collette Rethage donned a striped apron and a retro 1950's soda jerk hat to greet a team of volunteers.
Rethage said some time ago part-time Bordeaux resident Jo Moniak-Edmonson reached out and offered to throw some shade her way.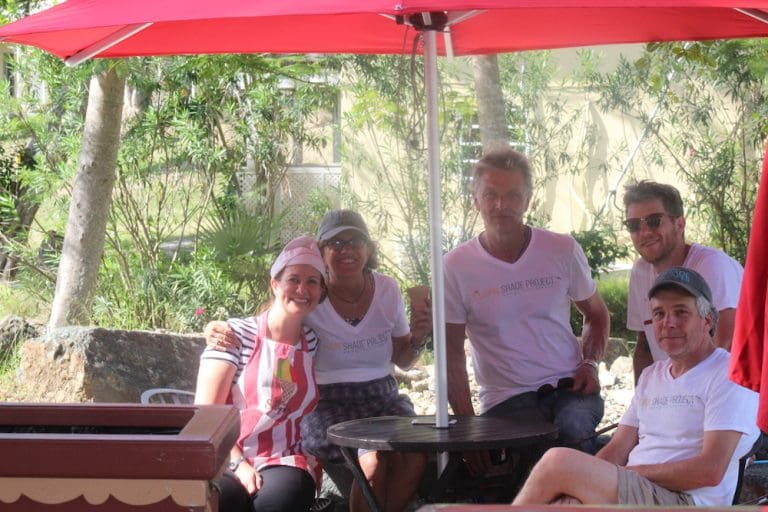 "Jo came to me and said 'I see you have some umbrellas here, and they're looking a little battered from the storms. And I'm wondering if you're interested in participating in our St. John Shade Project," Rethage said.
The shade project leader called it her way of helping out after the ravages of Hurricanes Irma and Maria in September.
"I own a home on Bordeaux Mountain and I've been coming down here for 35 years. This is a big part of my life. And I happen to have this shade company in Colorado, and we were looking for a way to help," she said.
Fifty-five umbrellas were chosen from the business — ShadeScapes Americas — and shipped from Colorado to St. John. Eateries and schools became the chosen recipients. Originally, the company committed to donating 30, but found the need to be much greater and decided to cover the cost of bringing more umbrellas by donating 25% of the company's outlet sales back to the project. In its online profile, the business is described as a distributor of residential and commercial umbrellas.
Rethage, first of the Cruz Bay stops, stood on the shopping center's covered walk and watched as volunteers replaced her umbrellas with bright red ones. Now that tourism is back in town, she said, it's a timely gift.
"The sun is not our friend and ice cream melts in the sun, so having shade is really important," she said.
More than half a dozen local businesses benefited from the project in Coral Bay, including some who lost their entire shade structure blown away. Three businesses in Cruz Bay received their shady gifts last week.
This week, the project moves on to Gifft Hill School, according to Moniak-Edmonson.
Visit the project's blog and Facebook page to learn more.