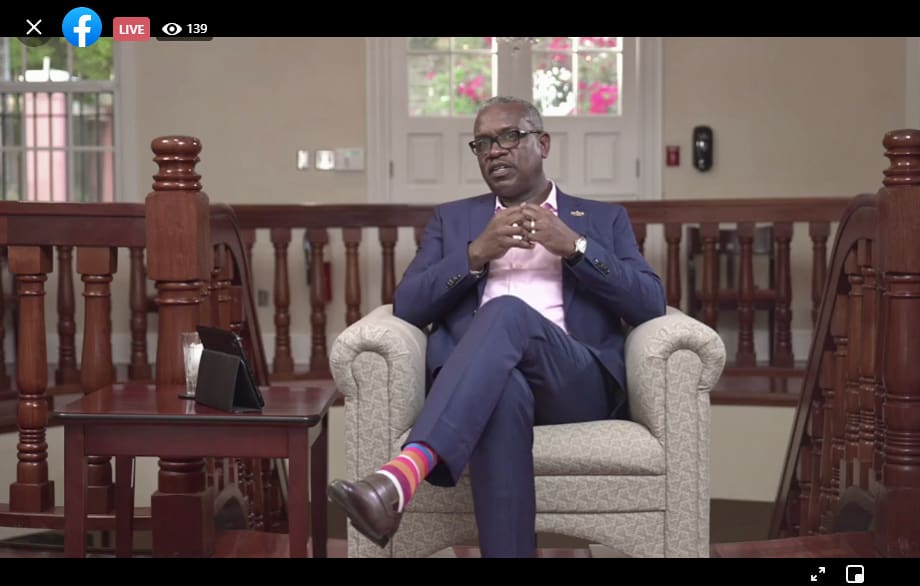 Gov. Albert Bryan Jr. announced Thursday the weekly lottery to promote COVID-19 vaccinations has been doubled to $2 million, and separate drawings will now be held for the St. Thomas-St. John and the St. Croix districts.
The lottery, which is slated to begin July 9, was originally planned to offer a prize of $100,000 a week territorywide for 10 weeks, a total of $1 million, with winners drawn from among U.S. Virgin Islands residents who have been vaccinated against the disease.
With separate drawings slated for the two districts, the prize money has doubled, with two $100,000 winners each week for 10 weeks, for a total giveaway of $2 million.
Bryan made the announcement during an hour-long episode of the Press Box, the weekly virtual town hall broadcast on Facebook Live from Government House on St. Croix.
Vaccinated education employees of public and private schools, including Head Start personnel and bus drivers, also are eligible for the separate "Back to School" vaccine lottery. Three prizes of $25,000, $10,000 and $5,000 will be awarded on Aug. 19 for those who register.
The lotteries, funded with money from the federal American Rescue Plan, are meant to encourage people to get vaccinated, with the hope of achieving a 70 to 80 percent vaccination rate and community immunity, said Bryan. Those who have received one shot will be eligible to receive $50,000, he said.
"It ain't about prizes," said Bryan. "It's about getting you to get your vaccine. If I thought if I gave everybody $1,000 that we would get there, I would do it if we had the money," he said.
The government also is in the process of changing the online travel portal requirements, so that USVI residents who have been vaccinated will get the green light to re-enter the territory just by entering their name, said Bryan. Currently, they must provide a positive antibody test, and those age 5 and older who are not vaccinated must upload a negative COVID-19 test result taken within five days of travel.
"We're almost there, it's just doing the paperwork" to ensure the change complies with medical privacy laws, said Bryan, adding that the goal is to eventually expand the service to all vaccinated U.S. travelers, not just residents of the territory.
Regarding the return of cruise ships to the U.S. Virgin Islands amid the ongoing global pandemic, with the first in more than a year scheduled to call on St. Thomas on July 6, Bryan said the resumption of the industry that has been sidelined since March 2020 by COVID-19 is critical to the wider Caribbean economy.
"Things are good in the Virgin Islands in comparison to other places. You know, I think about my brothers and sisters in Tortola, Anguilla, St. Kitts, St. Martin, St. Lucia," said Bryan. "They actually have to go out and purchase the vaccine themselves. These are small countries. Remember, we have been able to come through the last year because we have $550 million infused in the economy – $123 million in payroll protection alone. They don't have that. They have tourism, and cruise ships can't go to one island alone, they gotta go to all the islands. All of us have family down island, Eastern Caribbean, that are suffering, and we want to see those cruise ports open up," he said.
The return of the industry also is important to the U.S. Virgin Islands economy, said Bryan.
"We need cruise ships back. Let's not be fooled. We're not going to have the same level of federal investment that we had last year, this year. So yeah, we're doing well, but we're doing well because we've had $550 million put in our economy. Money that would otherwise have come from the cruise ships came from the federal government. Maybe not that much, but money just the same. That is why I am working to get cruise travel back, not only for the V.I., but for the entire Caribbean, and to do so in a safe way," Bryan said.
While he has lobbied Florida Gov. Ron DeSantis to lift his ban on so-called vaccine passports, which would allow cruise ships based in the Sunshine State to mandate passengers be vaccinated, Bryan said workarounds are in place that will add about $600 in COVID-19 testing costs for those who are not inoculated. The measure hopefully will encourage them to get vaccinated, or discourage them from booking a cruise in the first place, he said.
In education news, Bryan said $40 million in CARES Act funding has been equally divided between the districts and will go to replace ventilation systems in the territory's schools, provide touchless faucets and toilets in the bathrooms, and refurbish locker rooms, among other projects to keep students safe and socially distanced when classes start Aug. 9.
Bryan said the plan is for all students to resume in-person learning after a year of mostly virtual instruction due to COVID-19, though the Education Department also is planning online contingencies for those who don't want their children to return to a physical classroom, he said.
Bryan also announced that the project to build the new Arthur A. Richards K-8 School on St. Croix has gone out to bid, almost four years after hurricanes Irma and Maria damaged much of the territory's education infrastructure.
"It took us a long time to get this because FEMA got new rules from Congress. Congress said, 'Listen, if it's more than 50 percent damaged then you have to replace the whole thing.' So, we had to go back and create the standards and all these things for the schools. The hardest one to do was the first school. It's out to bid now, and we're hoping to get that into construction," Bryan said.
Numerous viewer questions Thursday concerned income tax refunds – namely, the lack thereof, which left Bryan incredulous.
"I've been sending out tax checks since I became governor!" Bryan exclaimed. "No governor in the history of the Virgin Islands has sent out more tax checks than me! But you know what, I'm going to do you a solid. Next week I'm going to send out $15 million in tax checks. And the week after that, I'm going to send out another $10 million in tax checks. So that's $25 million you are going to get in tax checks in the next two weeks. I think we're up to [2018] now, if you filed on time, we're up to '18. … And in September I'm going to issue another $20 million in tax checks again," said Bryan.
In all, his administration has distributed $75 million in tax refunds so far this year, said Bryan, who also fielded a bevy of questions concerning delayed unemployment insurance payments.
"Give us a chance," said Bryan. The Labor Department has been inundated by the sheer volume of applications during the COVID-19 pandemic and has already paid 17,000 people some $143 million. "In a regular year we only pay 2,500," he said.
The governor answered a smorgasbord of questions and touted his administration's accomplishments and federally funded disaster and COVID-19 recovery initiatives – everything from road repairs to rebuilding the territory's housing communities to hardening WAPA's water and electric infrastructure – during his hour-long appearance.
The full Press Box episode can be viewed on Facebook Live.