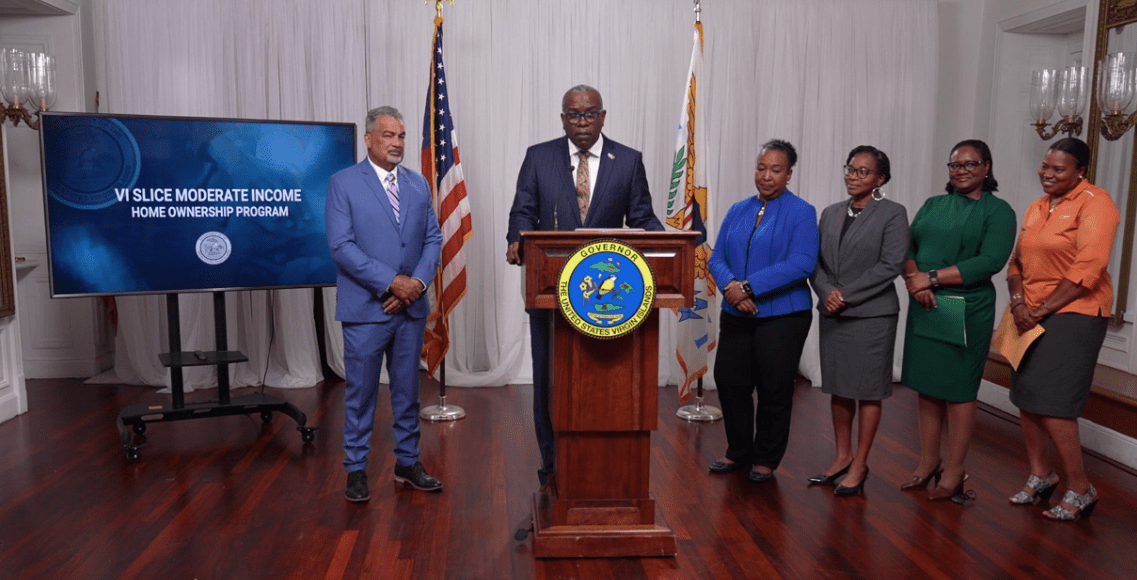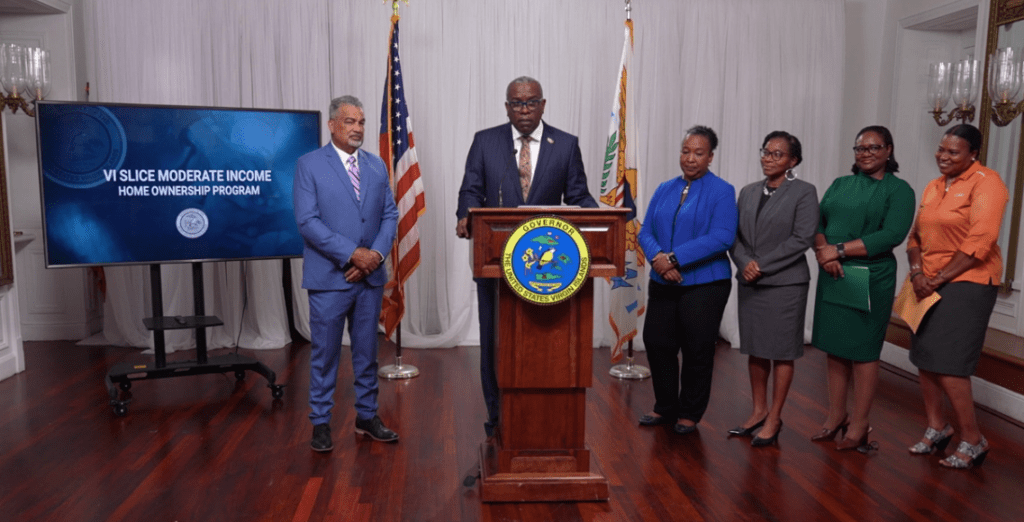 Surrounded by four local bank managers, Gov. Albert Bryan introduced a program on Thursday — V.I. Slice Moderate Income Homeownership Program — to help three-year residents buy their first home.
The program will be run by the banks that will provide the first mortgages. Second mortgages or gap loans will be dispersed by the V.I. Economic Development Authority to complete the property purchase. Participating banks are Bank of St. Croix, Banco Popular, First Bank, Oriental Bank and Merchants Bank.
The program is designed for moderate-income, three-year residents buying their first home. The maximum family income for St. Thomas borrowers is $242,000, St. John residents cannot earn more than $260,000 a year and for St. Croix, the joint income can't exceed $216,000.
The first step is to qualify for a first mortgage loan and then apply for the V.I. Slice, which is converted to a grant as long as the buyer lives in the home for at least 10 years. If the buyer leaves in less than 10 years, they must pay back the full amount. The home buyer must have at least $5,000 for earnest money which can be waived for veterans with a certificate of eligibility or an honorable discharge.
[adrotate group="6"]
Bryan hopes the program will increase the number of homeowners in the territory.
"If you're ready to get a home, let's go," he said.
Residents can apply for up to $200,000 but Bryan hopes most apply for $100,000 so the $20 million in federal funds will go further to help more residents.
Wayne Biggs, chief executive officer for the VIEDA, outlined how the V.I. Slice loan can be used. First-time home buyers who qualify for a mortgage will be eligible for the gap or second mortgage loan for several types of dwellings, including a new home purchase:
– Single-family or multi-family homes with the intention to rehabilitate, but no more than three dwellings on the home site.
– The financing can be used for new home construction and can include the cost of the land, building materials, and prefabricated or modular homes. Funding will be limited to no more than two residences on the home site.
– Down payment and closing costs up to 20 percent for funding as a grant or no-interest second mortgage to help secure a bank loan.
– Gap finance funding to help "bridge" the gap between the overall project and the amount secured through the primary lender.
The program has built-in restrictions to ensure the property is a primary residence and not a vacation rental or Airbnb. It also limits how the property may include a rental unit as part of the primary residence.
All applicants must complete an online program from the V.I. Housing Finance Authority, Bryan said.
For more information, contact the VIEDA at 340-714-1700 or on St. Croix at 340-772-6499.