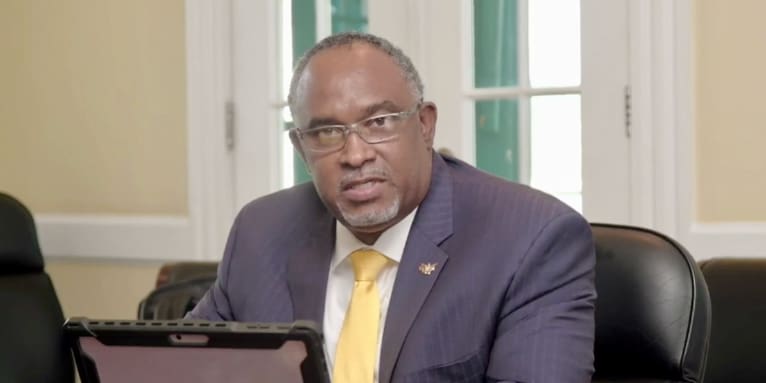 Gov. Albert Bryan Jr. on Tuesday introduced native Crucian Ray Martinez as his nominee for commissioner of the V.I. Police Department, replacing Trevor Velinor, who is retiring after two years in the position.
Speaking at his weekly news briefing, Bryan thanked Velinor for his two years of service.
Velinor became police commissioner in 2019 through an Intergovernmental Personnel Act request made by Bryan, stepping away from his position as a deputy assistant director with the federal Bureau of Alcohol, Tobacco, Firearms and Explosives.
"We knew we would only have him for two years," Bryan said, noting the sacrifices Velinor had made to serve the police department, including living away from his family and taking a demotion in order to make the transfer possible.
Martinez, who currently directs the V.I. Law Enforcement Planning Commission, was born on St. Croix and spent a significant part of his law enforcement career in the V.I. Police Department's Criminal Intelligence Unit, which he developed and managed. There he oversaw intelligence operations aimed at suppressing or apprehending criminal offenders and was the go-to subject expert on gangs and gang violence.
Martinez also acted as a facilitator between VIPD and its federal law enforcement partners, sharing intelligence and assisting high-profile investigations, according to his resume. He was part of the VIPD financial team that prepared the annual budget and was the department's representative in union mediation and arbitration.
The new commissioner will step into the job with the benefit of a closed-circuit surveillance network being deployed to help the department combat crime.
"This includes Shot Spotter and strategically placed cameras. The first set of cameras are now operable, and we are working towards fully installing and energizing a total of 280 in this first phase," Bryan said.
COVID and Cruise Ships
Bryan celebrated "another step toward normalcy" on Tuesday by greeting the captain of Celebrity Edge in person at Crown Bay Harbor: the first cruise ship to visit the Virgin Islands since March, 2020.
The Department of Tourism sent dancers wearing face masks to welcome some 1,500 guests and 700 crew. More calls at USVI ports are expected in July, August and September, including the Celebrity Equinox in St. Croix on Aug. 18.
But Bryan's enthusiasm took a more serious turn in his Tuesday press briefing as he recounted the death of a close friend from COVID.
"Our success depends on adhering to our COVID policy and vaccinations," he said. "There is no reason for anyone to have to die from this disease at this point. We fell just 5,295 doses short of our goal of having 50,000 Virgin Islanders with at least one dose of the vaccine by July 1. Please get vaccinated."
More than 192,000 new COVID infections were reported the day President Biden was sworn into office, according to the governor, compared with 13,265 new cases today.
"There is no other explanation for such a rapid decline than the vaccines work," Bryan said.
Health Commissioner Justa Encarnacion announced the territory's rate of COVID positivity trended up from last week to 2.97 percent, with the two latest deaths occurring in the past 24 hours, bringing the USVI's death toll from the virus to 32.
A 69-year-old woman on St. Croix died on Tuesday, and a 73-year-old woman on St. Thomas on Monday, the Health Department reported.
The territory currently has 71 active cases – 34 on St. Croix, 36 on St. Thomas and one on St. John – with two COVID patients each at Luis and Schneider hospitals.
"Week after week, new cases are rising among unvaccinated individuals," Encarnacion said. "We have seen the virus mutate, and it is very worrisome. Anyone 12 and older can walk into a community center and get vaccinated."
The governor's Vax to Win campaign continues, offering a chance to win cash for those who get vaccinated. Information about the lottery can be found online.
VITEMA's hotline provides information about COVID vaccines Monday through Friday from 8:30 a.m. to 3 p.m. at 340-777-8227. Residents can pre-register for testing online at www.covid19usvi.com/testing, and free vaccines are available at the pop-up testing sites.
This week's pop-up sites will be at:
– The V.I. Port Authority Gravel Yard on St. John on Wednesday, July 7, from 1 to 4 p.m.
– Charles Harwood Complex on St. Croix on Thursday, July 8, from 10 a.m. to noon.
– Fort Christian Parking Lot on St. Thomas on Thursday, July 8, from 1 to 3 p.m.