Governor Kenneth Mapp's announcement Monday of a new 18-member advisory group may not have sent pulses racing throughout the wider community, but it should, according to Harith Wickrema.
Wickrema, a resident of St. John who volunteers as chairman of the board of the Virgin Islands Waste Management Authority and president of the Island Green Living Association, has long championed the cause of sustainable development and recycling.
He's now celebrating the governor's announcement of the V.I. Hurricane and Resiliency Advisory Group whose mission is twofold: to find environmentally sound ways to deal with the destruction that hurricanes Irma and Maria have left in their wakes; and to develop methods of rebuilding so that the territory's critical infrastructure, homes, and businesses can withstand the next natural disaster.
Although we don't like to think about it, it's a pretty safe bet that another storm will come along, packing record-breaking winds, bringing untold misery, and costing billions of dollars to the Virgin Islands.  How long will it take the territory to get back up and running again? That's the fundamental question Wickrema keeps asking.
[adrotate group="6"]
Will it be months, as it has been, before the government can supply electricity to the island of St. John? Or might it be a matter of hours before residents can flip a switch and go back to their normal lives?  Will the amount of debris overwhelm the island's capacity to store it, as has since the two category 5 storms hit, or will there be facilities to process all the galvanized metal, torn up vegetation, and other types of waste?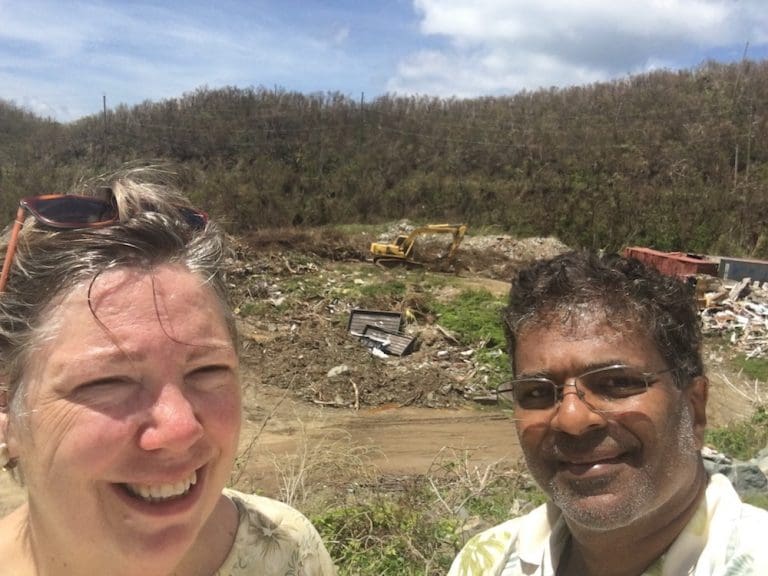 "Everybody's been asking for money, but I'm asking for the intellectual capital, the knowledge to rebuild [things] not the way they were, but the way they should be," said Wickrema.  The Resiliency Advisory Group is composed of members familiar with state-of-the-art technology as well as local conditions.
The key word in this initiative is "resiliency," according to Wickrema.  "We've been using the word 'sustainability.' 'Resiliency takes it to another level.  We've been trying to model ourselves after '100 RC,' one hundred resilient cities.  Resiliency includes the near and long-term actions needed to recover from any types of natural disaster, including the effects of climate change."
Wickrema said he'd like to see a lobbying effort put forth in the U.S. Congress to include resiliency in FEMA's mandate.  He said FEMA will fund reconstruction of critical infrastructure that was destroyed by the storm, but not necessarily fund innovative technology.
Patrick Cornbill, one of the leaders of the FEMA team based on St. John, said FEMA already has policies in place to promote resiliency. "FEMA does have programs to build back safer and smarter for resiliency. We have to build to an improved standard in building codes.  Any funded project can add a percentage for mitigation damage," he said.
Will FEMA's guidelines include funding for putting utility cables underground, or implementing solar microgrid technology to produce electricity?  No doubt these are topics the Hurricane and Resiliency Advisory Group will tackle.
Although the governor said the territory has racked up at least $5.5 billion in damages resulting from the hurricanes, Cornbill said there is no fixed figure set by FEMA to fund the recovery process.
Once a Major Disaster Declaration has been filed, as it has been in the Virgin Islands, "There's no unchanging pot of money that has to be split for public assistance and disaster mitigation. We have to build up to the current code and add a percentage," Cornbill said.
Of course, the U.S. Congress has to fund FEMA which is part of the Department of Homeland Security.
Fact checkers from Politifact reported that Congress made 14 supplemental appropriations from 2004 and 2013, totaling $89.6 billion, according to the Congressional Research Service. That includes $43 billion in 2005 alone, the year Hurricanes Katrina, Wilma and Rita hit the United States.