To burn, or not to burn.  That is the question facing the territory regarding the immense piles of fallen trees and branches that are now considered debris, the unwanted results of two Category 5 hurricanes.
Burning debris was the topic of a town meeting held Nov. 6 on St. John, called by Senate President Myron Jackson.  In front of an audience of several dozen people, Jackson held up a mortar and pestle and then a pen made of local hardwood.  "This [wood] is most likely to be burned if we don't protect it," he said.
Prior to the meeting, Governor Kenneth Mapp stated his preference for burning natural "brown and green" debris using a method called Air Curtain Incineration.  The process involves putting the wood in a pit, pile, or box, setting it on fire, and blasting air at it so that it burns hotter and faster, according to Cory White, an engineer with the U.S. Army Corps of Engineers (USACE).
White is a member of the Debris Team. Their role is to provide technical advice to the Government of the Virgin Islands and implement whatever decisions the governor ultimately makes.  They work in collaboration with the Federal Emergency Management Agency (FEMA) and the Environmental Protection Agency (EPA.)
[adrotate group="6"]
The primary benefit of ACI is the reduction of 90 percent of the debris, according to White.  The remaining ten percent in the form of ash can be put in the landfill after it's been tested for safety.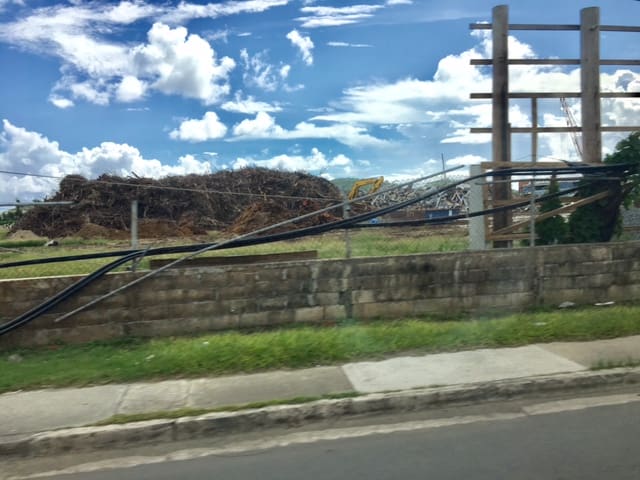 But in an island environment, burning is entirely the wrong way to deal with a valuable product like natural wood, according to Mark Lichtenstein, chief sustainability officer at the College of Environmental Science and Forestry at the State University of New York.
"This material is being seen as waste, but it's organic material that came from plants in the ground, grew, and then fell down," said Lichtenstein, who served for many years as the president of the Natural Recycling Coalition.  "On an island, you don't get nutrients like this in mass doses.  You need to put it back into the ecosystem, especially when you've lost topsoil."
Lichtenstein's advice may be falling on deaf ears.  At a press conference Monday night, Nov. 6, Gov. Mapp announced his plan to go forward with Air Curtain Incineration (ACI.)
Mapp contends there is simply too much debris to use alternative methods, such as wood chipping or composting.
The amount of green and brown debris may at first seem daunting.
At Monday afternoon's town meeting, Cory White of USACE said St. Croix has 400,000 cubic yards of natural wood debris; St. Thomas has 150,000 cubic yards; and St. John has 11,000, not including any wood within the National Park on St. John.
"Composting is seen as complex, and burning is seen as easy and quick," Lichtenstein said.  "But composting is not as complex as it seems, and there are many examples where it works on a large scale.  It's a process that nature has perfected."
Lichtenstein would like to see the territory implement a composting method known as windrows where tall stacks of woodchips are placed in long piles.  With proper management, these piles can become compost within a year, he said.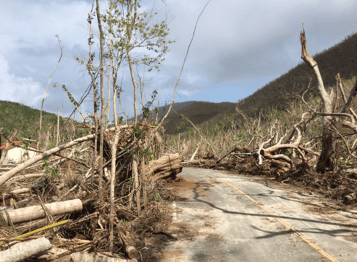 He said the territory could invest in wood chippers, equipment that chops debris into pieces measuring a couple of inches. These chips can then be used as mulch to retain moisture in soil around trees, or they can be broken down further through composting and turned into nutrient-rich soil.
At Monday's town meeting, Sam Hugli, the general manager of the Westin Resort, said the Westin regularly uses its wood chipping equipment.  It sends its chips and vegetable food waste to the Gifft Hill School on St. John where it is used in composting.  The Gifft Hill School has made growing food and recycling waste part of its curriculum for many years.
Wood chipping equipment ranges in price from $70,000, for a smaller unit that processes pre-cut branches, to between $250,000 to $500,000 for a commercial tub grinder capable of chewing up large tree stumps.
Lichtenstein said chipping or grinding equipment could be rented or purchased, and could be contracted out to other islands for their use.
At the press conference Monday evening, Gov. Mapp said he feared that unburned debris or woodchip piles could catch fire.
Lichtenstein said, "There have been examples of woodchip piles that have combusted spontaneously, but it was in a dry climate, and the pile wasn't managed correctly.  The heat and humidity [of the Virgin Islands] would mitigate that possibility."
The emissions from Air Curtain Incineration were much more likely to be harmful, according to Lichtenstein.  "Some of the debris has plastics tangled in, so what are you going to burn?  Dioxins, heavy metals; Nano-particles so small they go right through the cell membranes of your lungs. The particulate matter in the smoke ends up downwind where people reside, or in the water," he said.
White said there is little, or no smoke produced when Air Curtain Incineration is implemented properly, and risks are minimized because the EPA is charged with monitoring the emissions for health hazards.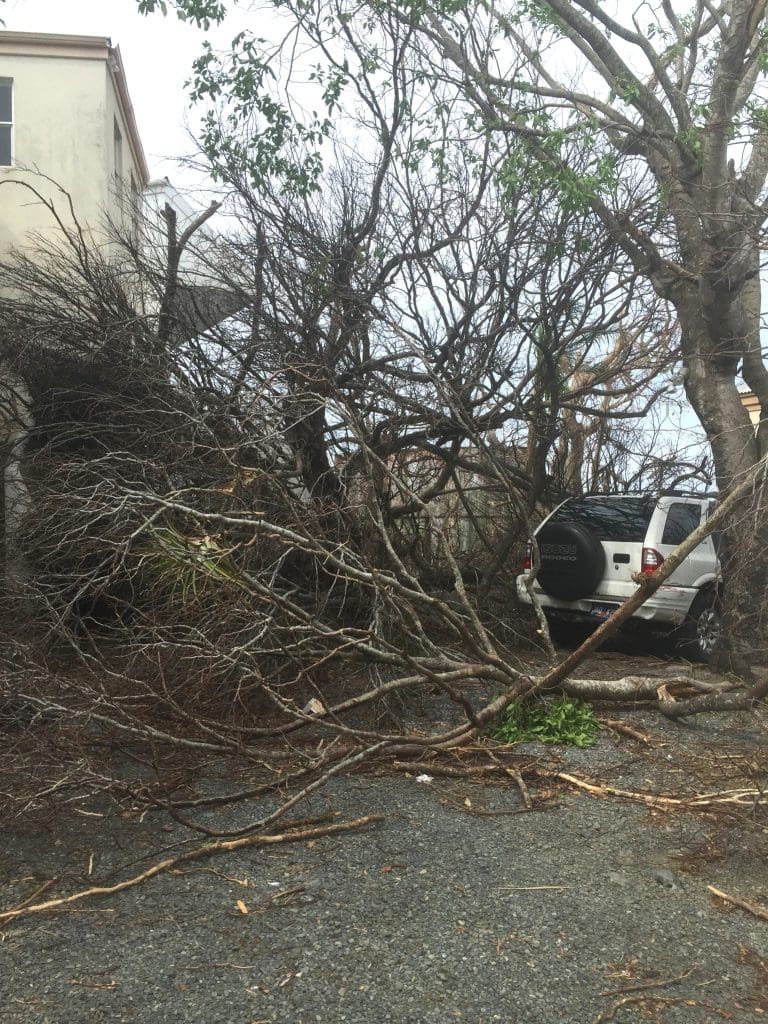 The ACI method is regularly used to burn debris to prevent forest fires, and was also used in New York to burn debris from Superstorm Sandy in 2012, White said.  Upon further questioning, he said there were four days following Superstorm Sandy when air pollution standards were exceeded, and the operation had to be shut down.
Lichtenstein said the ACI project following Superstorm Sandy, which had been planned to last for four months, was shut down entirely after four weeks because of pollution concerns.  "Ultimately, most [of the wood] was chipped and mulched," he said.
At the town meeting, Senator Tregenza Roach asked how long it would take to burn the brown and green debris using ACI if the Army Corps were to start right away.  White responded that the project could be completed by mid-December. Unlike some other methods, it is easy to estimate the costs of the process, he said.
"It might come down to an issue of costs," said Lichtenstein," but the cost is not just immediate. There are costs from the effects of smoke from burning that are not so easily quantifiable."
There is now a 180-day window in which the federal government bears 100 percent of some the costs associated with hurricanes Irma and Maria, according to one FEMA official.
The Island Green Living Association has been mounting an online campaign to protect the islands' vital organic resources and prevent potentially harmful pollution. Read the recently submitted letter, "Ban the Burn in the U.S. Virgin Islands." To sign the petition directly and read more directly on IGLA's website, click here.
Whatever method is chosen for dealing with the debris, suitable locations will have to be found on all three islands.
As for the valuable hardwood, some of it on St. Croix is already being set aside at the debris pile at Body Slob.
On St. John, Steve DeBlasio of the Bloomberg Response Team, encouraged artisans to take the wood from fallen trees.  "There's a lot of beautiful wood out there," he said.
The Virgin Islands National Park has not yet stated a policy about removing fallen wood from park property, according to Acting Superintendent Darrell Echols.
Shared content for the St. John Tradewinds and Virgin Islands Source.