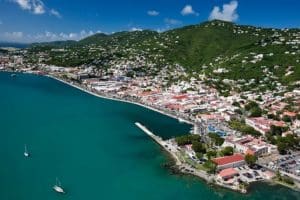 The U.S. Virgin Islands (USVI) will continue to be at the forefront as a key destination for prime business investment and economic growth. The V.I. Economic Development Authority (VIEDA) recently secured another series of promotional activities with Business Facilities (BF) magazine, an area development magazine, to attract more prospective business investors to the USVI.
From Nov. 2021 through Jan. 2022, Business Facilities will feature the USVI through a series of promotional feature stories and advertisements that will include a full-page ad in the magazine's November issue and advertisements in the digital and print issue of December 2021; a location video newsletter, eNewsletter Sponsorship Article and sponsored content. Business Facilities reaches over 100,000 senior-level executives, 40,000 verified magazine subscribers, 20,000 eNewsletter subscribers and 40,000 unique web visitors monthly.
"Every targeted opportunity we can secure to promote what the U.S. Virgin Islands has to offer for business development and economic growth is essential to help enhance the quality of life for our business community and residents," said Wayne L. Biggs Jr., chief executive officer, VIEDA.
"It's been our pleasure to have partnered with Business Facilities magazine and utilize their platforms to reach audiences that both BF and the VIEDA have in common when it comes to economic and area development," said Biggs.
This economic development magazine will highlight the tax incentive program under V.I. Economic Development Commission, the Sustainable-Tourism Through Arts-Based Revenue (S.T.A.R.S.) Program, International Financial Services Equity (IFSE) Tax Incentive Program, Hotel Development Program, and the Tax Increment Financing (TIF) Program that help qualifying companies to reduce their taxes and increase their profits and rival any benefits package across the globe. These promotional activities are some of several marketing initiatives undertaken by VIEDA to attract business investment to the territory.
For more information, contact Shanell Petersen, managing director, VIEDA Marketing & Vision 2040, at 714-1700, ext. no. 1511; or send an email to marketing@usvieda.org.