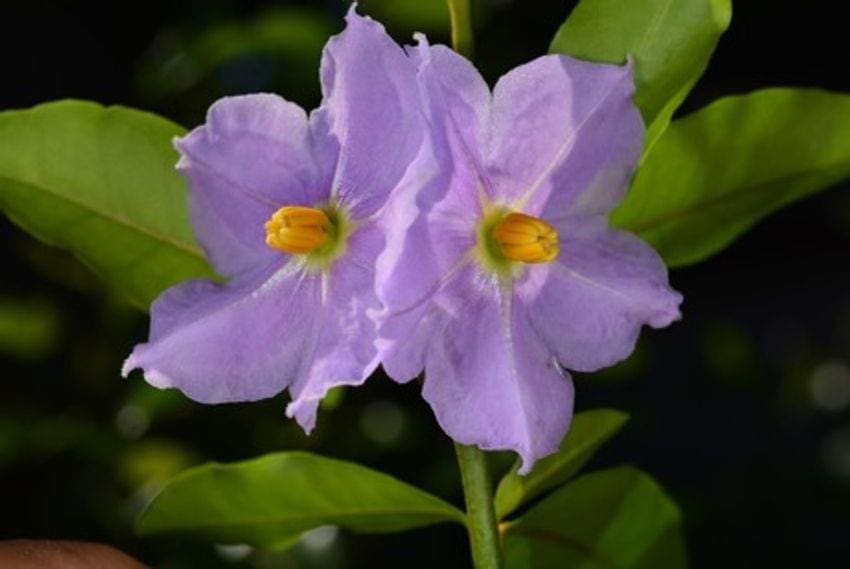 Pity poor, long-suffering marron bacora, a.k.a. Solanum conocarpum.
Legends tell of ancient ancestors that reigned over the St. John landscape and filled its hillsides with lavender blossoms that transformed into teardrop-shaped fruits and ripened from green to golden yellow under the tropical sun.
Today a handful of descendants can be found clinging to life in the island's dry, eastern regions.
No one knows for certain how abundant this shrub once was. What is known is that the U.S. Fish and Wildlife Service believes it may be headed for extinction and is proposing to add it to the federal Endangered Species list in an attempt to rescue it from that fate.
While there is relatively little public awareness of the marron bacora, a handful of naturalists have been following its story, trying for decades to protect and preserve it.
The first petition for endangered status came in the 1990s. The formal proposal was finally announced in August 2020. It has already gone through the public comment phase and, according to a U.S. Fish and Wildlife spokeswoman, a final decision should be made sometime this year.
The current move appears to have some support, but not from one private landowner who is concerned it could negatively impact his property.
Over the past 20 years, there have been numerous studies, surveys and reports, many of them available on the Fish and Wildlife website, that tell what little is known of the history and biology of the plant.
The first "discovery" by Europeans came in the colonial period. A person – identified in one report as a French botanist and named in another report as L.C. Richard – collected a specimen from Coral Bay in 1787. From that specimen, the species was formally described in 1813. Unfortunately, no population estimates were included in the record.
However abundant it may have been before Europeans came to the island, marron bacora likely suffered mass reduction after their arrival, probably even before Richard visited. By 1717, St. John had been divided into more than 100 estates for agriculture. In short order, the land was cleared of existing plants to make way for cotton and sugarcane.
That was probably the beginning of the plant's problems. In addition to feeding some insects and the indigenous hermit crab, it soon had to contend with a host of newly introduced animals that turned feral and became its predators. Wild deer, donkeys, pigs and goats eat plant parts, especially the fruit and seeds, curtailing chances of offspring. In researchers' terms, these predators contribute to a lack of "natural recruitment."
Even its own genetics seems to be against the marron bacora. It is classified as a dioecious obligate outcrosser which means there are "male" and "female" plants, and the two must be close to one another to reproduce. The fewer the numbers, the fewer the chances. A member of the nightshade family, the shrub can grow to a height of nine feet or slightly more and live for about 20 years, but it takes about two years before it is mature enough to reproduce.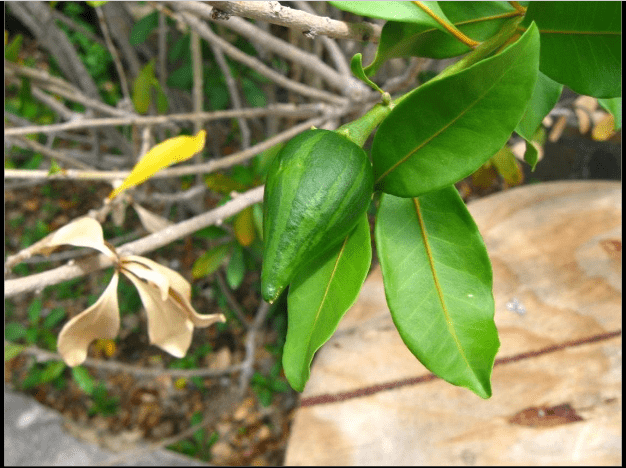 The plant was actually believed to be extinct until it was sighted on St. John in 1992. Four years later, the Virgin Islands Department of Planning and Natural Resources petitioned the U.S. Fish and Wildlife Service to list it as endangered. (It is on the Virgin Islands endangered species list.)
"Multiple lawsuits and settlements occurred since the original petition," according to a DPNR formal comment letter in 2020, supporting the current proposal.
In 2011, Fish and Wildlife published a finding that the listing was warranted, "but precluded by higher priority actions." It was added to the "candidates list."
It apparently worked its way to the top of that list.
The current formal proposal, announced last August, says there are just seven "populations" of marron bacora on St. John, "with limited members of individuals in each."
Until recently, it was believed that the shrub grew naturally nowhere else. But about two years ago, a population was discovered in the wild on Tortola. As part of the British Virgin Islands, Tortola is not under U.S. Fish and Wildlife jurisdiction.
Of the St. John populations, all but one of them is within the National Park.
And all are in eastern St. John, four in the south at Nanny Point, Friis Bay, John's Folly and Reef Bay Trail, and three in the north at Base Hill, Brown Bay Trail and Brown Bay Ridge.
Fish and Wildlife wants to categorize all of those areas as "critical habitat." The total acreage involved is 2,550 acres, with 2,479 of those acres being in the National Park and 71 acres on private land.
At least one private landowner, Michael Carper, has raised objections. Responding to the call for public comment last fall, his attorney, Susan L. Stephens, said her client does not believe his property should be included in the critical habitat designation.
Messages left for Stephens seeking further comment were not answered over several days.
However, her comment letter on behalf of Carper was extensive and included several attachments. Carper owns 1.33 acres in "Concordia Estates Conservation subdivision near Nanny Point" on which he plans to build a home. He also holds easements on National Park land that allow him access, making the total amount of land that concerns him 3.5 acres.
The easements, Stephens wrote, are across lands that Carper donated to the Park. He also spent considerable effort and money in the early 2000s on the "Carper Conservation Plan" relocating some marron bacora plants from his land to the National Park and sponsoring efforts to increase the shrub's presence through seeding and cloning.
All of this, his attorney says, was in cooperation with Fish and Wildlife and the National Park. To now restrict his use of his property would not only be unfair but would send a chilling message to other landowners, she argues.
It is unclear exactly how Carper – or any private landowner – would be impacted if their land was designated "critical habitat."
According to the Fish and Wildlife Service, a "critical habitat designation does not necessarily restrict further development. A designation requires federal agencies to ensure that actions they plan to undertake, fund or authorize do not destroy or adversely modify that habitat … Only activities that involve a federal permit, license or funding and that may affect the area of critical habitat will be affected."
Even the territory's Department of Planning and Natural Resources, which includes a locally staffed arm of Fish and Wildlife under its umbrella of agencies, says the impact is an open question.
In its comment letter, the department states, "A very real cost difficult for the USFWS [U.S. Fish and Wildlife Service] to predict is the impact the designation of critical habitat could have on the value of private property."
Nevertheless, DPNR supports the broader proposal, noting about 97 percent of the potential critical habitat is within National Park lands. Without protection, marron bacora could be extinct within 50 years, the department says. It also says more research and money for propagation efforts are also needed to preserve the shrub.
For Rafe Boulon, who was the endangered species coordinator for the Virgin Islands when marron bacora was rediscovered in the 1990s and later worked for the National Park, the issue of preservation is paramount.
We're losing species at an alarming rate (perhaps 1,000 times greater than the natural order), he said, because of human behaviors, such as habitat encroachment and destruction. And we don't even know what we are missing, he added, maybe a now extinct plant held a cure for cancer, for instance.
"Each one of those species is part of our web of life," Boulon said. "Once it's gone, it's gone."