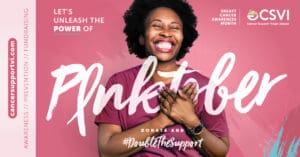 With the local community reeling from the loss of several community members this week from cancer, there's never been a greater need to provide patients in the territory with the funds they need for treatment, Cancer Support V.I. Director Barb Michaud said Wednesday. The organization is pushing hard to meet a $100,000 fundraising goal by Sunday, which will help unlock another $100,000 from a donor to their "October 10 for Ten" campaign.
In the past, Michaud and an army of volunteers have distributed pink boots, sold love buttons and even donned some pretty pink duds – from tutus to scarves – in an effort to spread the message and inspire giving.
"This is so important to me personally because I've lost so many I loved to cancer," Cory Watkins, owner of Rock Life Crossfit, said this week. "Last year, it was my sister Anna. It is, obviously, a horrible disease. We need to do whatever we can to help the people of the Virgin Islands. And with this organization, the money raised stays here, which is even more important."
Rock Life has been holding events throughout the month, which culminates with a Saturday finale – the gym's annual Pink Run, which gives participants the option of running 1-3 miles to raise money. Food, drinks and trick-or-treating are available in the morning, and a "Fittest in the V.I." contest in the afternoon. All are welcome, Watkins said, adding that for $50, participants can even throw a pie in his face.
"I'll do whatever it takes," he said.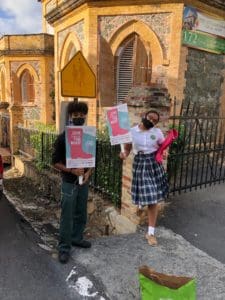 Friday morning, meanwhile, students at All Saints Cathedral School will also be wrapping up their "Pinktober" efforts, with a pink dress-up day that offers students the chance to be out of uniform for a small donation to the cause. Assistant Head of School Hugh Arnold said All Saints has been involved in October fundraising for the Cancer Support V.I. for as long as he can remember, and also makes a dedicated effort to sell the organization's love buttons and raise awareness about what Cancer Support V.I. does so that giving can happen year-round.
"If you think about how cancer, in general, touches so many families, the question is really, why shouldn't we help?" Arnold said. "And our families feel the same. For the dress-up day, we usually get 100 percent participation, and between that and selling the buttons, we're fortunate to be able to send between $600-$1,200 to CSVI every year."
Meanwhile, longtime Cancer Support V.I. volunteer Terese Hodge partnered with Antilles School Athletic Director Mark Daniel this month on a "Walk-About" that gives middle and upper school students the chance to collect pledges for laps run (or walked) around the school's field. Michaud was on-hand last Friday to collect the proceeds, approximately $1,100, which she said is actually doubled, thanks to the match.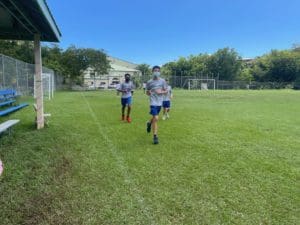 "We see the Pinktober activities in our community, but I think the students needed more awareness of the prevalence of this disease in our community and why CSVI really needs the funds," Daniel said. "They were able to learn that every dollar will go directly to patient care – and just how much that money can make a difference."
At the V.I. Montessori School and Peter Gruber International Academy, fundraisers Michael Holt and daughter Arielle Shackell have been contributing to the Pinktober campaign for years. This year, however, Holt said she was inspired to jump in deeper, inspired by not only the work the organization does but also her own experience with the disease.
"Cancer hits so close to home for all of us," Holt said. "It's wonderful to be able to directly help those in our community. This organization astounds me. Having lost my mother, all maternal relatives and a couple of dear friends here to cancer, anything I can do to make the treatment more accessible and to increase their chances of winning battles, I'm in for."
Holt said October is a month she still struggles with.
"It's the month in which my mom passed away, so I think it's also nice for us to do this now. It's kind of in her honor, as well," she said. "I'm hoping it can help change the lens I normally see it through to something brighter."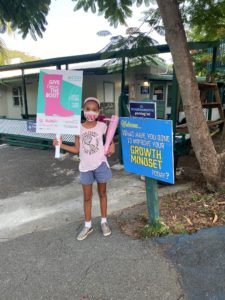 For Arielle, a sixth-grader at the Montessori School, the feeling of "making a difference" is also special.
"Knowing that it goes completely to treatment makes me feel good," she said. "It's great to be able to help."
Funds raised throughout the month help grants for over 300 cancer patients locally, totaling about $300,000 a year. To give, click here.