With weekly round robin tournaments and daily clinics, the 11-court tennis complex at Caneel Bay Resort is a year-round draw for tourists and locals alike.
On Tuesday, May 16, Caneel's tennis director, Patrick Alle, will be giving back to the community and guests who support the successful program with a special event.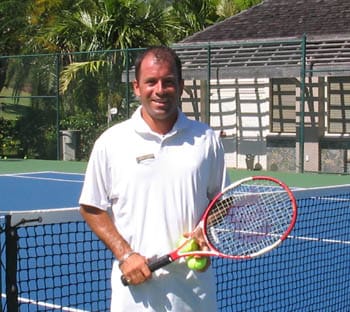 "I always have locals round robins on Tuesdays and Thursdays but this week we are going to have a special end of season extravaganza," said Alle. "We will have a tournament and some restaurant giveaways, raffle prizes and discounts on pro shop clothes."
Hoping To Attract New Players
The tournament, while being a thank you to locals, will hopefully draw new people as well, Alle said.
"We usually pair locals with guests according to their skill level, and the guests love it," he said. "I would like to get a lot of the folks who haven't been out here before to come and play. Also, I want to do something special for the locals who do come out every week."
In addition to appreciation for the locals, the resort will be hosting a number of press writers from the mainland, and one of the writers is an avid tennis player, Alle explained.
"One of the writers coming down has a Web site called tennisresortsonline.com," he said. "They rate all the tennis resorts in the world. As of May 1, the new rankings came out and we were ranked number 11 in the world, up from number 20 last year."
Locals Help Make Program Successful
Locals are one of the reasons that Caneel's tennis program is so successful, Alle added.
"To have a successful tennis program, you have to be able to offer guest matching," he said. "I pair guests and locals. We were ranked fourth in the world for consistency and quality of guest matching."
"So I really want to thank the locals," Alle said.
Just three years ago the resort was ranked 75, but since Alle came on board, the program has been upgraded and Caneel's tennis facility is now getting world-wide attention.
"Since I've been here, I've been fortunate enough to have the support of the management and ownership," said Alle. "In addition to upgrading the facilities, I'd like to think our level of service and instruction has improved the program here also."
Upgrades and New Courts
All seven hard courts at Caneel have been resurfaced with the U.S. Open "blue deco turf" surface, which is a variety of hard court. Four synthetic grass courts were also laid down last year, Alle explained."
The fencing, the courts, the pro shop—all of them are less than two years old," he said. "We always strive to be the top in the Caribbean and this year we were."
The tennis program is so popular that during the Christmas season it's difficult to find an open court, Alle said.
"To give you an idea, during Christmas season we have five tennis pros and we're all booked solid by October," he said. "During the winter season, we have two pros and we are usually booked pretty solid."
Alle holds clinics or round robins everyday of the week and drill sessions on Tuesday mornings. Locals are welcome to join the round robins tournaments on Tuesday and Thursday afternoons at 4 p.m. There is no fee, and anyone interested in playing should should show up, Alle explained.
"There is no sign up and no cost for the round robins," he said. "We do require people to wear proper attire, meaning no swim suits and no denim."
The "end of season extravaganza" will be on Tuesday, May 16 at 4 p.m. Anyone interested in playing should be on time and properly dressed.