Helen Dunkerley will feature ceramic work at Kimberly Boulon's Fine Art Gallery "Caribbeanese" opening on December 7.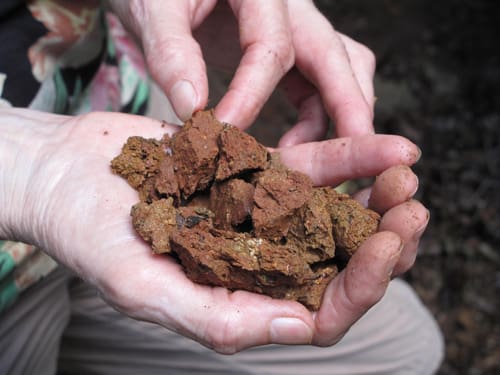 Dunkerley collects clay on St. Thomas for her amazing ceramic creations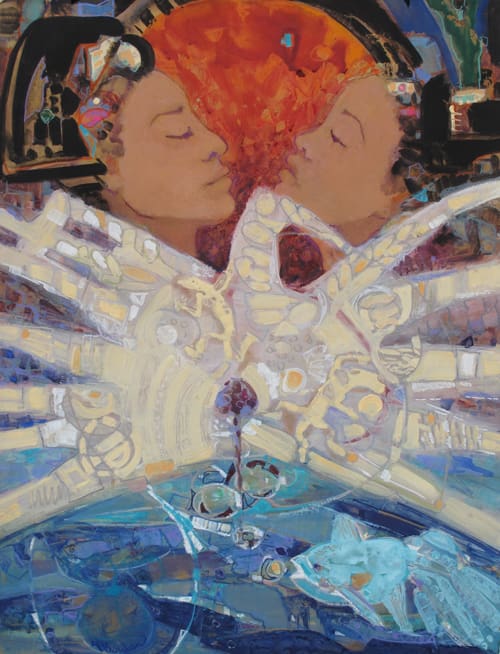 Boulon's work will feature a melding of Japanese and Caribbean styles.
Kimberly Boulon is showcasing Helen Dunkerley's ceramic work as part of her Friday, December 7, Opening Reception for "Caribbanese: Caribbean/ Japanese Fusion In Art —The People," at Kimberly Boulon Fine Art Gallery on the second floor of The Marketplace.
The event, from 5 to 8 p.m., promises to be an exciting night of fine art and dance, and a venue supporting local arts education.
Intrigued by the connections and amazed by the beauty of the Caribbean and Japanese art aesthetics, Boulon approached St. John School of the Arts executive director Kim Wild about collaborating on a project, Caribbanese, to benefit the island's lone art school.
Boulon is also raffling off a beautiful painting, "Eyes on the Prize," of which SJSA will be the beneficiary. Raffle tickets, $10 each or six tickets for $50, are available at Kimberly Boulon Fine Art Gallery and SJSA. The gallery is open Tuesday and Thursday from 10 a.m. to 5 p.m. and SJSA is open Monday through Friday from 9 a.m. to 3 p.m.
Adding to the excitement of the evening, Dunkerley will also be raffling off a piece to benefit SJSA.
Helen Dunkerley has been an exhibiting ceramic artist and teacher of ceramics for over 20 years. Her work is in many collections both public and private in Australia, USA, Denmark and Singapore.
"I am so pleased that Helen is joining me for my Opening Show," Boulon said. "Her work is fascinating and thoroughly engaging."
Born in Melbourne and living in Australia, Dunkerley spends part time on St. Thomas, using local clay for some of her artworks that will be on display for the show as well as pieces made from porcelain that she has brought from Australia specifically for Caribbanese.
 "For this exhibition I have centered my chosen works around the occupations and domestic activities of the people; presenting and eating food, designing personal spaces as in flower arrangement and object placement," said Dunkerley. "Ceramic pieces and pots hold an important and revered place in Japanese culture (check a humble tea bowl's value if made by a Master). My work tries to capture that 'Japanese balance,' the given asymmetry that somehow appears resolved and balanced in a design."
"My forms and surfaces mostly derive from the organic, above and below water," she said. "The red clay used is sourced from where I stay on St. Thomas, used 'as is' without additives. The fine white clay is Southern Ice porcelain (from Australia) fired to such a high temperature it has become almost glasslike in its vitrification."  
Dunkerley's work will be on display through December and January at Kimberly Boulon Fine Art Gallery. Her work can also be seen at Mango Tango on St. Thomas.
And, SJSA officials are wholeheartedly joining the Caribbanese fun themselves.
"When she came to us, the more she talked about the project, the more we started thinking that instead of us just being there, we wanted to participate," said Wild. "We think it's a really cool idea and something truly different. We thought we could be very creative."
"We've been working with our dancers and we're just getting more and more excited about this," Wild said.
Gallery opening attendees can expect to enjoy live performances, at least twice, throughout the night and more, Wild explained.
"I'm working with six of dancers who will be performing a two-minute piece, twice during the show," said Wild. "They will also be doing some other things at the opening, but we're going to be keeping that a secret."
Former SJSA student and makeup artist Kaya Charles is also collaborating on the Caribbanese project, Wild added.
"We're so excited that Kaya is working on this with us as well," said the SJSA executive director. "Kaya is a former student of ours and she went to college in Canada and is as makeup artist. She's going to be working with us on some masks and face and body art."
"It's just a great marriage of professional artists, the art school and a recent graduate," said Wild. "We're really excited about this."
Experimental live music fusing Caribbean and Japanese styles will also be featured at the gallery opening, compliments of Eddie Bruce and Jared Warren.
The night will also feature "Caribbanese Haiku" poetry by Beverly Melius.
A long- time resident of St. John and beloved community member, Melius has her heart in writing, and Boulon felt fortunate that she found time to give her thoughtful energy to the Haiku.
"As friends for many years, I am truly honored that Bev is gracing my paintings with her sensitive and insightful words," said Boulon. "It is a merging of artist, painting and viewer/poet, with additional interpretation by one viewing the painting and Bev's words; an interplay of several minds and senses."
"Beverly's haiku is a pure delight," said Boulon.
The project will also span most of the year for Boulon and SJSA. The December 7 Caribbanese opening is the first of three planned openings celebrating Japanese and Caribbean cultures at Kimberly Boulon Fine Arts.
The second opening will be on February 8, and the third on March 8. All three openings will feature a different ceramic artist and raffle drawings to benefit SJSA.
The theme of the first opening is "People," the second opening is "Land," and the final opening is "Sea." SJSA students will be performing at all three openings as well.