The talent and spirit of the Caribbean was enjoyed by all during the 2017 St. John Festival. From its start on June 28th, to its rainy closure on July 4th, revelers had many nights of drinks, dancing, and bacchanal.
The opening of Village was marked by the celebration of the work done by Robert O' Connor, Jr., a prominent St. Johnian and member of the Carnival and Cultural Committee. Though the night was meant in his honor, he took the time to give back to the youth of the island, by presenting a monetary donation to the Love City Pan Dragons who performed that same night.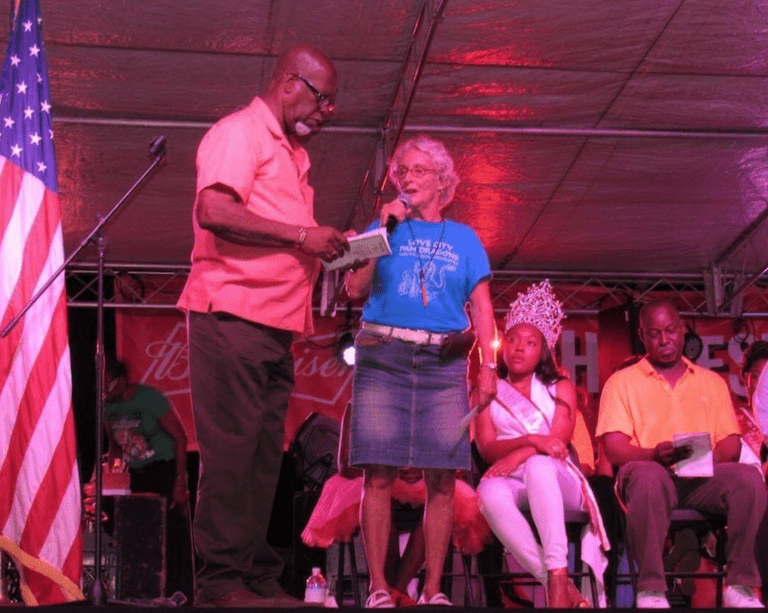 O'Connor stressed to the audience the importance of "giving homage to the youth." The longstanding organizer of the Love City Pan Dragons, Elaine Penn, expressed that the band was very thankful for the contribution in light of their recent funding issues, and that they will be seeking more members towards the end of August.
O'Connor encouraged the attendees to "show love and respect for each other." During the program, O'Connor held much regard for nostalgia, and shared these feelings while expressing his hopes for this year's St. John Festival. "It is my hope that we will live and love just like we used to. If we do that, things will fall into place." He also encouraged St. Johnians to, "Do your part, and help leaders do their jobs. Use your talents to improve the island."
Several people came forward to offer their words of praise and support to Robert. Fellow committee member James Penn said that, "Bob [Robert] is my brother. He is reliable, he is helpful, and he is incredibly humble. We are a small organization, and we do what we can to make things happen. With Bob, we are able to do good work and make St. John better".
His immediate family came forward to offer their love and support of O'Connor as well. One of his sisters approached the microphone with an empty bag in hand to emphasize the fact that, "Bob does not need anything. I do not need to shower him in gifts because he is naturally selfless and gives without expecting anything in return." His grandson opted to give him a small gift and a brief heartfelt statement, "I love you very much, and you are the best grandfather I could have ever gotten."
Later speakers gave attention to St. John as a whole. Cultural stalwart Jane Johannes had much to say about the beloved Love City, and the people who reside there. "St. John is #1. As a people, our dignity is very high. Make sure to love yourself, take slow steps forward, and do better." Senator-At-Large Brian Smith followed her example and asserted that, "Love City is truly a way of life. The people are always anxious to assist, and they will always greet you with a smile."
Governor Kenneth Mapp declared that he was "happy to attend" and that he was proud to celebrate a person that is "proud of his people, and willing to give back even while being honored." Shortly after all the presenters had spoken, the 2017 Festival royalty along with the village honoree, and government officials in attendance, left the stage to cut the ribbon, ceremoniously opening the Festival Village.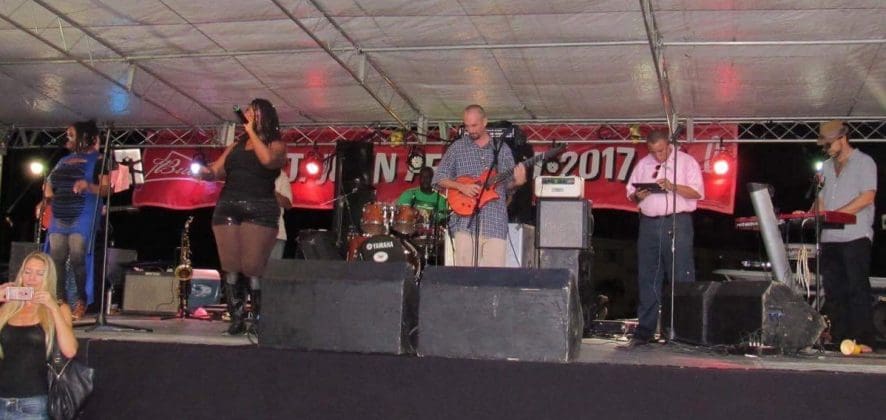 Performances this year came from all areas of the Caribbean. The line up featured St. Johnian bands like The Ish, CMK, and Cool Sessions Brass, and other VI bands like Stylee, Spectrum Band, BDJ, Express Band, Ah We Band, Poizon and the greatly anticipated Rock City, who's appearance left the village packed nearly shoulder to shoulder.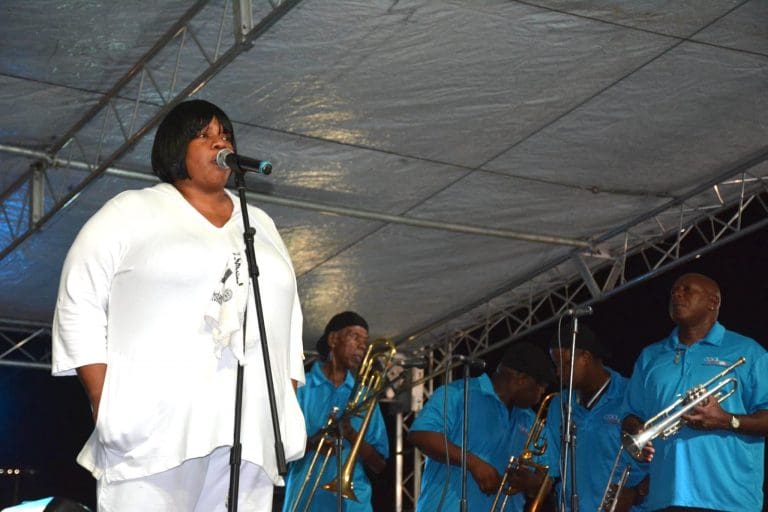 The lineup also featured Onyan from Antigua, Extreme and VIBES from the BVI, Alison Hinds from Barbados, Ricky-T from St. Lucia, T-Vice from Haiti, Small Axe from St. Kitts, Triple Kay and Asa Banton from Dominica, Romaine Virgo from Jamaica, and MX Prime and Destra from Trinidad.
Those who were too young to partake in village festivities had many fun games and prizes awaiting them in the National Park. The Children's Village sponsored by the St. John Rotary Club opened on June 30th, and offered a safe and alcohol free environment for the youth to enjoy from 6pm to 9pm. To see more photos from the Children's Village, click here.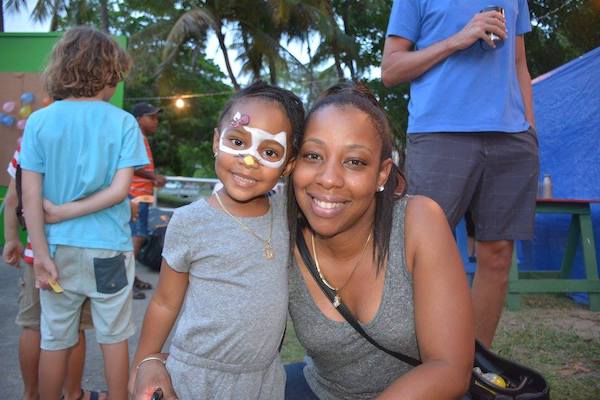 Current Rotary President BJ Harris explained that, "Every year it makes me so happy to see the kids show up wanting something to do, and leaving giggling and happy that they had fun. This truly is not a money-making venture, it's about people coming together to offer a safe and fun event for the young children and families in our community. It takes a lot of people to make this happen. Between the Rotary members and the volunteers who come to St. John every summer, we have people who spend hours setting up the games, running them, and repairing them. It's all worth it once we see those smiles!" After the Children's Village closed on July 3rd, many children left with smiles, skateboards, 52-inch teddy bears and more.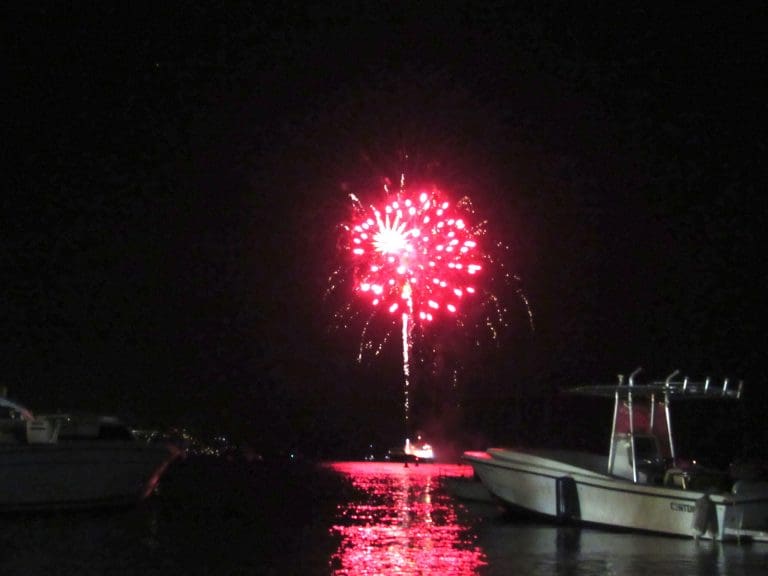 The final night of Village on July 4th was marked by a spectacular firework display. Though the final music performances were cut short by a downpour of rain, attendees agreed that the 2017 St. John Festival Village came to a thrilling close.
In keeping with the theme of The Present and Past in Ways Never Foreseen for St. John Festival 2017, revelers both young and old enjoyed a safe and fun festival. With the end of this year's Festival season, St Johnians and visitors alike are left with happy memories, and palpable hope for Festival next year.
To view more photos from this year's Festival events and parade, visit our Facebook page.